Nurbossyn Sybanbayev: "If you work on your goals, then these goals will work for you" (Jim Rohn)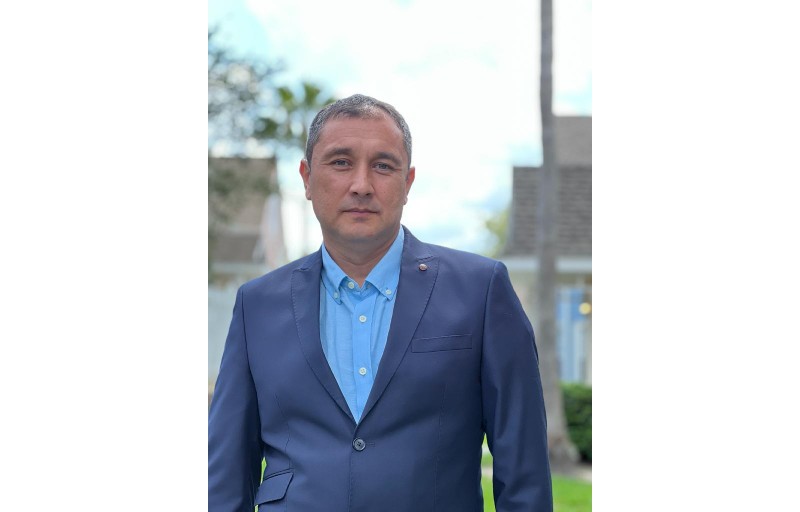 Nurbossyn Sybanbayev is a successful entrepreneur, the owner of his own trucking company, a loving family man, and the father of four wonderful children.
Nurbossyn was born and raised in a simple rural family, along with his younger brother and sister. His mother worked as a nurse, and his father owned a small farm. It's no wonder that Nurbossyn inherited from his mother a love for others, compassion, and empathy, while his father instilled in him a love and respect for work, taught him perseverance and entrepreneurship. In his childhood, Nurbossyn spent a lot of time with his father, helping him on the farm. Even then, he understood that through hard work, one can achieve a lot. The young boy was confident that he would become an entrepreneur when he grew up.
While studying at a general secondary school, Nurbossyn stood out from his classmates with a strong inclination towards the exact sciences. His exceptional abilities in mathematics, physics, computer science, and other exact subjects left no chance for his peers to compete with his knowledge. His aspiration to be the best in everything did not go unnoticed. The school administration repeatedly rewarded Nurbossyn with commendations and gratitude for his excellent academic performance and active participation in extracurricular activities. After graduating from school, the young man enrolled in one of the most prestigious higher education institutions in Kazakhstan, located in the city of Almaty, where his family had previously moved. His desire to acquire new knowledge in various fields motivated him to pursue two professional degrees simultaneously: economics and law.
Nurbossyn successfully enrolled in the prestigious Al-Farabi Kazakh National University on his own. He managed to obtain a scholarship since his parents couldn't afford to pay for his education. However, he independently covered the expenses for his master's degree. Apart from everything else, in my youth I was engaged in football, which contributed to the development of concentration, perseverance, leadership qualities, and the ability to adapt to changing conditions. He was so determined that before getting married, he bought himself a two-bedroom apartment in the center of Almaty city.
To gain practical experience, Nurbossyn initially worked as an accountant and then as a lawyer. After a few years, he set sail on his own, engaging in legal practice. Throughout this time, Nurbossyn was captivated by the idea of creating a large-scale business. Although he worked as a lawyer with great pleasure and dedication, the legal niche started to feel confining to him.
There were many reasons not to start a serious business, but none of them could stop his unstoppable desire. Therefore, in 2004, Nurbossyn and his wife Aigul opened a business in the field of residential construction. It was a right and justified step. Investing $180,000 into the venture, the family was able to not only promote the startup and take it to a new level within 4 years but also keep it afloat during a severe crisis and emerge from it with a sum exceeding the initial investment by 2.5 times. Additionally, the business allowed them to acquire several apartments in the city of Almaty and open their own café.
Although the food service industry is far from construction, the entrepreneur confidently handles all managerial functions and management, skillfully utilizing his professional skills and demonstrating excellent leadership qualities. As a result, the café quickly becomes popular and competitive. The establishment continues to thrive, delighting visitors with delicious cuisine and excellent service, but now under the authoritative guidance of Aigul's close relatives.
After much contemplation and discussion, taking into account the unstable business climate in the country, the increased level of corruption and raiding, and motivated by the desire to secure a better future for their four children, in 2019, Nurbossyn and his family moved to the United States. They didn't move empty-handed but with a decent capital accumulated in Kazakhstan. The eldest son enrolled in college, and the three younger children were placed in school. Unaccustomed to sitting idle, the entrepreneur first opened a business related to 5G cellular towers and, after its sale, ventured into one of the most promising niches in the American market – the trucking business. To do this, the family relocated from New York to the more favorable state of Florida for conducting this business and opened their transportation and logistics company, "NUR SERVICES LLC."
Thanks to his professional competence and entrepreneurial instinct, Nurbossyn hits the bullseye with trucking. Firstly, it was during this period that the trucking industry in the US began to revive after the latest crisis caused by the US-China trade war. Secondly, there is always a demand for trucking business in America. The businessman takes charge of managing the company, develops the mechanism and establishes the workflow structure correctly, and focuses efforts on optimizing vehicle maintenance costs. All of this yields results – the family manages to save for a down payment and acquire a home through a mortgage.
It should be noted that the trucking business in the United States is similar to roller coasters. Fluctuations in the freight market depend on various factors, both economic and political, both domestic and foreign. Today, the trucking industry in the USA is going through challenging times. Some companies are reducing their fleets to survive, others are splitting into smaller firms, and some are closing down entirely. Nurbossyn Sybanbayev, over the years in the business, has faced crises and been in difficult situations multiple times. However, each time he found ways to come out of them without losses. Thanks to his personal qualities, adaptive thinking, professionalism, and the ability to quickly and adequately respond to unexpected situations, while choosing optimal solutions, he not only keeps the business afloat but also develops it successfully. Moreover, the entrepreneur has built an effective business scaling strategy that involves opening multipl locations in other states. On the one hand, this will allow the company to achieve its goals, and on the other hand, contribute to the economic growth and development of these regions and the country as a whole.
Nurbossyn Sybanbayev and his wife Aigul, who supports and assists her husband in everything, know from their life experience that dreams don't come true on their own. To make them come true, you need to work hard, constantly develop yourself, understand your mission, believe in yourself, and in the success of what you do. As the world-renowned business philosopher Jim Rohn said, "If you work on your goals, your goals will work on you."
Those who need logistics services in Florida and throughout the United States can contact Nurbossyn Sybanbayev via email: syban4576@gmail.com.