A Comprehensive Guide to Immigration to Australia for Indian Citizens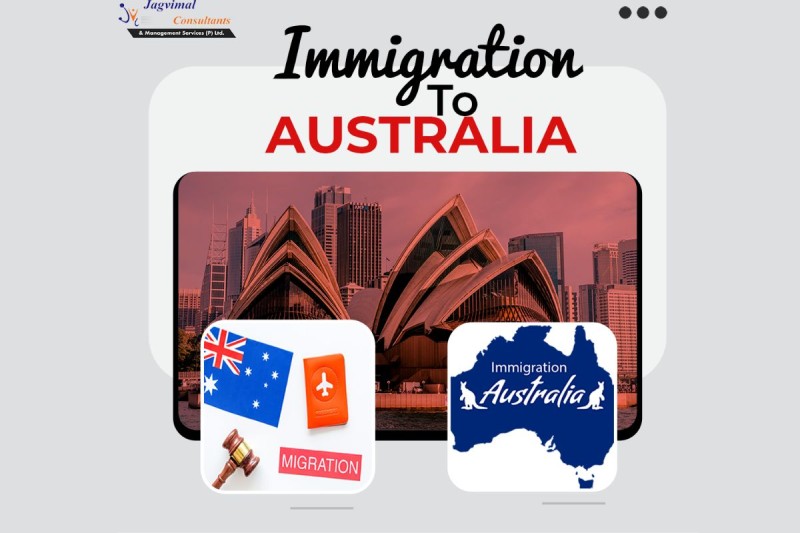 New Delhi (India), July 28: Australia, being the smallest continent yet the sixth largest country in the world, is an English-speaking country and has a different accent and vocabulary because many people have migrated to Australia from across 200 countries. It is one of the most approachable and welcoming countries for immigrants who are coming from different cultural backgrounds. With this welcoming gesture by the Australian government, every year over 200,000 migrants settle in Australia as it has a good economy, rich education system, amazing lifestyle, numerous jobs for immigrants, and a quality of life there.
Australia has become an attractive and promising option for many international students, fresh graduates, and business people. In this blog, we'll dig into the current scenario of immigration to Australia for Indian citizens, and elaborate on the role of various experts, such as migration agents, immigration lawyers, and visa consultants, to ensure you smooth and successful immigration to this foreign land.
Understanding the Australian Immigration System:
Besides the lifestyle, Australia also offers various visa options for different purposes, such as work, study, tourism, or permanent residency (PR). Generally to obtain a PR in Australia, Govt. of Australia has designed General Skilled Migration (GSM) program. The program is specifically popular among Indian professionals who aspire to settle in Australia permanently. It is a points-based program for skilled individuals or families, who wants to migrate to Australia. The main purpose of this program is to fill the skill shortage in multiple occupations by inviting competent workers to live and work in Australia. Indian citizens often find the GSM program a suitable pathway to achieve their Australian dreams.
The Role of Migration Agents and Immigration Lawyers:
When seeking for an immigration journey to Australia, always ensure to take proper assistance from qualified consultants. Qualified and experienced migration agents and lawyers specialize in Australian immigration laws and procedures. They will help you understand the complete application process, complex requirements and prepare a successful visa application.
Most of the migration agents in Australia are registered with the Office of the Migration Agents Registration Authority (MARA). A registered MARA agent can legally provide visa assistance with proper knowledge, and skills to present accurate advice to their clients to immigrate to Australia.
The Benefits of Hiring a Migration Agent:
Begining the Australian immigration process can be a complex task, for smooth processing of visa, it should be ensured to double check every step as the tiniest mistake could lead to delay or refusal of visa. Here are some key benefits to take help from a migration agent:
a) Expert Guidance: A qualified migration agent holds in-depth knowledge of various visa categories, eligibility criteria, and required documents. The approach of visa consultants is based on reality and truthfulness, thus they will give you a systematic pathway to get you the desired outcome to moving abroad.
b) Efficient Application Preparation: Skilled migration consultants will always help you at every step in filling out the visa application with the skill-assessing body and the Australian Government DHA (Department of Home Affairs). Requiring formalities and documentation should be completed in time ensuring no mistakes would find at the time of submitting the application.
c) Updated Information: Skilled migration consultants ensure all the relevant Information with regard to assessments or tests is provided to you prior to undergoing of the application. Assistance is offered with your CV according to Australian standards.
d) Communication with Authorities: Expert visa Immigration lawyers will also provide you post information after submitting the visa. They will further monitor and inform you regarding the current visa status, and stage-wise progress of your visa application.
How to Choose the Best Migration Agent:
With an abundance of options available, it's essential to select a reputable and experienced migration agent to handle your application.
Consider the following factors while choosing a migration agent in Australia:
a) Registration: Ensure that the agent is registered with MARA. This guarantees their credibility and experience to handle your visa application to professional standards.
b) Experience: Make sure to look for agents with a proven experience of successful visa applications (communicate with their previous clients (if possible)), and who hold a good reputation in the industry.
c) Client Reviews: Read testimonials and reviews from previous clients to know about the agent's credibility and work quality.
d) Transparency: A genuine agent will be transparent about their fees and the services they offer, and always avoid any hidden costs.
Australia Visa Consultants:
We at Jagvimal Consultants & Management Services Private Limited have hands-on experience, in-depth knowledge of the Australian Migration Regulations and current Australian Migration Policy as well as experience in dealing with the Australian Immigration officers. We provide you with first-rate knowledge and experience of the Australian Immigration system and we are there to guide you through the whole Visa process from start to finish. Apart from that, we are specialized Australia visa consultants who focus on providing guidance for specific visa types, such as student visas or employer-sponsored visas. We hold in-depth knowledge of their respective visa categories and can offer suitable advice which will suit applicants' needs.
The MARA Code of Conduct:
The Migration Agents Registration Authority (MARA) sets a strict Code of Conduct for registered agents in Australia. The code aims to monitor the registered migration business agents, ensures that agents act in the best behaviour with their clients, maintain confidentiality, and provide honest and accurate advice. If any agent breaches the Code or any applicant feels that their migration agent has breached this code, they can file a complaint with MARA for further investigation.
The Role of Immigration Lawyers:
Immigration lawyers focus on legal matters related to immigration. They are responsible to assist with complex visa cases, appeals, and represent clients in courts if necessary. However, not every visa applications require legal representation in court, and if it happens then here comes the role of immigration lawyers who are responsible to resolve complicated issues that may arise during the process. Our expert visa Immigration lawyers in Australia will provide you with post information after submitting the visa. They will further monitor and inform you regarding the current visa status, and stage-wise progress of your visa application. Moreover, our migration lawyers will also liaise & act on your behalf with the concerned authorities throughout the visa application process.
Conclusion:
As an Indian citizen dreaming to migrate to Australia, with our counselling and advice your immigration journey can be made smoother and more successful. Our migration agents, immigration lawyers, and visa consultants hold key responsibilities in guiding and supporting applicants through the complexities faced during the visa application process with the Australian immigration system. With our expertise in this area, your dream of starting a new life in Australia can no longer be a dream. Always make sure to do thorough research before starting any process, initially choose the best migration agent, and stay alert about the latest immigration updates to give a enhanced path to your success. We wish you a joyful journey as you migrate to the Land Down Under!