Padmini Kolhapure and Producer Paras Mehta launched music label 'Dhamaka Records'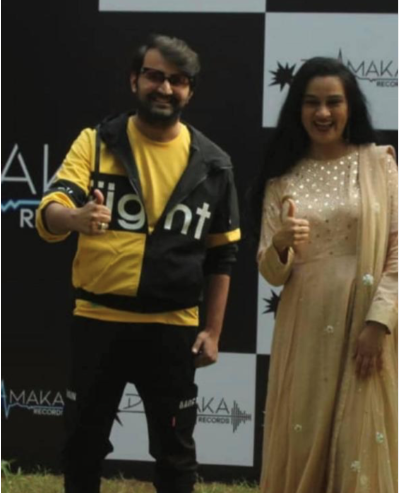 This birthday just got extra special for Padmini Kolhapure, as the veteran actress launched her new music label Dhamaka Records with Producer Paras Mehta in the presence of her close family members.
Dhamaka records has been formed by Producer Paras Mehta along with Padmini Kolhapure and her son Priyaank Sharma. The label was launched by actress Shraddha Kapoor during Padmini's birthday party in presence of her close family members. Shakti Kapoor, Siddhant Kapoor, Tutu Sharma, Shivangi Kolhapure, Tejaswini Kolhapure, Vedika Saraswat, Pankaj Saraswat, Vibhas were also present on this occasion.
Padmini Kohlapure stated that Dhamaka Records along with working with renowned faces also aims to give chance to new talents and will soon be unveiling their first song.
"I am extremely happy that I am celebrating my birthday with my nearest and dearest ones. I am also excited to announce that my record label Dhamaka Records will be launching very soon with our first song! I am very thrilled to embark on this musical journey and look forward to working with all the great talent out there."
Producer Paras Mehta, Co-founder of Dhamaka records said, "We are missing our Music Video Director Dinesh Sudarshan Soi who is directing few of our songs and could not join due to his on going shoot. Dhamaka records is all set to create a stir in the music industry. We will soon launch our very first song, and I am sure audience will appreciate. We want to give a platform to talented artists and take this musical journey to the next level with them."