Gopal Khilwani Gets In The U-19 After Constant Striving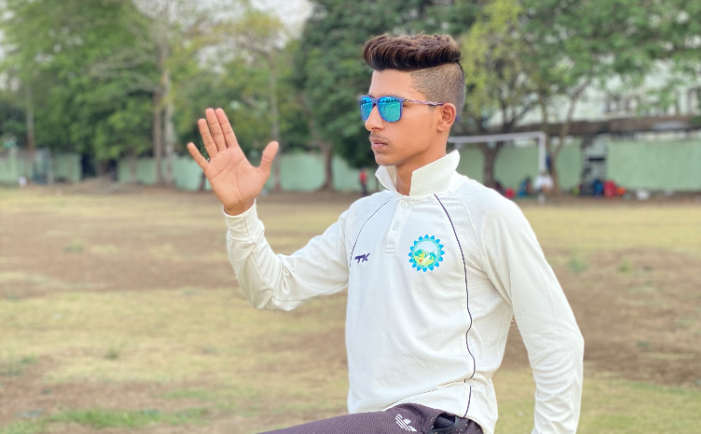 How many of you have received a good news and thought that it was the opposite person who is trying to make a fool out of you? Often people do not believe in themselves and similarly do not even try to become the best version of themselves because of this. Gopal Khilwani was faced with one such incident when he first got the call of being selected in the under 19 national cricket team. It came off as something more than surprising, he never imagined being selected in such a prestigious position, let alone playing in the team itself.
Gopal Khilwani is a 16 year old young man, full of enthusiasm and passion for cricket, from Indore. He was certainly very enthusiastic about his selection and wanted to confirm it because it was still pretty hard for him to believe. It was the constant support of his friends and family members that had brought him at such a position, making him capable of doing even greater things and building confidence in his gameplay. As an athletic, he has been training pretty hard to make sure that he is not just building his stamina but also developing his cricket playing tactics. Since there are a lot of popular people who already enjoy and Excel at this game, he knew very well that he had to be the best to make the under 19 national cut. And today he stands successful, all owing to his own efforts.
"This is a huge milestone for me, I never even imagined that I would be selected, this was only a part of my dreams and now since it has become my reality, I want to make sure that I am making the best efforts to be worth the position. Just because I got selected, does not mean that I will stop working and training, from now on the level of practise only increases. I am already well aware of the competition that I am about to face in the national level, and if I also represent my country in the international level, as I have imagined, I will certainly have to be not just one of the best, but the best" says Gopal Khilwani.
Gopal's father, Suresh Khilwani is a businessman with completely unique interests. Similarly his mother Indra Khilwani is the manager of a medical Company. Coming from such diverse backgrounds, nobody expected him to become a professional athlete at a young age.
It was the junior selection committee in Delhi that selected the India under 19 team For the one day series which is going to be held in Nepal from 12th of September. Gopal's coach Himanshu has always had big aspirations for him. With all these efforts and support, Gopal Khilwani is sure to become an international player pretty soon if he continues to remain dedicated.