Ahmed Mokbel's fitness application allows him to hold your hand for you to step into your journey towards self and fitness with him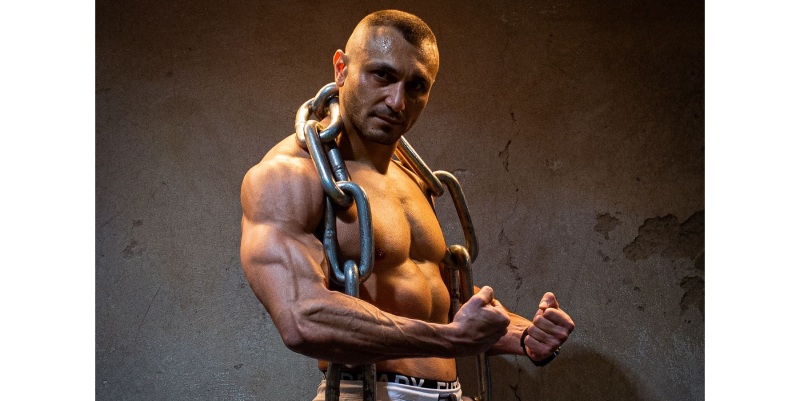 As the saying goes, there is no greater asset than one's own health, and what could be the best way to care for one's health than being trained by THE best coach in town.
Ahmed Mokbel; is renowned as a top Arab fitness coach working in Dubai and is now coming up with something larger than life.
Ahmed Mokbel has taken a huge step forward in his passion to transform lives and make people fall in love more with themselves by deciding to launch an application that uses his own experience with proven and tested results that YOU could have access to, anytime and anywhere. His upcoming app "Mokbel Fit" is launching on 18th October.
Nutrition and diet plans, In person conversation with Ahmed himself, or customized exercises according to each customer's requirements. The application provides all and every possible facility that you'll need in your journey to being fit and active.
To continue to learn more about Mr.Ahmed Mokbel; he was born in Cario, Egypt on 18 October 1987. His journey as a fitness coach and personal trainer began after he graduated from the Faculty of Commerce at Cario University. It all began with him taking active participation in numerous local bodybuilding competitions and then he decided to up the game in the year 2011 and he moved to Dubai, starting his very own fitness business. It was his passion for fitness, bodybuilding, and modeling from a very young age that made him what he is today. Before even graduating; he worked as a model for renowned brands such as Pepsi, Sneakers, and DIADORA.
Then in 2011, he suddenly got this urge to take his passion to another level and that was when he started his own personal training business with a zeal to change the lives of people who weren't happy with their personal health and fitness. He didn't just think of it but rather was also successful in changing the lives of almost 600 clients in no time with his knowledge of the fitness and best practices of the health industry. He was fulfilling each of his dreams by putting his knowledge, passion, and hard work into action. His accolades range from achieving levels 2 & 3 in Personal training along with ISSA, NCCPT, Strength Training Specialist, CPR, Strength and Conditioning, and Online coaching certification to being a Nutritional Advisor. Ahmed has truly worked hard to acquire all the expertise that one can look for in his/her trainer.
An unfortunate injury fanned the flames of his passion for fitness even more and since that injury happened; he realized how crucial it was for one to have a good hold over his/her health and fitness, He set out to help all those people who were not satisfied and were not on good terms with their own health. The love, passion, and concern he possesses towards the health and well-being of all have made him to step into launching his own application which is more customer-centric than any other application. His priority has always been and will always be the "People" and their health. Ahmed has never cared for fame or money; as he has always taken his client's success to be his own.
And if you want to be trained by someone who is invested in your success more than anyone is, then this is a sign for you to sign up and be part of something so powerful that teaches you how to stand out from the crowd by loving yourself, your body and feeling confident like never before.
Once you sign up, you will not give second thoughts about changing your trainer as you will have the best experience being trained by Mr. Ahmed Mokbel.
Check out his Instagram & Website.