Two ballistic missiles are fired by North Korea before to Kamala Harris' visit to South Korea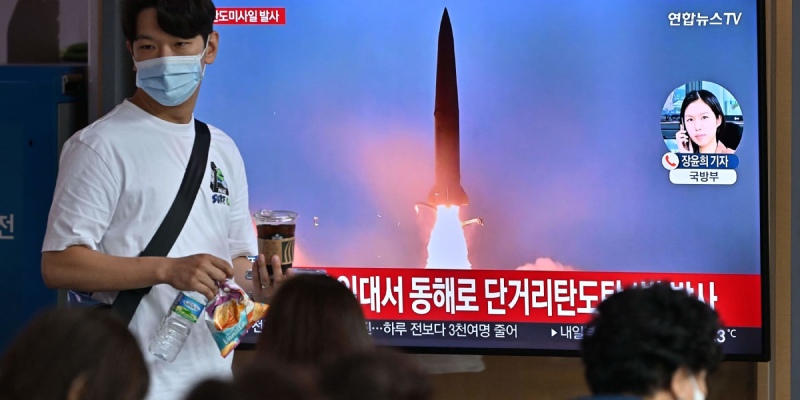 Officials from the US and South Korea have been alerting the public for months that North Korean leader Kim Jong Un is getting ready to conduct another nuclear test.
Just days after its most recent test and in advance of US Vice President Kamala Harris' visit to South Korea, North Korea launched two short-range ballistic missiles on Wednesday, according to Seoul's military.
The launches, which were a part of North Korea's record-breaking barrage of weapons tests this year, came after Seoul's spy agency issued a warning that Pyongyang was on the verge of carrying out another nuclear test.
According to South Korea's military, "two short-range ballistic missiles fired from the Sunan area in Pyongyang have been detected."
Seoul's Joint Chiefs of Staff stated in a statement that the missiles travelled "approximately 360 kilometres (223 miles) at an altitude of 30 kilometres at the speed of Mach 6" and that it was still examining the specifics of the launches.
In close conjunction with the United States, it continued, "Our military has strengthened monitoring and surveillance and is maintaining maximum readiness."
Japan acknowledged the launches as well; deputy defence minister Toshiro Ino noted that the frequency of North Korea's recent missile testing was "unprecedented."
The frequent missile launches, he declared, "cannot be accepted."
Although it stated that it remains open to talking with North Korea, the United States also denounced the launches.
The Democratic People's Republic of Korea, or DPRK, is the acronym used by the State Department. "These launches are in violation of repeated United Nations Security Council Resolutions and represent a threat to the DPRK's neighbours and the world community," a State Department spokeswoman stated.
This official said, "We are dedicated to a diplomatic approach to the DPRK and call on the DPRK to engage in dialogue."
The most recent launch comes after a short-range ballistic missile test by North Korea on Sunday.
Harris will travel to the tightly guarded border between North and South Korea during her brief visit to Seoul, which is scheduled to begin on Thursday.
According to the White House, Harris's trip, which comes after a stop in Japan, aims to emphasise the value of the relationship with Seoul.
About 28,500 US troops are stationed in South Korea as Washington, Seoul's main security ally, works to keep the country safe from the North.
In the waters near the Korean Peninsula last week, the nuclear-powered USS Ronald Reagan participated in joint exercises with the South Korean military.
Yoon Suk-yeol, the hawkish new president of Seoul, who took office in May, has increased joint exercises between the two nations, which they stress are solely defensive but which North Korea views as drills for an invasion.