Trey Sanders, a running back, is the third Alabama athlete to transfer to TCU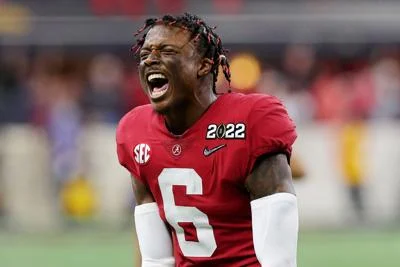 Trey Sanders, a former Alabama running back, is the third former Crimson Tide player selected by TCU in recent weeks.
Sanders, who committed to TCU on Thursday, only had 14 carries this season, but in his first two seasons with the Crimson Tide, he had 448 rushing yards on 102 carries. He held the No. 16 overall in the 2019 class of recruits.
The Florida native is one of three players who transferred from Alabama to TCU, along with offensive tackle Tommy Brockermeyer and wide receiver JoJo Earle. TCU plays Georgia on Monday in the College Football Playoff National Championship.
Sanders, who has two years left to play, could help a TCU team that might not have its top two rushers, senior Emari Demercado and junior Kendre Miller, by 2023. Miller is listed as the No. 156 candidate for the NFL draft in 2023.
ESPN's No. 1 player was Brockermeyer, who was raised in Fort Worth, Texas, close to TCU. Top in-state prospect and number two overall recruit in the 2021 class. Earle, a Texas native who grew up in Aledo, was ESPN's No. 76 new hires in 2021 Alabama gave him 24 receptions in two seasons.
"We expect to compete against Alabama, not only in recruiting but on the field," TCU coach Sonny Dykes recently told ESPN's Dave Wilson. "So the thing you don't want to start doing is taking a bunch of guys at Alabama that can't play for them. Because in theory they shouldn't be able to play for you either."