New Yoga laptops from Lenovo come with a dual-screen OLED model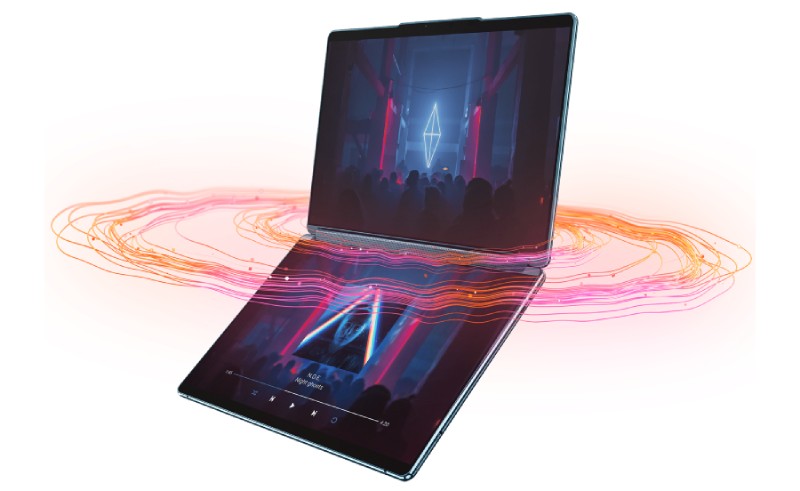 In 2023, Lenovo will continue to experiment with its Yoga lineup, which has a long history. The Yoga Book 9i, billed as the first "full-size" dual-screen OLED laptop, leads the company's 2023 lineup. The system's two 13.3-inch 2.8K screens theoretically make it a master at multitasking without significantly reducing its size or weight; it still measures just over 3 pounds and is about 0.63 inches thick. It can be used in a variety of orientations, including a tablet mode and a tent mode that is ideal for presentations. It is more useful as a machine for productivity thanks to Smart Pen support and a detachable Bluetooth keyboard.
You won't get the most power out of this laptop. The Yoga Book 9i has a low-power 13th-generation Core i7-U15, 16GB of RAM, up to 1TB of SSD storage, and an 80WHr battery that can play video for up to 14 hours on one screen (10 hours with two screens). However, in addition to three Thunderbolt 4 ports, the 1080p webcam supports Windows Hello and features quad-speaker Dolby Atmos audio.
You should prepare to wait a while and pay a premium while you wait. The Yoga Book 9i won't be available for purchase until June, and its 512GB of storage will set you back a hefty $2,100. This is for enthusiasts and professionals who normally purchase a laptop with a large screen or an external monitor but dislike heavier alternatives like the ASUS ZenBook Duo.
There are alternatives that are more common, like desktop fans. The Yoga AIO 9i, shown in the middle, is an all-in-one computer with a 31.5-inch 4K, HDR-capable display and a reasonably powerful PC hidden behind it. It is unapologetic about its style. NVIDIA's next-generation laptop graphics and up to a Core i9-13900H processor are options for the system. This could be the machine for you if you thought the Surface Studio 2+ was out of date. There won't be more than 1TB of SSD storage built in, but there will be up to 32GB of RAM and decent expansion with one USB 4 port, three USB 3.2 ports, one of which will be USB-C, and an HDMI 2.1 output. The computer, which will be available in the third quarter of the year, will cost $1,800 and feature a Core i7-13700H, 16GB of RAM, and a 512GB hard drive.
Although this isn't necessarily a problem if you're looking for the most recent specs in a familiar design, other Yoga models stick to their guns and prioritize updates to more recent processors. The new Slim 7, which you can see below, is the main device. It is a luxurious ultraportable with a 14-inch screen (up to 1080p OLED or 2.8K touch LCD), a chassis made of all metal, and a raised camera notch that should make it easier to open. It is powered by Core processors of the 13th generation, has two Thunderbolt 4 ports, HDMI, up to 16GB of RAM, and a maximum 1TB SSD. In addition, there are refreshed 13-inch Yoga Slim 7i Carbon and 14-inch Yoga 9i models with 13th-generation Core CPUs. A 13-inch Yoga 6 update adds AMD's Ryzen 7000-series chips and improves battery life.
When they go on sale in April, the Slim 7 and Yoga 6 will both start at $730. The Yoga 9i is available for $1,500 the same month. Although the Yoga Slim 7i Carbon will not be available in North America, you will still have plenty of options this year.