Through Blood, Sweat & Tears Cyffa Leyenda is still Making his name ROAR! on Social Media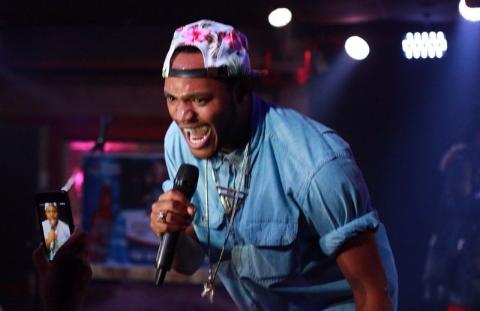 Cyffa was born in Lynchburg, Virginia and adopted in Virginia, Beach. At 3 years old the Virginia-Native was adopted into a wealthy strict household. Straight out of High School Cyffa Leyenda signed with Alisha "M'Jestie" Brooks (Song Writer of RIHANNA Pon De Replay & more.
After a year and half Cyffa was released off the label because M'Jestie felt he was going to be much bigger. Month later Cyffa connects with Michael Copon former Blue ranger in time force also featured in scorpion king 2 & more. Cyffa was a street dancer in Michaels artist Vickie Jade music video "Walls". The next day Cyffa and Michael reconnect for the last time and Michael tell Cyffa he sees something special in him but isn't going to tell him what he sees because he wanted Cyffa to figure his own journey out for himself. As Cyffa grew his expectations did not go along side his parents in result he was kicked out at 18. In 2015 Cyffa opened up for Rah Digga at Shakas Live bringing an enormous amount of energy through-out the crowd.
Later on that year Cyffa performed at S.O.B's "Where Legends Are Made" in Manhattan, New York City and THE NORVA w/Lex Luger, BIG WILL THE PARTY KING, Jolley Brothers and more. SOBs NYC was a paid trip, paid luxury hotel, food provided and Backstage access free from the founder of the LiveWire Ent. This was Cyffa's first time in NYC and lived it like a star. 2018 Cyffa had hit single ran 150k streams on soundcloud and not to mention opening up for Megan Thee Stallion. Cyffa drew 100k people on his Instagram the day of the show. Cyffa was able to meet Megan, took a pic and connected with her manager. 2019 Cyffa was a dancer in one of TEK's featured music video. Today Cyffa has released his new single "Fineto" with Dela Wesst "500k followers on Tik Tok" (Prod. YoungFrenchy808 & Its64boy) Distributed by Empire also reposted by FAT JOE.
In 2020 leading to 2021 Cyffa has been featured in Respect Magazine, Entertainment Paper, Influencive, WFMK FOX34 NEWS, WBOC TV, RedxMagazine, Droid Journal, Ritz Herald, Disrupt Magazine & more. Up coming things Cyffa has planned is features with , YUNG Smilez , SumeRR, more singles with Empire Distribution and more.When it comes to music Cyffa's focused and isn't the type to give up. Cyffa is like a Virus that can't be contain once he's on one thing he's going to be featured on another. Consistency plays a huge part in Cyffa's life.
He feels the only way to succeed is to marketing every little information about his entertaining world. Cyffa this year will receive a plaque along with becoming A&R and Marketing Rep at Stackin' Up Entertainment. This year is a big year for this extravagant Libra and he plans on bringing the world together.