The Road to Recovery: How Infrastructure Projects Are Paving the Way for a Retail Revival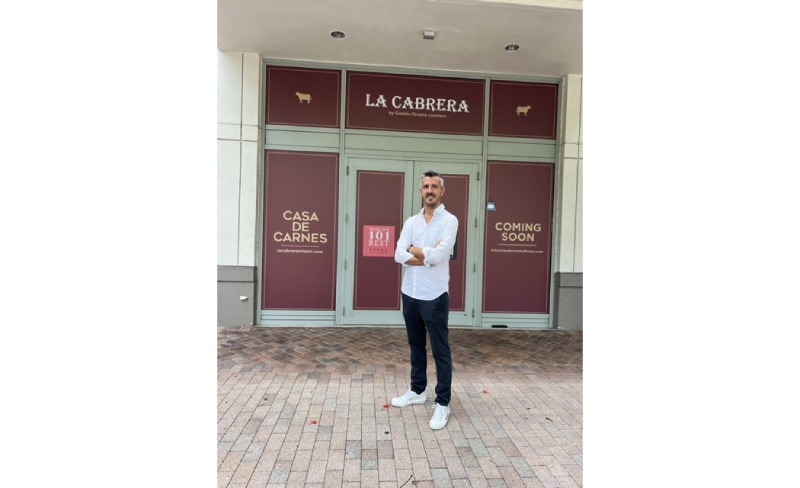 The connection between infrastructure development and retail might not be immediately evident in the complex interplay of economic factors. Yet, as cities worldwide invest in new roads, bridges, transportation hubs, and public spaces, the retail industry is set to reap substantial benefits.
One man who understands this deep connection is Gonzalo Borsani. He is a leader and innovator in commercial infrastructure. In his native Argentina Borsani has been at the forefront of creating urban revival in desolate and rundown areas. And his extensive restaurant and commercial development expertise positions him as a linchpin in urban revitalization over the years.
Borsani says: "In the grand tapestry of economic revival, infrastructure and retail intertwine intricately. With strategic foresight, adaptability, and a willingness to innovate, retailers can harness these projects' immense potential."
Julio Irurueta has worked alongside Borsani and witnessed the transformation he can bring to a city is.
He is the Councilman for Urban and Economic Development for La Plata: "Gonzalo's unparalleled commitment to urban renewal and progression is evident," he says.
"His visionary foresight and unwavering dedication have shaped our city, elevating community living standards and driving positive transformation."
Irurueta adds that thanks to Borsani's transformative vision, a forgotten city sector thrums with renewed energy: "It has now become a magnet for top-tier fashion and hospitality brands, establishing itself as a prime spot for city residents."
He says this rebirth of a part of La Plata stands out as an unmatched hub for both gastronomy and retail in the city: "Gonzalo was at the forefront of the conception and development of the new commercial hub, 'Pasaje Rodrigo,'" says Irurueta.
"This initiative saw expansive upgrades, from parking areas and streets to lighting and landscaping, turning a nearly forsaken space into a bustling hotspot."
He adds: "With Gonzalo's deep grasp of market trends, strategic outreach, and ability to nurture collaborations, there's no doubt he can bolster economic expansion, lure in investments, and pave the way for new horizons for businesses and communities alike."
The council recognised Borsani's immense contribution and entrusted him with a key position in our Municipality. He now offers invaluable insights, assesses, and mentors on our commercial projects.
Under his astute guidance and mentorship, the Municipality was empowered to make knowledgeable choices, greenlighting this eco-conscious and meticulously planned commercial venture.
Here, Borsani offers his valuable perspectives on how infrastructure projects are paving the way for a retail revival.
Foundation of Growth
Post the economic challenges of the past years, there has been a concerted push towards infrastructure development. Governments worldwide view these projects as tools for better connectivity and as catalysts for economic revival.
For retailers, this means increased accessibility to their stores, a surge in foot traffic, and an uplift in regional economic activity. As transportation improves and regions become more connected, retailers are handed the golden opportunity to reach wider audiences.
Bridging the Urban-Rural Divide
Improved infrastructure often extends the city's edges, making rural and suburban areas more accessible. With this, retailers are observing a promising trend – the dispersion of shopping activity. No longer confined to dense urban centers, retail hubs are emerging in previously overlooked areas, driving growth and opportunity in regions that were once deemed commercially dormant.
For instance, developing a new highway can suddenly make a once-remote area the next potential retail goldmine. Retailers attuned to these shifts can position themselves advantageously, tapping into new markets ahead of the curve.
Modern Infrastructure, Modern Retail
Today's infrastructure projects are not just about concrete and steel but also about digital connectivity. As cities lay down fibre-optic networks or boost wireless capabilities, they inadvertently aid the retail sector.
Brick-and-mortar stores can integrate more seamlessly with digital platforms, offering hybrid shopping experiences that cater to tech-savvy consumers.
This enhanced digital connectivity also paves the way for data-driven insights, enabling retailers to understand local demographics, shopping behaviors, and trends more efficiently.
Infrastructure as a Magnet for Auxiliary Services
A new train station or a revamped public square doesn't just boost the appeal of existing retail spaces; it often attracts a host of auxiliary services. Cafes, pop-up stores, entertainment zones, and experiential retail spaces tend to sprout around these hubs, creating vibrant, multifaceted shopping ecosystems.
These ecosystems are particularly vital in the age of experiential retail, where consumers are looking for more than just products. They crave experiences, a sense of community, and interactive shopping adventures – all made possible by modern, multifunctional infrastructure projects.
Challenges and Considerations
It's not all smooth sailing, however. Infrastructure development can sometimes mean short-term disruptions for retailers. Construction can temporarily decrease foot traffic or make access to stores challenging. However, forward-thinking retailers often turn these challenges into opportunities, leveraging marketing strategies like "construction discounts" or offering digital alternatives to in-person shopping during these periods.
Furthermore, as regions develop, retailers must be attuned to these areas' changing demographics and needs.
About Gonzalo Borsani
Gonzalo Borsani is a prominent figure in the urban commercial infrastructure realm, possessing a deep-rooted expertise in the hospitality industry. His initial inspiration to delve into this domain was his grandfather's women's accessories store in Argentina. Witnessing its evolution into a thriving establishment, Borsani grew curious about the power of brand collaboration to rejuvenate urban locales and strengthen communities.
Today, Borsani is recognized as an authority in the restaurant and commercial development sector.
In his homeland, Argentina, Borsani's influence is undeniable. He was instrumental in transforming La Plata into a bustling hub, offering insights for a vast 40k square feet bazaar.
This space now thrives as one of the city's primary dining areas. Given that La Plata is among Argentina's densely populated provinces, Borsani's visionary approach has had a profound impact. His commendable efforts weren't overlooked. Borsani earned a seat on the Desarrollo Urbano y Economico de la Ciudad de La Plata committee, tasked with the city's revamp. He spearheaded initiatives to beautify La Plata, improving its lighting, walkways, and overall appeal, placing it prominently on Argentina's cultural map.
Adding to his accolades, Borsani successfully launched La Plata's first Rip Curl and Ginebra franchises. His strategic alliance with fashion giant Kosiuko also led it to become Argentina's top-performing franchise.
Borsani's role doesn't end there. He actively adjudicates for the Desarrollo Urbano y Economico de la Ciudad de La Plata organization, a key player in the region's redevelopment. Moreover, as part of the esteemed Chamber of Gastronomy in La Plata, Borsani continually evaluates and shapes the city's gastronomic scene.