TEAM AKBF'S HISTORICAL 9TH EDITION PRO FIGHT NIGHT EVENT,  KOLKATA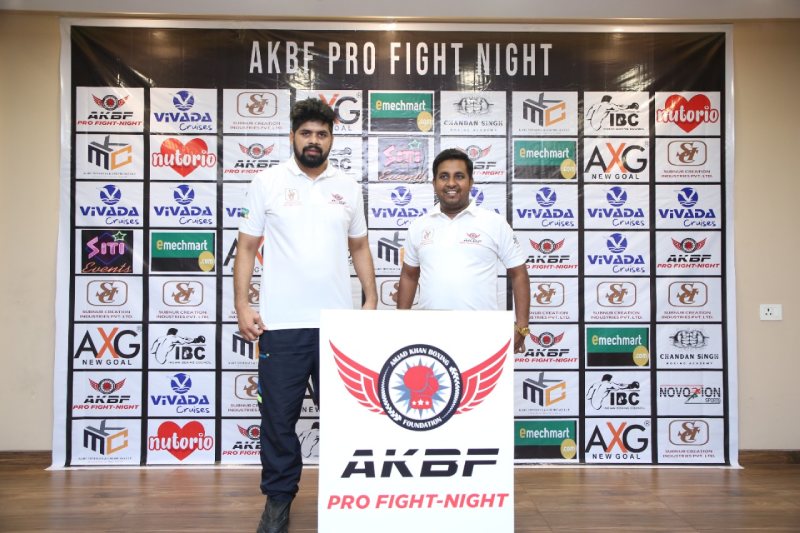 Amjad Khan is the one to inspire the youth regarding sports and training them. A few days ago Amjad has felicitated by the Star Awards Season 2 for his extraordinary performance in promoting boxing, boxers, and even aspiring youngsters in other sports. Amjad Khan is a reputed former boxer and international trainer and one of the most prominent boxing promoters. He has represented India on various global platforms. This time he has given the opportunity to new boxers by organizing various fights inside and across the world. Recently a well-known event was organized by Team Amjad khan boxing foundation under the leadership of Amjad Khan.  Many young energetic boxers have been seen on one platform.
 "A historic boxing event on a cruise ship for first time Kolkatta (2nd time in all of India) was organized by Amjad Khan for his AKBF 9th edition Pro fight on 26th March 2022.   Credit goes to the AKBF team for organizing. This whole event was not possible without the support of our wonderful sponsors, said AKBF Vice President Shabeer Hamza. Great support and difference to the event were made by boxing enthusiast and businessman Jamal Islam, owner of Subnur Creation, the creative touch by him and wholehearted support helped a lot in making the event successful and unique in itself. Venue partner Vivada Cruise, made it possible to organize this historical event in India on one of their wonderful cruise ships. Other than this, Kunal, owner of Karv Minerals and Chemical LLP, Gloves partner AXG New Goal, EMechmart was a travel partner and its founder Tale Mohammad Khan actively supported the event, Bright Path also was a supporting partner   SITI was a broadcast partner who helped a lot to make an event successful by reaching to a wider audience. Businessman Sahil Peerzada of the AKBF advisory board and mentor also supported the event wholeheartedly. Coach Chandan Singh was all grateful for this event. Event Manager Saurabh Pal played a key role in making the event a success.VKR Films & Photography was the event partner of the 9th edition pro fight night.
It is a matter of great pride that youth like Amjad is leading the present generation of the country in the field of boxing. Along with this, new opportunities are also being provided to those who are interested in sports. The entire team Amjad is constantly engaged in organizing creative programs and competitions. In this event, youth arrived from different places and joined at a big platform.
On 26th March 2022, Milenium Park of Vivada Cruise was full of cheer and enthusiasm. In Bout 1 Super Fly Weight Category Heli Tana Tara of Red corner and Hashmat Nurani of Blue Corner came in front. Heli Tana Tara declared as the winner.
In Bout 2, Feather Weight Category Anshu Kumar Shaw of Red corner and Ashfaque Khan of Blue corner started the fight in which Anshu Kumar Shaw declared the winner.
In Bout 3 Super Light Weight Category Abhishek Kumar of Red corner and Banty Singh of Blue corner came infront in which Abhishek Kumar declared as the winner.
In Bout 4, Super Welterweight category  Ankit Jangir of Red corner and Manoj Singh of Blue corner started the fight in which Manoj Singh declared as the winner.
In Bout 5, Super Middle Weight category, Jalaluddin Sheikh Meree of Red corner and Yugandhar Tambat of Blue corner started the fight in which Yugandhar Tambat declared as the winner.
In Bout 6, under Weight Category of Super Bantam, from the Red Corner side, Nawid Mohammedi and from Blue Coner Manjeet came in front, interestingly match draw.
In Bout 7, under Weight Category of Super Middle, from Red Corner side Sahil Singh and Blue Coner side Kaleem Ahmed Khan started the match in which Sahil Singh declared as the winner.
This fight was organized by Amjad Khan Boxing Foundation. Truly, boxers got a good experience in this event. Amjad previously said International Boxing Coaches and former boxers also contributed to the event to provide better training to young boxers. Whereas the felicitation of Amjad Khan also motivated the whole group to reach new heights in boxing.
"Amjad Khan is already looking forward to organizing the next event, which will be announced soon, so please check Amjad Khan's Facebook page and our website www.akbf.in to know about the dates, venue, sponsorship and promotion opportunity and for tickets. Also, AKBF is looking forward to having an international event abroad" said AKBF Vice President Shabeer Hamza.