Sustainable Energy for All: KWE Network's Vision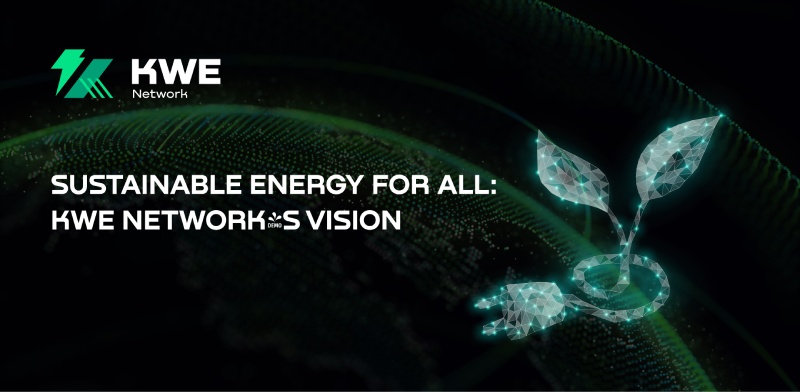 The KWE token, short for Crypto Wealth Economy, also symbolizes Kilo Watts Energy, representing a dual purpose and meaning. In the future, this token envisions wealth generation through financial instruments such as investments, fixed interest deposits, loans, and more. The KWE token serves as the backbone of the staking process and functions as the currency for executing smart contracts (gas fees).
KWE Network – An Introduction and its Operational Mechanism: WE Network is at the forefront of a groundbreaking initiative that seamlessly integrates green energy with blockchain technology. In a world where monopolies have long dominated the production and sale of energy in most countries, KWE Network introduces a visionary concept. This unique project revolutionizes the renewable energy industry by capitalizing on the potential of decentralization to enable large-scale green energy production and storage solutions, all while promoting global engagement in the energy retail market through blockchain technology.
While there may be aesthetically pleasing websites in this sector, KWE Network stands out as a truly innovative project that defies conventions. It redefines the landscape where green energy converges with cryptocurrency, introducing a concept that challenges traditional norms and paves the way for a more equitable and sustainable future.
The standout feature of KWE Network lies in its potential to disrupt the entrenched energy production and sales monopolies that have persisted for too long. The project envisions a future where the production, distribution, and rewards in the energy sector undergo a transformative shift, marking a significant leap toward a more inclusive and sustainable world. KWE Network firmly believes that it holds the key to the much-needed disruption and transformation in the energy industry.
Choose KWE and invest for your future
Now, introducing the KWE Network and the KWE token:
The KWE Network represents a pioneering amalgamation of blockchain technology and green energy production facilities. This unique concept aims to disrupt the energy market by leveraging blockchain for decentralization and transparent financial transactions. The primary objective is to democratize access to the green energy production economy and facilitate global participation through blockchain and staking on the platform. The KWE Network comprises two fundamental components: the Blockchain infrastructure and the green energy production segment, which will be further detailed in subsequent chapters. Initially, KWE Network will launch as an ERC20 token and progress through financing rounds on the Ethereum platform. Later, in Q3-Q4 of 2023, it will migrate to the KWE Substrate Network mainnet, unlocking the full potential of smart contracts, staking capabilities, and development options (the testnet is already operational and under active development).
What project wants to change?
The main goal is to raise awareness about the KWE Network, underscoring its unique and transformative concept while making it clear that it is not a speculative token. This initiative targets a worldwide audience, with a particular emphasis on involving entrepreneurs, investors, and green energy advocacy groups from across the globe.
Join to KWE Network
---
Company Details
Organization: KWE Network
Contact Person: Adrian Florea
Website: https://www.kwe.network/
Email: company@kwe.network
Country: Belize