Restaurant Marketing and Public Relation Strategies in the Post COVID-19 World in 2020

We are still trying to figure out how to deal with life after social distancing, but things are definitely starting to go back to normal with businesses opening up but with the new regulations that need to be implemented to make sure that the pandemic does not go back to how it was a couple months ago. Companies are surviving by incorporating online strategies along with modern common sense.
Restaurants definitely need to rethink their business model and find new ways to serve their customers and build trust.
In this article, we will look at how to re-align restaurant strategies post-lockdown.
1) Contactless services
Even when consumers start dining in restaurants, they will refrain from touching physical menus that go through multiple hand exchanges. One solution was that restaurants would start using disposable menus, but with the major loss of revenue, disposable menus were not cost-effective. So instead, digital QR code menus emerged as the best solution. They have been a great asset in implementing contactless menus.
Restaurants can upload their current menu into the PDF format and convert it into a contactless QR code menu for in-house dining. From there, they can also create a form that lists items on the menu and their quantity and customers can choose the dishes they want and submit the form and the restaurant will receive the order and process it.
They can also incorporate QR codes in their menu cards to let users know the nutritional value of each dish and see images of what their order would look like before placing the order. When they assist customers to make an informed buying decision is when they can build a strong bond with their customers.
Another contactless service restaurants can implement is to consider partnering with a food delivery app that gives the option to drop the delivery on the doorstep. Foodpanda, a food delivery app in Southeast Asia, implemented that right at the beginning of the lockdown where customers can choose the contactless option and by paying with credit card/debit card, the drivers would call them saying that the delivery was there, all they needed to do was pick it up by the door. Consumers are still going to want to minimize human contact even after COVID fades, so another strategy is for restaurants to switch to contactless takeaway and pickups.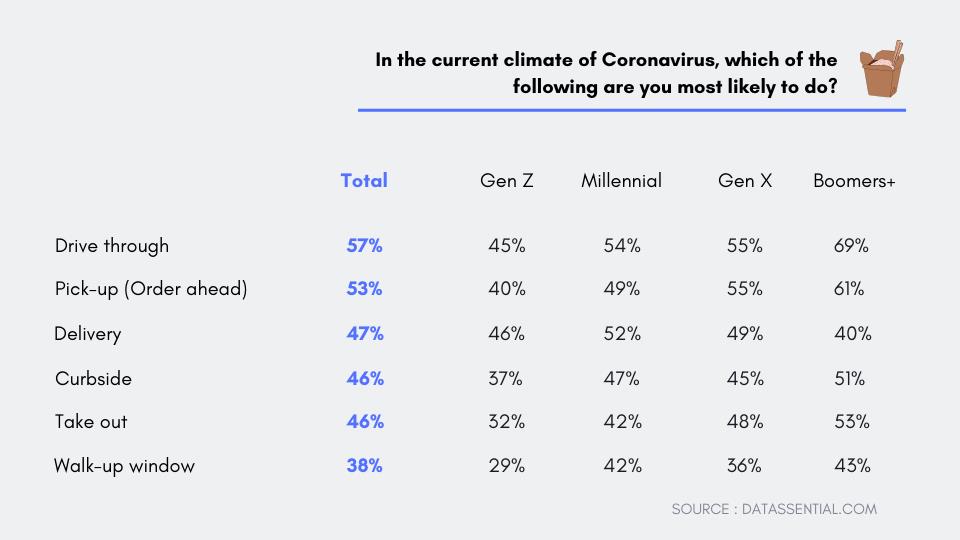 Based on this survey, you can choose the contactless delivery solution that works best for your business.
2) Hygiene is paramount
While customers go to restaurants because of the quality of food and taste, COVID-19 have definitely given hygiene ratings a high priority. Restaurants will definitely need to prove to their customers that they have very high hygiene standards. It will no longer be sufficient to just have 5-star ratings in taste and ambiance.
According to Zomato and Swiggy, two major food tech platforms, they reported that consumers are now filtering restaurants with hygiene ratings on the app and those with a high rating see an increase in visibility and orders.
Restaurants can also use QR codes to collect hygiene ratings. They can integrate a QR code API with the food delivery app, which is one of the fastest ways to scale hygiene rating collection. If they are already listed on a food delivery app, they should make sure that they do not miss the opportunity of getting feedback and ratings.
Consumers also need to see that restaurants are transparent about their sanitization standards and those initiatives will be appreciated by customers and give them the confidence to come back. Customers also generally love when they can see their food being prepared. So, restaurants can create a virtual tour of the kitchen so that consumers can see the chef preparing their food while they wait for their food to arrive and it is also a great way to showcase your hygiene standards. This will help with press coverage as well.
3) Home cooking making a comeback
Even post-lockdown, the trend of people cooking at home will definitely continue. So, restaurants should create ways for people to make their dishes at home. Some restaurants have actually created kits for people to make food at home, families are trying to cook together and seek collaborative opportunities so for restaurants that may have food that has an elaborate cooking process, they can also deliver partially cooked ingredients.
Adding a personalized note from the chef providing cooking instructions will also be helpful. If restaurants decide to deliver bigger portions, they can give stock-up options. However, that is definitely not the best option when it comes to hygiene and eating to build immunity.
4) Make sure your restaurant is a safe place to gather
Restaurants need to take additional steps to make consumers feel safe. To ensure that no one is carrying COVID symptoms, the easiest way is to screen everyone at all entry points of the restaurant. It can be done by using thermal scanners, cameras, or a basic online form declaring their health conditions and travel history.
It is generally not recommended to use manual visitor forms or digital screens since the virus spreads through contaminated surfaces. Instead, they should use contactless visitor forms powered by QR codes.
5) Choose digital channels over walk ins
A large number of restaurants have managed to overcome some hardships by switching to digital platforms like social media, a website, and digital ordering. Consumers are generally already comfortable texting and interacting with chatbots, so placing an order through that way is just a part of their lives now.
Social media has always been a part of people's lives, however especially now with nothing much else to do, they spend a lot of their time. Restaurants can leverage social media to include automating messenger messages to take orders and retargeting repeat customers. Companies like pressfarm are great for online visibility.
How can restaurants personalize customer targeting with QR codes?
There is a way to boost restaurant sales and get your patrons hooked on to their offerings through a simple QR code hack, that trick is using "Dynamic QR codes." They are the upgraded version of regular static QR codes with the capability of changing the URL linked to the QR code in real-time. It also enables restaurants to personalize customer experience based on time, location and days. It is an important marketing function in the restaurant industry to personalize customer experience.
How to use dynamic QR codes to boost restaurant sales
1) QR code campaigns based on the time of the day
Most restaurants have different menus for breakfast, lunch, and dinner with specific offers attached to each of them. Delivering these offers via dynamic QR code campaigns where the customer scans the same QR code to get a different offer each time is a brilliant way of creating fascination among the customers. Dynamic QR codes are also an excellent way for restaurant owners to get rid of changing menus and offers on chalkboards on a daily basis and replace the chalkboard menu with a scannable QR code based menu instead.
#2 QR code campaigns based on the day of the week
Restaurants ideally schedule offers based on the high traffic and low traffic day of the week. For example, a happy hours offer is valid only on a weekday with less traffic so that it helps the restaurant boost its sales on such days. Creating a new QR code campaign for each day to update the offers and menu of the day is a hassle that restaurants can avoid by choosing to opt for a dynamic QR code instead.
Dynamic QR code campaigns also allow restaurateurs to change campaigns based on the target audience for weekdays vs. weekends. For example, a restaurant near a college might get more students over the weekdays but families over the weekends. The campaigns can change based on their tastes and offers tailored for each user segment.
#3 Seasonal and festival based QR code campaigns
With dynamic QR codes, you can deploy the QR codes on your menu or the store-window once and keep changing the menu and offers on the back-end by replacing the URL linked to the QR code.
For example, if the QR code on your menu leads to offers on lemonade or an iced-tea during summers, you can change the URL linked to lead to offers on a hot chocolate drink during the winters.
Another promotional strategy used by most restaurants where dynamic QR codes prove to be useful is during the festival or occasion based offers and discounts on the restaurant menu.
#4 QR code campaigns with flash deals update/ limited period offers
All restaurants have faced situations with unexpectedly low footfall on some days. At times like these, the QR code campaigns that you have already placed on various strategic places can be linked to flash deals/limited period offers in an attempt to increase the footfall.
#5 QR code campaigns to update information
All restaurant marketing strategies involve updating the menu from time to time to keep up with the changing consumption patterns of their patrons. Boost your restaurant sales by keeping your loyal customer base updated on the latest additions to your menu with dynamic QR code campaigns.
#6 Fine-tune QR code campaigns on-the-go
With dynamic QR codes, you can fine-tune your campaigns on-the-go based on the customer analytics data. Continually refining your restaurant marketing campaigns is useful to keep up with the changing trends and customer buying patterns.
Conclusion
This method is definitely the way of the future, marketing strategies need to change and adapt to what is going on.
While it is possible to do marketing and public relations yourselves, sometimes it is just easier and less stressful to hire someone to do it for you because as mentioned before, it can be time-consuming. PR professionals are there for a reason, they know exactly what needs to be done to create an effective marketing strategy. Companies like Pressfarm are there to create everything that a company needs from email pitches, press releases, among other things so that companies can just send them out and reap the benefits. They will be there to guide and help in any way necessary so that you can focus on other aspects of your restaurant.