Meet the Talented and exceptional football player : Mohamed Ismail Jasem Alhosani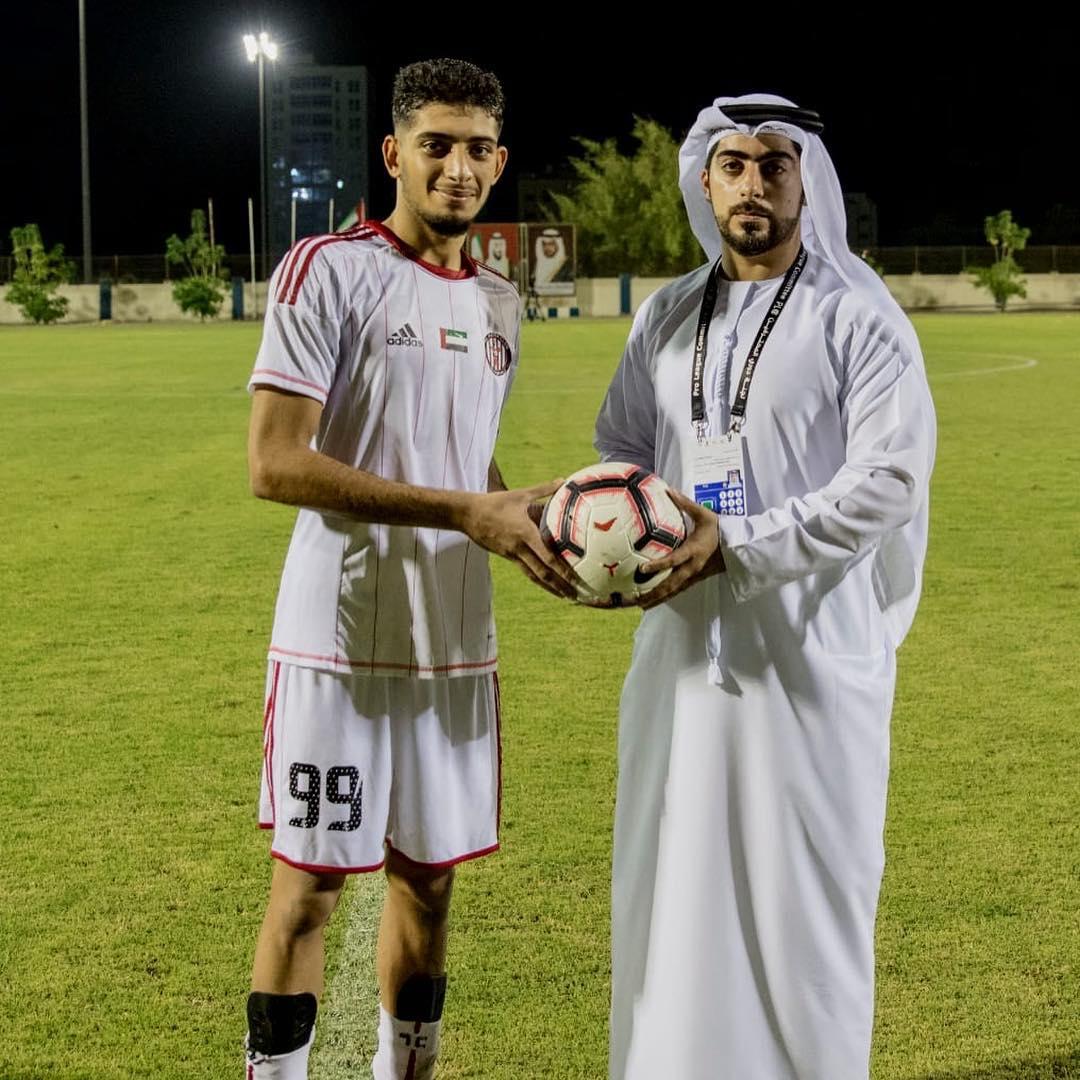 Meet Professional football player Ismail Jasem Alhosani who has represented UAE in national Olmpic team.
LET'S KNOW ABOUT HIS HISTORY
Ismail jasem Alhosani was born in 19th of July in 1999. At the age of 15 he had a great interest in football and that marks the beginning of his journey. Talking about his physic he is 177cm in length which is around 5'9 ft. and weight is 67 kg . He is now the member of Khorfakkanf's club , Where is the striker and winger left and right.
He lives in UAE i.e United Arab Emirates.
Rightnow he turns 21, and representing UAE national team where he spent 17 years with his coach, Jamal AL Hasani and from the last three year he is representing UAE National Team, where is been position at the winger left and winger right and also a striker he is!
His Accomplishment till date:
At the age of 15 he had 6 goals, while at the age of 16 the no. of goals increased to 9, and gradually he was showing a good improvement as by the age he reached 19 he had goal, 19 goals which is quite satisfactory!
Mohamed alhosani played in three teams and all of them first devision in uae leaige. Talking about his first team, which was 'AL jazera club' where is spent 5 years i.e from the age 15 to 20. While the Second team 'AL dhafra club' he just spent 7 months and the last one is 'Khorfakan club' where is spent just one year 2019-2020 and now he have new contract for the new season.
HIS ACHIEVEMENTS IS REMARKABLE!
In 2019 he was one of the best strikers in uae league and also the team' top scorer of AL dhafra club.
While in 2020 is was the best player of khorfakkan club where is was just 21 year old, Where he assisted 12 goals and he himself goals 2.
Talking about his first game in the league it was in the year 2012, against 'AL Nasr club' which was one of the most important league. Where in the last 10 mins he scored his first goal and played for 560 mins and scored 3 goals and their team top the league.
In 2013 a new coach were training them looking at his capabilities they put him as diffender where for one year he played as a back left and right and scored almost 4 goals and 752 matches where he was shown 3 red cards and one yellow card.
In 2014 it was a combination of players where the players from the age group 1999 and 1998 were playing together. For him it was a quite a difficult year but with the god's grace the old coach trained him and he played for 1000 minutes where he received one red card and also he scored two goals and they won the league.
In 2015 he was selected for National Teams where the coach Jamsel Al selected him on the basis of earlier match where he played against AL ain club and he scored hat-trick and also was the top scoror of the team. Looking at the impressive performance he waa been selected for Nationals.
In 2016 he played for 1165 minutes and scored 15 goals and was thesecond top scorer of his team.
Moving forward, In 2017 it was his push up for the first team to train. He trained for almost 5 months and was the youngest player in his whole team.
And Gradually he geared up himself in the year 2018 and 2019 and was top Scorer of his team. Where he scored 7 goals in just 4 matches.
While in 2020 he was the member of khorfakkan club and there he played for one year with them he scored 2 goals and 12 goals where been assisted by him.. Most important thing to note is that the winning goal was scored by him and the match was scored 1-0 where clearly his team won the match and everyone was proud him.