Meet Kartik Raman: At a young age has already received many awards and accolades making him one true-blue music professional in the country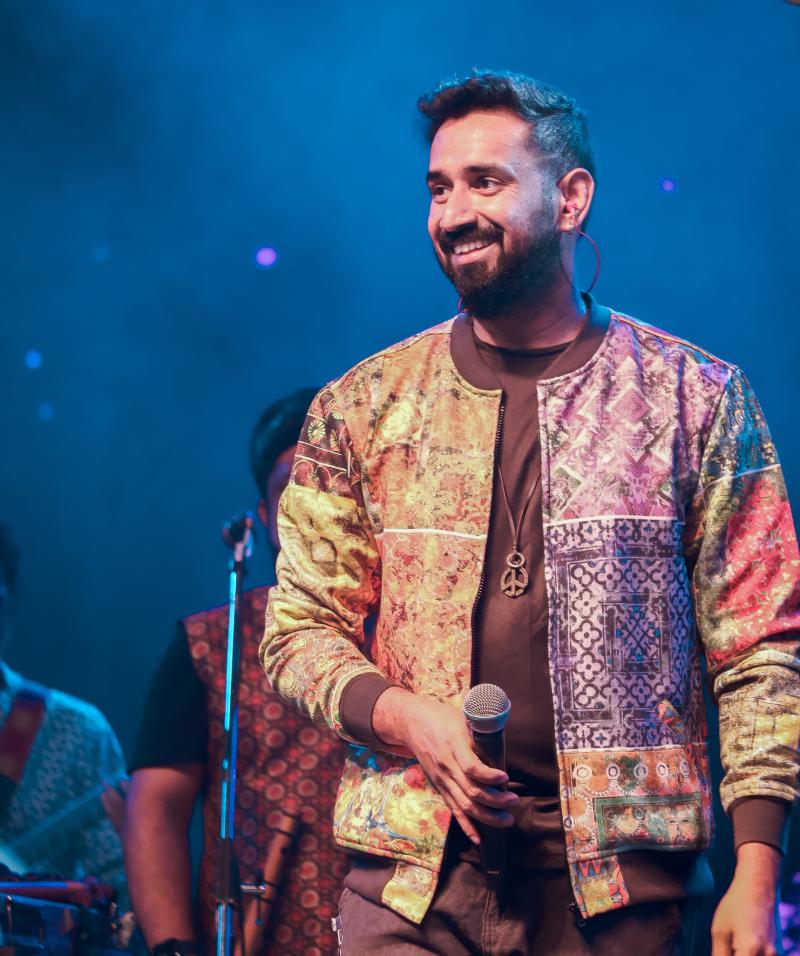 Bringing back life to Indian classical music is an astute singer and music composer, Kartik Raman.
A stupendous music artist Kartik Raman is enthralling millions of people with his mesmerizing voice and pro sense of beats and rhythm. Music was in his mind and soul from childhood. Though he pursued his education in Civil Engineering and Master's in Urban Planning, he did not pursue the job of his qualification. Kartik followed his passion for music as a full-time career. His love for music and his guru Padma Shri Shankar Mahadevan was so pure that he is blessed with collaborating and singing with him. During his master's studies, there was a college cultural program organized by the Shankar Mahadevan Academy. The winner would get a chance to interact with the music legend, Padmashree Shankar Mahadevan.
Being highly inclined toward music and having an amazing musical craft, Kartik won the college competition and got a chance to interact with his soul Guru Shankar Mahadevan. He sang Mitwa song in front of Shankar Ji in his style as a dedication to his Guru. Shankar Ji was highly impressed with his performance and promised him that whenever the right opportunity comes, he will make sure Kartik sings with him on the stage. Kartik's hard work and passion for his music paid off amazingly! After accomplishing his master's, he joined the Shankar Mahadevan academy as a curriculum designer and mentor. Shankar Ji and Kartik performed together for the first time in a Bangalore concert. After that, they did massive shows together. For the past three years, Kartik Raman has been an integral part of the Shankar Mahadevan and Shankar Eshaan Loy live team.
The SEL concert at Dubai Expo is one of the biggest shows where he performed with Shankar Mahadevan, Eshaan and Loy. The extravagant concert that happened on the 4th Feb 2022 was a huge show with massive people. Kartik also auditioned for the Tamil Reality show Hariyudan Naan which means "Hariharan & Me." Kartik is a Tamilian, born and raised in North India and this show gave him wonderful experience and knowledge about the Tamil Music World. This show was very unique from the other reality shows in India, where Participants would not just come and sing in each round and get eliminated like other shows. Hariharan Ji was very clear about his vision, participants to focus on establishing versatility rather than getting into the competition of winning or losing. For this he specially called Ustad Akbar Khan Saheb from Mumbai and made all the participants learn the core of Indian Classical music every single day. Padmashree Hariharan taught them Ghazal, Thumri, classical, western vocals and nuances of film singing too. Gaining this opportunity, Kartik mastered his musical craft and explored himself utmost. The grand finale of the show was held in Dubai and the young promising future of the music industry Kartik Raman won the show with the highest number of public votes. He has toured and performed with Hariharan Ji in India and across the globe.
He is the first Civilian singer to perform for the Indian Army at the world's Highest Battleground – The Siachen base camp for the eve of Azaadi Ka Amrut Mahotsav. Kartik performed for a series of 4 to 5 concerts which happened over 3 weeks and also did a special show at Kargil for the Indian Army on the 15th of August 2021. Kartik's success graph touches a new height each day. He comes across another astonishing opportunity to connect with Kathak Legend Padma Shri Dr. Puru Dhadheech. Kartik got the opportunity to connect with Kathak Legend Padmashree Dr Puru Dhadheech when he composed a song for the poem that was written by Puru Ji about 40 years back. This was a surprise for Puru Ji for his 80th Birthday celebration.
The song named Phir Tamasha was revealed to him on the stage and danced by his Disciple Sunil Sunkara in 2018. Puru Ji was highly impressed by Kartik's work and he blessed him with an opportunity to compose for two of the most path-breaking projects in Kathak. After which he composed the first-ever Hindi "Padyaanuvad" of the popular Shiv Tandav Stotra which is written by Padmashree Puru Dhadheech himself and was performed at Gamak Festival, Ujjain. Kartik also composed Navras which tells about the 9 emotions written by Puru Dhadheech Ji himself again in 2021, which was performed by the students of Dr Puru Dhadheech.
The journey of young promising talent in the music industry is truly inspirational for the artist. We wish Kartik Raman all the very best in future endeavours.