Maruti Suzuki plans to release two new small SUVs in India 2023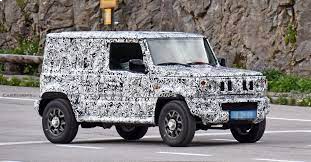 Maruti Suzuki, the largest automaker in India, has had a wonderful year so far in 2022. They have introduced a number of models into the market, along with their brand-new Grand Vitara mid-size SUV. It appears that the manufacturer is still working on it. They are preparing to introduce the new Alto and are also developing a few new models specifically for India. Maruti Suzuki will probably introduce two new small SUVs to the market next year in an effort to maintain its momentum. A brand-new YTB SUV coupe and the much anticipated Jimny (5-door) are two among them.
Suzuki is also developing the next-generation Swift, which has recently been seen undergoing testing abroad. The Swift has always been a well-liked automobile in both Indian and foreign markets. There were even rumours that Suzuki would introduce the Swift as a crossover because of the increasing demand for SUVs. The next Swift hatchback from Maruti Suzuki is anticipated to be unveiled in India at the Auto Expo the following year.
In addition to this, Maruti is developing two additional models for India. As everyone is aware, Jimny is a highly well-liked SUV in other markets. Suzuki had to increase output at its plant in India to keep up with demand for this compact three-door SUV. Although the 3-door Jimny is still produced in India, it is regrettably not offered for purchase in this country. However, the producer is developing an extended wheelbase Jimny for India. The 5-door Jimny will be introduced to the market by Maruti. The SUV's appearance will probably resemble that of the 3-door model. Since it would provide more space and be simpler, it would be much more useful.
The codename YTB refers to Maruti's upcoming small SUV. The future car will be based on Baleno's HEARTECT platform and include an SUV with a coupe style. The Futuro-e concept car, which was displayed to the public at the most recent Auto Expo in India, is anticipated to be transformed into the YTB SUV coupe. There will be more electricity in the model. The 1.5 litre petrol engine from Maruti is anticipated to be combined with a more powerful hybrid system. The YTB SUV will probably be sold through Nexa dealerships as a premium item.