Interview with India's Renowned Behaviorist Dr. Arun K Shukla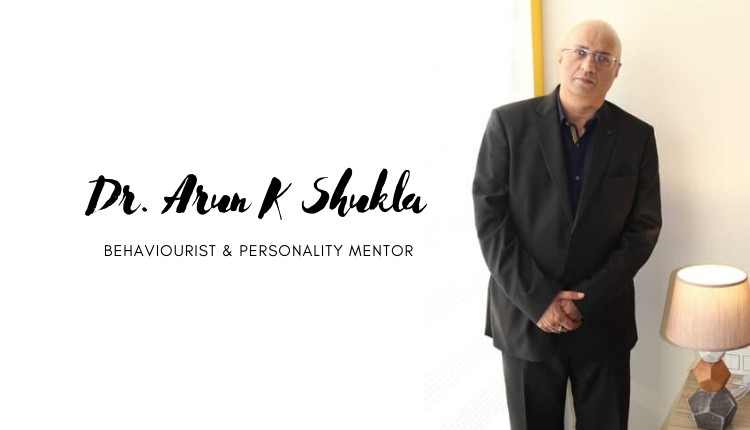 DR.ARUN K. SHUKLA – YOU ARE A RENOWNED BEHAVIOURIST WHO HAS BEEN STRUCTURING BEHAVIOURS FOR BOTH CAREER ACHIEVEMENT , PROFESSIONAL AND YOUTH CHALLENGES FOR TWENTY FIVE YEARS NOW , WHAT INSPIRED YOU TO DO THIS ?
Well , mind is behind every behaviour that plays a major role in structuring of society. So i desired to assist as little I can by contributing in person and through articles . The unseen almighty has been kind to bless my endeavours with success .
DR. ARUN K SHUKLA YOU HAVE BEEN LEADING BANNERS LIKE LA MILITAIRE ACADEMY , ALBATROSS ACADEMY,SUCCESSFUL HEROES , WE STILL HOPE ORGANISATIONS. PLEASE TELL US SOMETHING ABOUT THEM?
Every banner is an umbrella for a different purpose where La Militaire is to train future soldiers and officers for evolving to recruitment standards , Albatross academy is an education promoting company for varied purpose , successful heroes for the leadership training by setting examples and we still hope organisation is to assist every individual with a synchronized thought to present needs. Thus each endeavour has a well defined focus with education as the underlining.
WITH TWENTY FIVE YEARS OF EXPERIENCE AS A BEHAVIOURIST WHAT MESSAGE YOU WOULD LIKE TO SEND TO MANY WHO SUFFER PSYCHOLOGICAL ISSUES IN THESE TRYING TIMES?
Well Covid -19 has given a pause to the speed of life we were earlier pursuing and chasing an economical growth over a healthy life .I certainly have sympathy for many who suffered loss of dear ones yet I propose to all the wise readers to take it as a wake up call to setting priorities straight and redefining the perusal process of life . One must use this time to safeguard self and others, along with checking one's own mind from thinking surplus – a disciplining and redirecting thoughts to positive activities is need of the hour.

DR. ARUN K SHUKLA ANY FINAL WORD TO OUR READERS?
We are master of our mind and our thoughts need to be architected to facilitate our healthy existence , anything in extreme is a poison and everyone must self analyse so as not indulge in excess and learn to celebrate existence with a focus to right priorities by adhering toA balanced equation of wisdom aiming cooperation & harmonious co existence important for one's social life .
HOW TO HANDLE STRESS
Modern life has brought challenges & we human beings overcame it by racing with time ( facilitated with cyber technology )connected to globe, yet sitting on the edge (the seeds of STRESS).
DEFINITION of STRESS
Sustained Traumatic Response , Emotional & Situational syndrome .My Proposed acronym to define stress disorder ( result of prolonged exposure to traumatic stimulus. In plain terms, activity which extends beyond , level of stamina (physical or mental) is STRESS followed by disturbing repercussions- short lived (erasable), reasonably long (scars) & extremely long ( stress disorder).

ROOTS OF STRESS
The scars of past & present assimilated in sub conscious mind. (prolonged duress)

Source A
An insecure infant may express nothing but an impression is left behind as fixation which later mutates into a malignant form.

Source B
Unfortunate child , recipient of emotional insecurities ( conflicting parents, perfunctory duties by earning & socialising parents.) Followed by school serving education, cosmetic persona for competitive excellence ,adhering to administrative professionalism minus empathy .The youth today are subjected to activities , indoor & outdoor sports designed to acquire anxiety instead of relaxation. The cyber games , provoke belligerence & anxiety.

Source C
The peer, social norm conformity , emotional & psychosexual alliance (self values & conflicting realities generate grave turbulence( reason of many suicides).

Source D
As an adult ,career flags off an unending race where dynamics of professional environment ,deadlines & targets is a whirlpool that victimizes (sustainability period dependent on degree of mental stamina ). Opposite gender's unwanted advances, desire to exploit hierarchical position (accessibility & misuse of power).

Source E
Four walls of home are now a hostel or a hotel ,as spouse & children too race ( part & parcel of quagmire -the modern society). Family confirming universal social norm & material acquisition. None as stay back healer , both men & women (warriors) & children preparing for war to follow . All tired & scheduled multiplying stress).

Source F
Spouse relationship is a source too as living culture , thought process , beliefs and faith, desires and aspirations, appreciation, rebuttals, family preferences and input process.
Source G
Gerontologist recorded that post retirement is a major source too inability to enact, loneliness, changed interpersonal equations & status.

RESULT OF STRESS
Notable is that some are able to bear whereas some BURNOUT & descend to psychological disorders triggering release of adrenaline followed by counter release of cortisol to balance , continued coupling triggering an intense conflagration of psychological disorder ( depression , irritability , enervated mind ( exhaustion & Alzheimer), soliloquy , high anxiety (source – cardio disturbance & immunity system etc ). Mind is the regulator ,so disturbance affects physiological efficiency ,sleep disorders , loss of stamina &efficacy , withdrawal , avoidance ( isolation & absence from social & personal activities).
COPING METHODOLOGIES
BREEDING POSITIVITY – extended fatigue leads to negative results & negativism unaware of BURNED OUT state of mind. So negative self appraisal ,lack of confidence & enthusiasm, (essential to format to positivity ,avoid self blame & withdrawal)
MENTAL THERAPY– meditate & relax mind, ease strained muscles Deep breathe , detach with stress stimuli , move ahead with lessons & not as a fatal stain or scar . Reading biographies & autobiographies of great achievers helps to fight back.
CONSULTATION– consulting a psychiatrist , friends , colleagues or Human Resource personnel to device a strategy. Medication also relaxes tightened muscles (natural in stress. )
A BREAK IN ROUTINE – a break from activities to indulge in relaxing rejuvenating & reenergizing exercise.
EXERCISING FOCUS – regain focus by activity of interest so to return to concentrate ( symptom of psychological BURNOUT.)
READING & WRITING – a suggested activity of right subjects & articles to gain information & give vent to bottled up . ( sublimation – effective tool of ego defence mechanism )
GROOMING HEALTHY RELATIONSHIP – the biggest backup for stress is when you cherish healthy and supportive relationship , thus grooming understanding , appreciation & serving support is a great stress buster as promises one of happiness of giving and following assurance of standing by when need arises . In case of conflict – mediation and compromising is advocated to resolve issues for happy coexistence.
YOGA – is an old Indian practice of exercises which relaxes muscles and the mind by various activities , particularly meditation. The stress release by the simple exercises is a proven fact as the exercises are not strenuous but rejuvenating the nodal points in our body and mind .
MUSIC , AROMA AND MASSAGE – is a combination of three important elements that resolves stress and resets your focus to right priorities . The historical evidences of this practice and researched data confirms the three as great solutions to stress reduction.
GROUP THERAPY – connecting with group , via call or interaction is an unnoticed stress reduction psychological methodology . The individual tends to extend cognitive practice to an extent that the stress follows as issues are blown out of proportion ( which is not so ) . Group interaction is a good mirror to correct . Comparative analysis of stress stimuli of one's to other's and thus checking the multiplying disorder is an effective stress check.
PHILANTHROPY -The philanthropical practices are great stress relievers for individuals who pursue higher goals and are entrapped in a vicious circle and company where everyone is surrounded by mountain climbers . The philanthropical experience generates a healthy pause or stop to stress as instead of higher goals one's focus is shifted to distance travelled and thus the comparative analysis which is triggered by comparing self to unprivileged a mental satiation is experienced to one's comfort . Alike a person in formula car racing experiences high stress at the time of race , a pause or finish brings great relief .
NOTE OF CAUTION – as experienced mechanically , machine on run gets overheated , so mandatory for an experienced driver to pause to give reprieve. Similarly working individual must analyse & check stress by being honest in not taking extra challenges. ( innovative techniques to work , participation in problem solving workshops , reorganising disturbing settings , written & well expressed communication to check misunderstanding in hierarchy & procedure – legal & official , open discussions with colleagues etc can resolve , assure camaraderie & protection from stress provoking harassment.)
Sustained Traumatic Response , Emotional & Situational syndrome is a by product of multiplied populace and is here to stay yet identification will trigger solution to overpower – after all its – " ALL IN THE MIND. "
To contact or to know more about Dr. Arun K Shukla visit: www.successfulheroes.com