How One Message Changed Adversity In An Attic To Panoramic City Views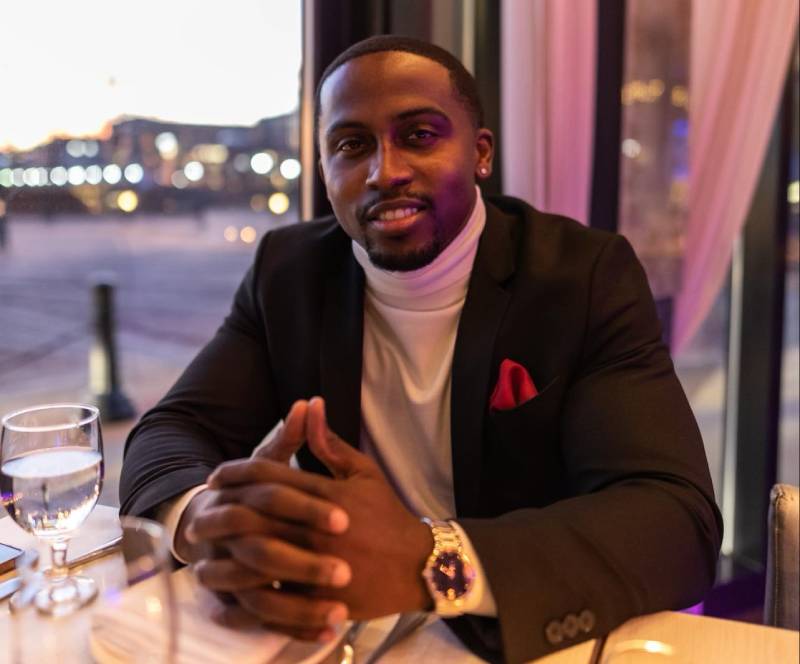 What do you think when you hear the term "self made"? The truth behind this statement is that it can become toxic to your dreams. No one is "self made". We all have help along the way. Those who embrace this concept are the individuals who truly flourish. There is power in networking. There is power in utilizing skills and opportunities of those around you for everyone to win. There is power in helping others.
Sam Flamont and Naeem Boucher are two businessmen who are the prime example of a network of true winners. Sam, a prestigious realtor and real estate investor with The Mitten Group brokered by eXp, in Traverse City, Michigan, has $50,000,000 pending and sold in real estate business in 2021 and didn't stop there. Sam extended his knowledge to a stranger. He offered a helping hand. Sam understood that true success comes from making it to the top of the mountain and turning around to help the next person climb. A true leader.
Sometimes that helping hand reaches unfamiliar people. Naeem was one of these people. His background is one that directors write movies about. Naeem comes from nothing. He is from the bottom. He grew up as an inner city kid in Paterson, NJ. Throughout the earlier part of his life, he had a dad in jail and his mom was raising five children. This adversity alone could overpower anyone to live in a victim mindset. Naeem refused to give in.
Despite being overlooked when he was younger, Naeem always wanted more. Naeem's traumatizing past was turned into fuel. He created a mindset of wanting to be unstoppable. "When no one else believes in you, you have to believe in yourself. ALWAYS stay positive. You'll gain confidence. When small successes add up, you will begin to see major wins."
In high school, he was told he would never be good enough for his sports teams. He was told to quit trying out. It seemed as though the people surrounding him wanted him to quit high school and go back to the streets of Paterson. That didn't stop him. Naeem became an All-American wrestler in high school. They said he wouldn't go to college. He played four years of college soccer. They said he wouldn't get his degree. He graduated. Post college, he wanted to become a pro soccer player but decided against it. In the forefront of his mind he had one goal, to become successful. The dream of becoming a millionaire was there, but finding success was all that he cared about.
Naeem started making money as a soccer coach and hit rock bottom. Many people overlook money management. In fact, the importance is not stressed enough to young kids and young adults. He fell into the rut of not understanding how to take care of his money. Adversity snuck in. This adversity caused Naeem to move into an attic where he spent hours of his day living with rats and roaches. Rather than settling and "accepting" his situation, Naeem added more fuel to the fire. He got his hands on the book "Rich Dad Poor Dad" by Robert Kiyosaki. The book not only taught Naeem about money management but it also inspired him to continue growing his mental strength. He wrote motivational quotes on the back of his door every day with a sharpie marker. He began substitute teaching, learning about real estate, working multiple jobs, anything to make money. In the back of his mind he knew he was going to buy his first house one day. The "what" wasn't the roadblock, it was the "how". That is when one message changed the course of his entire future.
Naeem sent Sam a direct message on social media. He reached out and asked questions about real estate, bought Sam's book, and proceeded to create a connection. He was one of those successful people Naeem wanted to learn from. Sam began to share how he became successful and what he was doing to grow in that success. Naeem said, "I was just a sponge. I soaked up all the positive things that Sam did. I wrote all of it down next to many other notes to compare and contrast from others I was learning from. He taught me a lot about finances and how to navigate this real estate industry."
This simple message created a relationship that helped Naeem go from part time in 2019 to a full time real estate agent by the end of 2019, selling $10,000,000 worth of property. In 2020 that grew to $15,000,000. In 2021, Naeem now has a team of 20 agents, with 12 slowly producing, and plans to do $40,000,000 in overall sales as a team. Half of that production stems from Naeem alone, while the other half is production from his team while they continue to learn and grow overall to reach massive levels in volume. That dream of owning one property has now turned into 10. It has turned into a home with a panoramic view of New York City.
Naeem's biggest fear continues to be going back and failing. He wakes up every day and uses that as a driving force to stay far away from the attic. That helping hand from Sam has now resulted in Naeem helping others create the life he dreamed to have at age 30. This is how one message impacted and enriched the lives of 20 or more people and it is just the beginning.
Naeem ended with a powerful statement, "If a guy like me can do it, anyone can do it. The day you quit blaming people is the day your dreams come true. I want to push people to make a change and become successful. I want ALL OF IT. I used to dig for quarters in my pocket and couch to go get snacks. I want to teach people that whatever you're doing, just be the best at it. Continue striving to become better every day. I want to continue to increase my portfolio. I want 100+ units, actually in the thousands. I want to have one of the top real estate teams in NJ. My goal is to inspire a lot of people. You can do whatever you want to do in this world with a plan and goal. You just have to surround yourself with good people and NEVER QUIT. Always look for what's next and work harder than anyone around you."