Honorary Consul and Goodwill Ambassador Isatu N Timbo to Attend Art 4 Peace Awards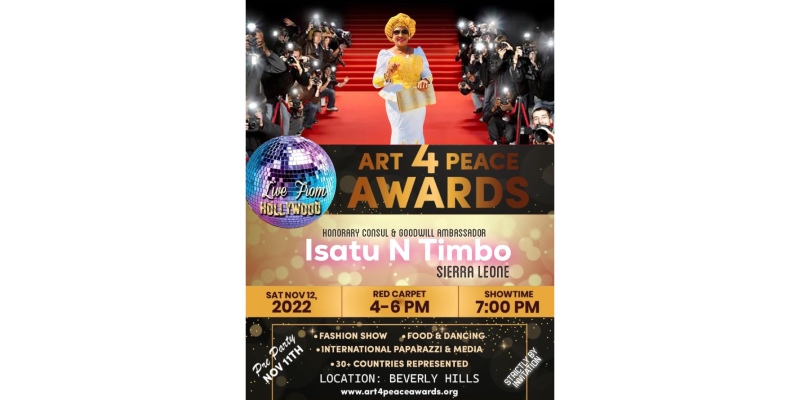 Honorable consuls are ambassadors who represent their country abroad. They are appointed by the president or prime minister of their respective countries. The title of the honorary consul is given to individuals who have rendered distinguished service to their country and one of those ambassadors is Isatu N Timbo of Sierra Leone.
Isatu N Timbo is a professional nurse and She has been engaged in philanthropy and humanitarian enterprises since the early 2000s even before she was elected goodwill ambassador and then honorary consul, because of her love of her country and humanity.
Isatu N Timbo holds a medical background and she understands the actions one has to take to tackle the crisis and urgencies. Hence she played a crucial role in relief efforts during the Ebola crisis in Sierra Leone in 2013, sending aid containers to help her country fight the epidemic. She has dispatched emergency aid to Sierra Leone many times since then to help alleviate problems, including containers of medical supplies and clothes.
She has made the conscious decision to devote her tremendous abilities on the human and professional levels to serving humanity and her people back home. She used her funds to provide pilgrims traveling to Mecca with food, clothing, school supplies, and scholarships totaling tens of thousands of US dollars.
Isatu Timbo is the first Appointed Honorary Consul for Sierra Leone in the County of Los Angeles, California, and has received many awards and honors for her philanthropic enterprises. Her cupboard is full of the prestigious awards she has proudly won for her charitable works.
The amount of donations she has made demonstrates her unwavering commitment to enhancing the lives of her people in the areas of healthcare, education, and women's empowerment.
Isatu N Timbo will be seen on the Red Carpet on Saturday, November 12, 2022, in Beverly Hills for the "Art 4 Peace Awards".