Harshita Yadav: Creating A new sensation in the fashion industry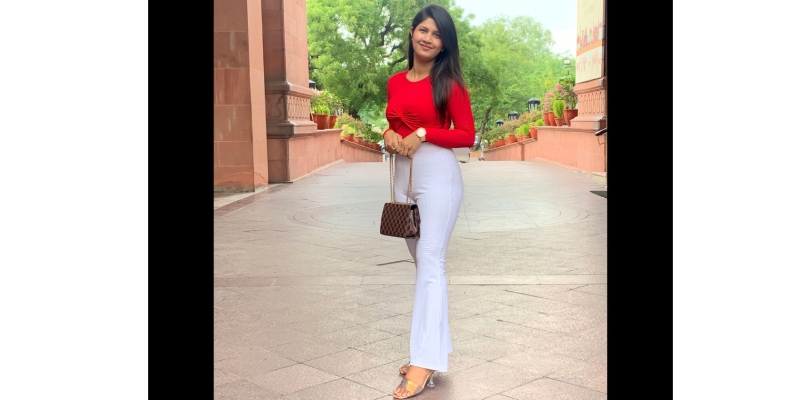 Fashion designing in my opinion is a way to express the unique side of your creativity. It is the art of applying design, aesthetics, clothing construction and natural beauty to clothing and its accessories. It is influenced by culture and different trends and has varied over time and place. A fashion designer creates clothing, including dresses, suits, pants, and skirts, and accessories like shoes and handbags, for consumers. He or she can specialize in clothing, accessory, or jewellery design or may work in more than one of these areas.
You must be wondering why I am explaining meaning of fashion designing to you and our today's story is based on someone who will be an inspiration in this field allow me to introduce to you all our star of the story.
HARSHITA YADAV, a girl with hunger of always doing more and never giving up. She is a talented and customer-oriented designer with an eye for commercial fashion and detail in product styling. She has researched and created an experimental and outstanding Indian collection based on her new original designs. An aspirer with a desire to become an inspiration for this world. Born in 1997 on 20th of November no one of would have thought she will achieve so much at such a young age.
She had been a sincere and ambitious student from the start. She completed her journey of school from Rotary Public School, a prestigious and organised institution in city of Gurugram and later she joined Kalindi college of Delhi university pursuing her bachelors of art programme. After her graduation, she was not happy with what she had, she wanted more as she had a hunger to achieve more. As she wanted something different in life, she challenged herself and joined J.D. institute of fashion for pursuing her career in fashion designing and not forgetting to mentioning about her Master of Arts in English which she attained from Indira Gandhi National Open University.
After achieving her educational degrees in school and college, she also participated in MISS India ki Shaan In 2019 and secured herself the position of 1st runner-up in that competition and what she did in Delhi Times fashion week it was an outstanding work and contribution as a volunteer.
Here's now when she is at the beginning of a new chapter in her life as she is starts her own brand, "Gathbandhan by Harshita". She's opening her own offline showroom in Gurugram which will offer colourful and glamorous clothes at affordable prices for you and your loved ones. Her unique designs are a fabulous collection and are already in high demand by the viewers. Just imagine a clothing brand with niche designs and that Indian touch which makes you stand out in the crowd, it's just a dream come true for all of us.
Harshita's understanding of the needs and desires of the true Indian style woman is conveyed through every fabulous piece. Her iconic designs are always going to maintain her status in the designer industry!