Fighting through the Indian Society and touching the horizon- Upasana Sankhwar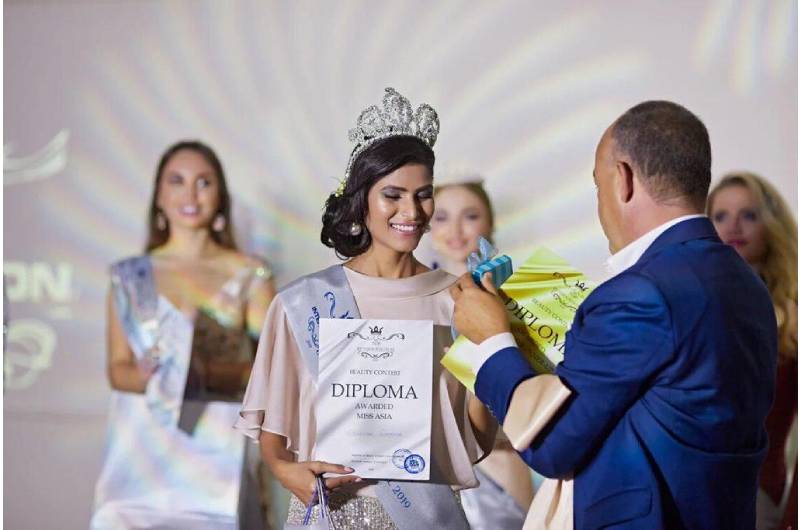 There is this basic notion that prevails among people that Modelling is a career where people are supposed to do invalid things to reach to the top i.e, Modelling is an unethical career choice and industry
Especially people living in the rural areas of the country, modeling for them is a taboo. But this talented model turned all the negativity into her favour. Even though the industry is diversifying its beauty standards, Indians don't seem to be changing their preconceived notions. But Upasana Sankhwar proved everyone wrong. This gorgeous and amazingly talented model is a shining star in the modelling industry and successfully manifested that if one is determined enough, they can achieve anything and also where there is will there is a way.
Upasana Sankhwar was born on 21 February 1994 in a small town, Kanpur, Uttar Pradesh, India. Her family comprises 3 other members, her father who is a police officer, her mother who is a simple house wife and her brother who works in a bank. She completed her schooling in her native town. After her school education, she completed graduation in B.Com
Upasana Sankhwar currently resides in Milan. But she started her journey from an airhostess training in Lucknow from where she ventured into the world of modelling. She then moved to New Delhi for ramp walk shows, then to Mumbai and finally to Milan. Her numerous achievements are as follows:
In 2018, Upasana Sankhwar made her first appearance on the international stage with Miss mermaid International and won Miss Mermaid Asia 2018. In the same year she won the award of
Miss summer international India in Cyprus, Miss tourism Eurasia held in Antalya, Turkey, World tourism ambassador Mumbai in Vietnam, Thailand, and Top model of the world South Asia held in Egypt. Succeeding to the year 2019, Upasana Sankhwar won more laurels and international awards like Miss Top International Miss Asia 2019, the crown of the World Top Next Model Miss Asia 2019 and World top next model India 2019. In the same year she secured the first runner up position in the Lady Universe contest held in Sofia, Bulgaria. She also won the second runner up position in Miss top international 2019 held in Pescara, Italy. 2019 was a meritorious year as she also secured the fourth runner up position in Miss Asia..She went on further in the year 2020, she won the Hotstepper Model of the year 2020 award. Her various other accomplishments include:
It needs to be understood that the beauty contests held worldwide do not just judge beauty but also look at a person's overall personality, compassion and intellect and with having won Hotstepper Model of the year 2020 award, Upasana Sankhwar is the talk of the town.
With these huge worldly accomplishments, Upasana Sankhwar is a very realistic and funny person. She likes being sarcastic in a humorous way. She was recently asked that, "what would she do with $25000″ and her answer clearly depicted her empathy and benevolence towards people. She said that " I am from India and looking at the current situation regarding the dangerous widespread of the coronavirus, I would like to donate this money to covid patients who are in a desperate need of beds and oxygen cylinders." Even after being immensely accomplished Upasana Sankhwar is deeply attached to her roots and her culture, which is clearly reflected by her answer.
Upasana Sankhwar also comments on the Indian society and the conservative caste system. She says that Indian people have their own stubborn notions about the modelling world and for the girls working as models. Upasana aims to change this orthodox mentality of the people and make them realise that every occupation is important and deserves to be respected. As she belongs from the lower castes of the Indian society i.e., Schedule Caste her being a model is an even larger issue in her community. People of the Schedule Caste are objectified to be labourers or small scale workers. Specially the girls of this caste are undermined and not weighed as an equal. But with Uapsana rising and shining at the top she broke the shackles of the mean Indian mentality.
Even after having strong opinions and a loud voice to make her point be heard, Upasana Sankhwar is a soulful believer of Buddhism. She likes the peace and calmness Buddhism brings to her mind and body. Spiritually following Buddhism has helped her overcome all the difficult hurdles in life and made her realise that no one can define what she is or has to do, she is her own incharge. Upasana Sankhwar's story is full of struggles and obstacles created by the society but she overcame all those difficulties and now is a well- known, renowned and beautiful model in the world. She proved her metal not only on national level but on international levels as well. Upasana Sankhwar is the epitome of confidence, determination and resolve to break the set orthodox notions of the Indian society. She inspires many people to follow their dreams despite whatever the society says. This girl who was shy of a bikini shoot, today is one the top models. She is an attention-grabbing and attractive model, who makes us wonder of the secret of her success. Upasana is constantly determined towards keeping herself fit and also always bringing her best game forward. .