Development of Tech Square phase three commences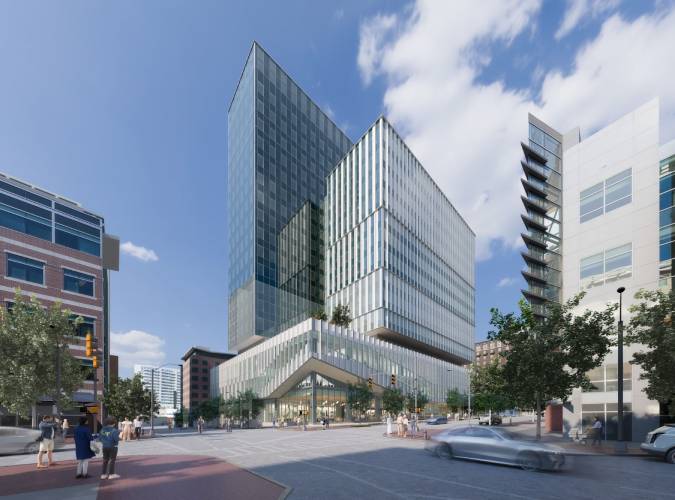 The Organization's Innovation Square is a broadly perceived and Tech controlled space devoted to research, cooperation and development. Situated in Midtown Atlanta and opened back in 2003, it envelops north of 2,000,000 square feet.
Numerous understudies are know about Tech Square, whether they go to Scheller for their classes or Barnes and Honorable for merchandise, or even the CODA working for research. Understudies can likewise be found to visit large numbers of the eateries and business shops that occupy a significant part of the room.
In Oct. 2022, Georgia Tech reported the improvement of Tech Square Stage 3. Two multi-story towers are to be built for Scheller classes and projects and for the Modern and Frameworks Designing (ISyE) programs, in this way growing Tech Square's inclusion by 400,000 square feet.
The structures, situated in the convergence between Fifth, Spring and West Peachtree roads, are set to be named after givers imperative to the Establishment.
One of the structures will be named after Ernest Scheller Jr., a central contributor for Tech, and will house the chief and graduate projects of the Scheller School of Business.
The other structure will be named the George Pinnacle after Bill and Penny George, two Tech graduated class who laid out the George Family Establishment and contributed profoundly to the H. Milton Stewart School of Modern and Frameworks Designing.
The Foundation cooperated with organizations that have connections to Atlanta to effectively execute each period of Tech Square's turn of events. These included Microsoft, Google, Cisco and Airbnb.
Atlanta Mayor Andre Dickens said, "Metro Atlanta's diverse and thriving tech industry is the envy of many, and Tech Square has helped make that a reality."
The structures have been planned in a joint effort with Rule Delight Trammell and Rubio (RJTR), Eskew Dumez Wave and Turner Developments. Their central goal is to engage Tech understudies, workforce and partners who need to create as pioneers, advance innovations and work on the human condition, alongside trying to profit from the developing industry center that Midtown Atlanta is becoming. The structures are encircled by numerous new companies, investor firms, research labs and corporate developments.
Maryam Alavi, the past Senior member of the Scheller School of Business, expounded on a portion of the new open doors Tech understudies can expect following the structures' opening.
"The new facilities of Tech Square Phase 3 will offer our students the ability to learn, collaborate, and develop in a new, innovative environment," said Alavi. "Thanks to the generosity and support of our community, we are now better positioned than ever before to fulfill our mission of cultivating principled business leaders who thrive in a tech-driven world."
As per Wave, there will be a mutual zone and pathway, similar as the GT Connector, that interfaces the two structures. He said the pathway would "go on through the structure, shortening at the platform and [spilling] into a stupendous social event space."
A third feature of the development will be known as The Patio. The plan will be similar to Southern design with motor entryways that obscure the space between within and the beyond the structures. The Patio is set to be a general space for socialization and the sharing and production of thoughts.
Development started as of late, and the assessed opening date for the lower floors of the structure will be right on time in 2026, and the higher floors are set to open later that very year.
Anisha Rangi, a third-year ISyE major, showed her energy for the new structures.
"Even though I will be graduating by the time the buildings open," said Rangi, "I think it's important for ISyE students to have space for more growth and innovation. As one of the leading programs that Georgia Tech has to offer, there will for sure be many more students who come to Tech hoping to be Industrial Engineers and the new space is a perfect show of faith, support and empowerment."
Foundation President Ángel Cabrera shared a portion of similar perspectives. Last year during the declaration of the new stage, he showed his help for his ISyE and Business understudies.
"Hundreds of years from now when people come to Midtown and see these buildings, they will know they were built for students to learn and be innovators," said Cabrera.
With development being in progress, at this point, site fencing has been introduced around the development zone, and there will be a few huge utility disturbances in the encompassing roads. Occupants in Midtown won't need to stress, as only one path of Spring Road will shut down at a time.