Delhi Astrologer and PavitraJyotish Founder Pt Umesh Chandra Pant Becomes the First and Only Indian to Be Honoured with the International Utkrisht Prerna Puraskar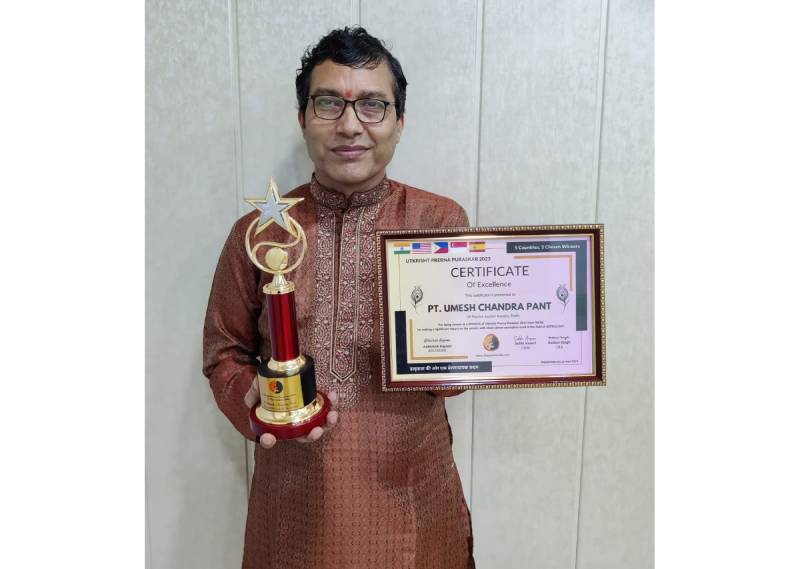 New Delhi, India – Astrologer Pt Umesh Chandra Pant, renowned as the Best Astrologer in India, has received the prestigious Utkrisht Prerna Puraskar from The Update India, a leading Indian news and awareness website. This recognition adds to his remarkable career, where he has gained fame for his expertise in horoscope predictions, astrological remedies, and Vedic astrology.
Preserving Ancient Wisdom: Pt Umesh Chandra Pant's Contributions
Pt Umesh Chandra Pant's achievements and contributions in the field of astrology not only showcase his expertise, but also exemplify his role as a torchbearer for traditional Vedic Science in India. With over 35 years (since 1988) of experience, he carries the rich legacy of Vedic astrology, ensuring that ancient wisdom and traditions continue to thrive in the modern era.
The Most Dependable Astrologer in Delhi
Astrologer Umesh, known as the Best Astrologer in Delhi, has earned a pervasive reputation for his comprehensive and result-oriented astrological solutions. By analyzing horoscopes and various astrological factors, he provides effective remedies that address the root causes of problems, leading to peace, prosperity, and success in various endeavors. He offers astrological services through email, online platforms, or face-to-face consultations, telephonic consultation, video consultation with professionalism and promptness.
In a remarkable testament to his unparalleled expertise and dedication to the field of astrology, Pt. Umesh Chandra Pant has garnered a remarkable distinction as the esteemed and record holder recipient of the highly coveted title of the Best Astrologer in Delhi, India for an unprecedented seven consecutive years (and continuing), as bestowed upon him by the prestigious platform ThreeBestRated. This prestigious recognition not only reaffirms Pant's profound knowledge and mastery of Vedic Astrology but also serves as a resounding testament to his commitment to delivering exceptional astrological guidance and services to his clientele.
Introduction to Astrologer Umesh's Digital Brand
Astrologer Umesh is a digital brand led by Pt Umesh Chandra Pant, a renowned figure in astrology with years of experience in Vedic Astrology and Vastu Shastra. The brand aims to provide excellent and reliable astrological solutions to individuals facing challenges in their careers, education, marriage, health, relationships, and more. Apart from this, there are many useful free services in this website AstrologerUmesh such as Free Kundali, Horoscope Match Making, Daily Panchang, Daily Horoscope, Monthly Horoscope, Yearly Horoscope, Hora Muhurat, Choughadiya Muhurat, Astrology Blogs and all Hindu festivals information and many more. One more India's best online astrology platform Pavitra Jyotish is founded by Pt Umesh Chandra Pant which offers all the astrological information, solutions, and services related to astrology. In this website PavitraJyotish, you will find a complete treasure of other information related to astrology.
Trustworthy Solutions from Astrologer Umesh and Pavitra Jyotish
Astrologer Umesh and Pavitra Jyotish offer top-notch astrological services, including Vedic astrology, Vastu Shastra, online puja and anushthan, original astrology products, astrology blogs and news, and online astrology lessons. The brand stands out by providing realistic solutions based on a meticulous study of cosmic bodies and their influences. With secure and confidential consultations, customers can trust the recommendations and products offered by Astrologer Umesh and Pavitra Jyotish.
Utkrisht Prerna Puraskar: A Global Recognition
Astrologer Umesh Chandra Pant's remarkable contributions have led him to be the sole Indian recipient of the Utkrisht Prerna Puraskar global award. This prestigious award, presented by The Update India, celebrates individuals who have made significant contributions in their fields and provided valuable guidance. Pt Umesh's international recognition highlights his impact on Vedic Science and astrology.
Astrologer Pt Umesh Chandra Pant, as the sole recipient of the Utkrisht Prerna Puraskar global award from India, distinguishes himself among the esteemed group of awardees hailing from different countries. This noteworthy recognition not only underscores the profound influence he has exerted in the realm of Vedic Science but also attests to the international acclaim he has garnered. The roster of Utkrisht Prerna Puraskar recipients includes individuals such as Ka'Ron Gaines from the United States, Michelle Ayon Navajas from the Philippines, Suchandra Roychowdhury from Singapore, and Gary Clark from Spain.
Pooja S, a content manager at The Update India, expressed deep admiration for Pt. Umesh Chandra Pant's remarkable contributions to the field of astrology, which made him an unequivocal choice for the prestigious Utkrisht Prerna Puraskar.
Carrying the Legacy of Vedic Science
Through his journey, Umesh Chandra Pant has demonstrated his expertise in Vedic Astrology Predictions, allied sciences, and gemstones. He firmly believes in the power of astrological remedies to bring positive changes in people's lives. As an award-winning best astrologer in India, he has been recognized and accredited for his exceptional services, reinforcing his stature as a renowned astrologer in India.
Bridging the Past and Present
Astrologer Umesh's commitment to preserving and promoting traditional Vedic Science is reflected in his efforts to inspire and mentor young astrologers. By bridging the gap between the past and present, he ensures that the knowledge and wisdom of Vedic astrology are not lost. His contributions solidify his position as a stalwart in the field.
As Astrologer Umesh Chandra Pant becomes the first and only Indian recipient of the Utkrisht Prerna Puraskar, his recognition on an international level highlights his exceptional talent and dedication to the field of astrology. The award signifies the profound impact he has made and solidifies his position as a leading figure in Vedic Science.
Astrologer Umesh Chandra Pant's specialization in Horoscope Predictions has made him a trusted name in the field of astrology. With an in-depth understanding of various astrological domains, he provides accessible and affordable remedial solutions for a wide range of issues, including education, personal matters, Vastu problems, marriage, love, business, and career guidance.
Astrologer Pt Umesh Chandra Pant continues to reach individuals from all walks of life, offering his expertise and guidance to bring positive changes and prosperity. With his profound knowledge and commitment to Vedic Science, he remains a trusted source for quality astrological solutions. His mission is to make people happy and help them live a life filled with peace and prosperity, while his vision is to establish trust amidst the abundance of misinformation surrounding astrology.
Astrologer Pt Umesh Chandra Pant's remarkable achievements, extensive knowledge, and commitment to preserving Vedic Science have earned him the reputation of being the Best Astrologer in India. With his comprehensive astrological solutions and timely guidance, he continues to transform lives and bring about positive changes for individuals seeking answers to their problems and astrological remedies.