Class Hud Launches New Features in Verification Plan, Empowering Verified Institutes to Enhance Student Experience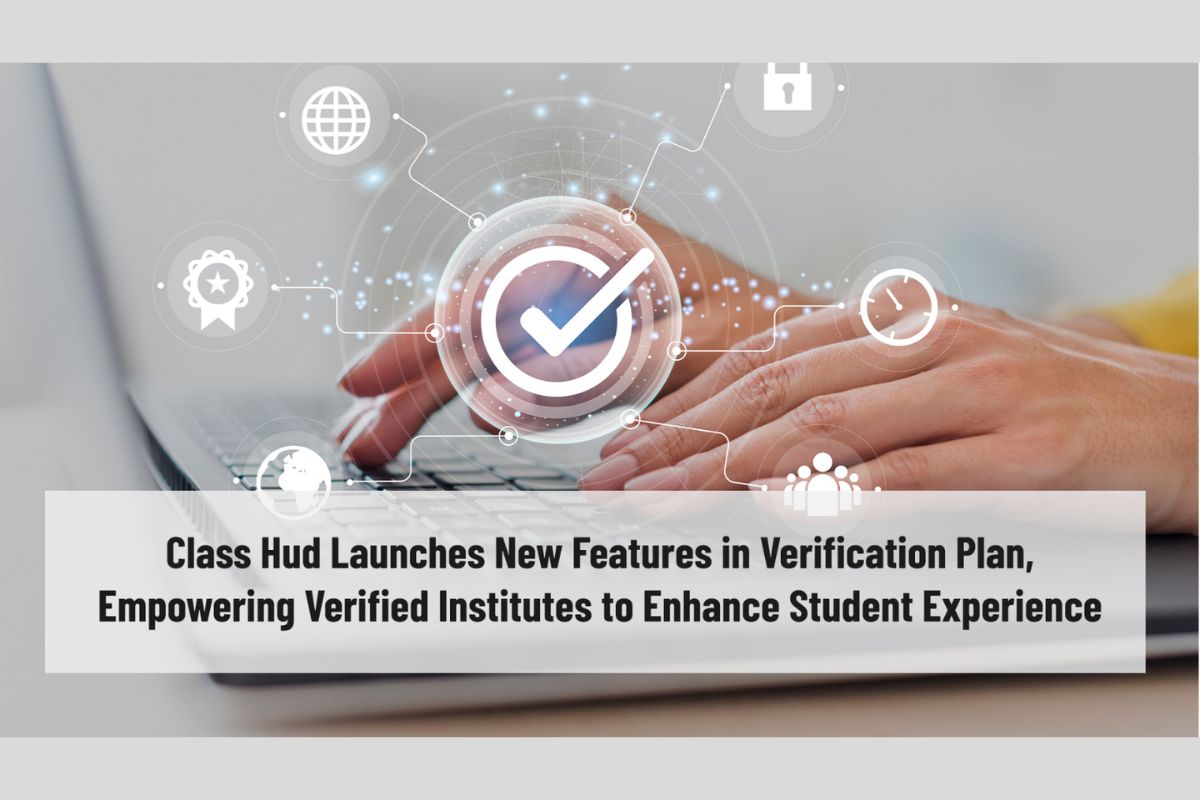 New Delhi (India), July 5: Class Hud, India's first educational institution search portal, is taking a significant step towards improving the student experience with the introduction of new features in its verification plan. Mr. Milan Singh Hans, the Founder and CEO of Class Hud, announced that the platform is now allowing verified institutes to add frequently asked questions (FAQs) for students, showcase their courses, and provide exclusive offers to enhance their reach to prospective students.
The addition of FAQs by verified institutes will serve as a valuable resource for students seeking information about various educational institutions. With a comprehensive compilation of frequently asked questions, prospective students can easily access important details about admissions, curriculum, facilities, and more. This feature aims to streamline the information-gathering process, allowing students to make well-informed decisions regarding their educational journey.
Moreover, verified institutes on Class Hud will have the opportunity to highlight their diverse range of courses. By showcasing their program offerings, institutes can effectively communicate their strengths and specialties, enabling students to explore educational paths that align with their interests and career aspirations. This feature empowers students to discover and compare institutions based on specific educational programs, facilitating a personalized approach to education selection.
In a bid to foster student engagement and provide added value, Class Hud's new features also grant verified institutes the ability to offer exclusive deals and discounts through their accounts. By leveraging these incentives, institutes can attract students seeking financial assistance or those searching for extra incentives to enroll. This initiative not only benefits prospective students but also enables verified institutes to connect directly with interested students, creating a mutually beneficial environment.
Class Hud has consistently prioritized reliability and accuracy in its platform. The ratings and reviews provided by individuals who have attended the institutions ensure that the information available is trustworthy and reflective of their experiences. By encouraging verified institutes to actively participate in the platform, Class Hud strengthens its commitment to providing students with reliable and comprehensive information to aid their decision-making process.
With its user-friendly interface and extensive database of schools, colleges, and institutes, Class Hud has become a go-to resource for students, parents, and professionals in search of educational institutions in their local areas. Additionally, the portal's range of tools and resources, including comparisons, testimonials, and information about financial aid and career services, further enhance the overall experience for users.
In a recent announcement, Mr. Milan Singh Hans, Founder and CEO of Class Hud, highlighted the platform's new features aimed at improving the student experience. As Class Hud focuses on enhancing the accessibility and reliability of information about educational institutions in India, it is worth mentioning the innovative Class ON app as a valuable resource.
Class ON app, known as the Best School ERP software, complements Class Hud's mission by providing schools with a comprehensive and efficient management system. With its user-friendly interface and advanced features, Class ON streamlines administrative tasks, communication, and collaboration between schools, teachers, students, and parents.
The launch of these new features in Class Hud's verification plan marks a significant milestone in the platform's continuous efforts to improve the accessibility and reliability of information about educational institutions in India. As Class Hud expands its offerings, it continues to empower students, ensuring they have the necessary resources to make informed decisions about their education and future careers.