AWE INSPIRING STORY OF AGW BHARAT: NEETEESH GAHARWAR AND NAVEEN PRASAD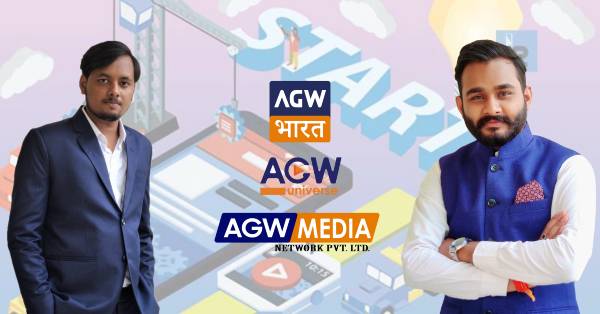 Entrepreneurial ventures help a country grow as they generate wealth not only for themselves but also for other businesses. Start-ups create new job opportunities and improve the standard of living within the country. The products and services proposed by these new business masterminds mainly tap into a market which had a very low support and stimulate new market therefore supporting the economic growth. India is presently the world's third largest source of start-ups, and was ranked the second most entrepreneurial country in the world. Many agile and diligent entrepreneurs have worked their way to the top and became the Unicorns.
One such outstanding startup has been founded by Neeteesh Gaharwar and Naveen Prasad. The duo started their journey in 2019 when they first met in Noida. Upon discovering the similar ideologies of bringing a positive change in the country through journalism, they went ahead and worked hard to unveil the gaps in Indian Journalism. On 6th February 2021 they established their news portal called AGW Bharat which is a brand product of AGW Media Network Pvt. Ltd. The news portal is a youth-driven channel which focuses on uplifting the youth through and in journalism.
Another top-notch idea initiated by Neeteesh and Naveen is a short video app called AGW Universe. The app is created to reach the masses since almost everyone has mobile phones nowadays. It is indeed a promising idea for development and growth of a startup along with the social development of the country as a whole.
The duo is on their way to establish a new definition of journalism amongst the youth and take their news channel to a new level. They are determined to make an impact on the society through their news portal and bring a positive change.