Avi Grondin describes what it takes to be a successful entrepreneur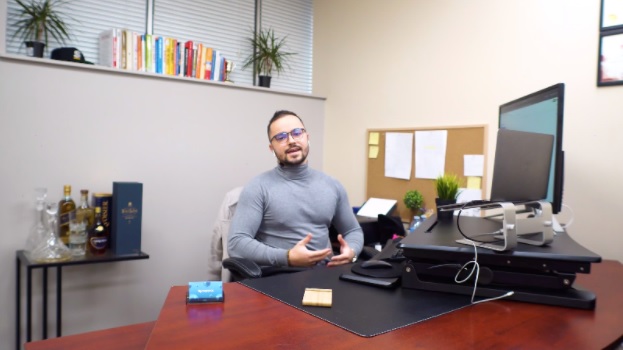 Everybody wants to be a successful entrepreneur. But, not everybody is willing to put in the work. Avi Grondin knows a thing or two about being successful, and he shares his thoughts with us in this article.
To Avi, being a successful entrepreneur is about two things. Being as resourceful as humanly possible to quickly find answers, and also being ruthless in the way you approach business.
The drive and instinct are the first things. Growing up in a poor neighborhood and under harsh circumstances, gave Avi the drive. Once you get that instinct, you need to act fast. Instead of thinking too much, he set out to start his little business of trading luxury brand winter jackets on Kijiji at the age of 11 years old. When the next instinct came, he switched over to the next trade and kept switching until he was able to help his mother. He never stopped to think so hard, or he may have missed the opportunity. To Avi, nothing is too difficult as long as you are willing to start.
Then a young entrepreneur has to be filled with a certain level of ruthlessness and resourcefulness in order to be successful. Quick thinking and that mentality to solve problems are priceless to a young entrepreneur. He does not believe one needs to be an expert right away, but trying, failing, and trying again is sure to give you the results. Persistence, even when the odds are not in his favor, kept him moving till he got to the top. Being honest and ruthless when dealing with teammates, clients, and negotiations made it almost impossible for anything to slip by him. He was always in control of every situation.
His advice to young entrepreneurs is to try and make money off their business as soon as possible. Most people believe that an entrepreneur needs to become perfect in what he or she does before making money. But, if that was the case. Avi believes he would not have been this successful at such an early age.
According to Avi Grondin, there has to be some sort of inspiration, somewhere, or something you can connect to when the problems are trying to overwhelm you. Those days will surely come when you feel like you cannot continue any longer. Look to that source of inspiration and draw strength. For Avi, that source of inspiration comes from the struggle of young entrepreneurs. He has become a role model for many of them at such a young age. So, to him, giving up is not an option.
As a young and successful entrepreneur, Avi believes you need to set some goals. The goals you set should not be the last because after achieving one, you congratulate yourself, and off you go to the next goal. Avi wanted to go higher as a door-to-door salesman, so he set his eyes on owning a business. After owning Vinicci Valet, he still set his eyes on digital marketing. Now he owns Variance marketing, and he has set his eyes on his new Canadian dispensary chain, Modernday Cannabis.
To be successful, setting goals never end. The first step always leads to the next, and you keep going higher.
To follow Avi Grondin's journey and get first-hand info, click his covers on instagram, facebook and linkedin today!