Always Innovating, Voxel X brings hyper-tech SuperKluster.io NFT Marketplace to Market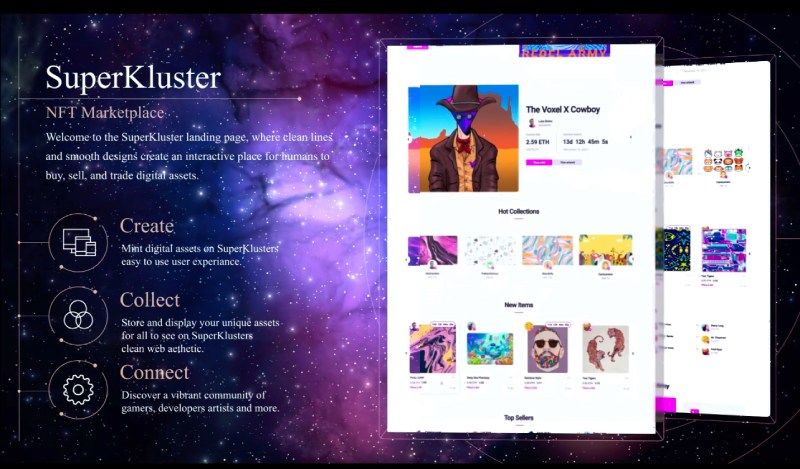 Voxel X Network is a decentralized, community-driven gaming ecosystem where creators can share and monetize NFT assets and create gaming experiences on the Ethereum blockchain. Focused on Web 3.0 GameFi and Play-to-Earn projects, Voxel X Network is anchored by the native token VXL (available on Shibaswap) which functions as the utility token for the Superkluster.io NFT marketplace, and in the future, the decentralized exchange (DEX) and the blockchain and Node network solutions — all designed to optimize gaming speed and user experience.
SuperKluster.io, Voxel X's flagship NFT marketplace, is a cross-chain platform, beautifully designed with clean lines and an inspiring color scheme. The landing page has an exclusive feel, bringing visitors to a boutique experience that is both classical and high tech, with an intuitive interface and elegant aesthetic that makes it both easy ad enjoyable to mint, display, and trade unique creations. The development team, comprised of artists and skilled digital architects, built SuperKluster with artists and entrepreneurs in mind, as a flexible platform to showcase and monetize creations and to deliver dynamic and alternative and use-cases for NFTs both on, off, and cross-chain. Visitors to SuperKluster are able to discover, connect, and collect in a vibrant community of developers, gamers, investors, artists — including musicians — and fans.
SuperKluster also offers a special feature of the IPFS (Inter-Planetary File System) that allows authors to mint and modify assets off-chain. This feature enables cross-platform capability from the Ethereum Mainnet to other ecosystems and NFT marketplaces. Any changes are permanently recorded and always visible to the blockchain, thereby making a fully traceable asset, providing full accountability for the owner and author. This flexibility adds value for traders and owners of the NFTs, prevents loss, and reduces the risk of an NFT being altered or corrupted by third parties.
The Voxel X Network project includes a Phase 2 launch of the Voxel X Node Network and blockchain solutions. Gamers and game developers prioritize speed, scalability, and gaming experience, and the Node Network promises to deliver high-speed gaming solutions, including track and trace of multiple variables and assets across one or many games and instant authentication of creative asset/NFT ownership. Voxel Nodes are auto-scaling. As more players join, search capability, communications, and transaction speeds adjust accordingly, updating game and player assets at the speed of network. Developers can also allocate multiple chains per project or game environment all running in parallel.
100 percent decentralized, cloud-free data processing, and distributed data storage, the Node Network is multipurpose, enabling development, building, and a creative environment for game developers and players backed by full Java stack on the data layer. This robust network backbone is fully community-owned, enables a more versatile game development model, and express-direct gaming speed on distributed software (versus the current cloud centralized model). If attacked, the Node Network is encrypted and self-healing.
Behind the Node network is a blockchain solution using a proprietary consensus mechanism that is neither Proof of Work (PoW) or Proof of Stake (PoS), but an unbiased, intelligent, inter-node process known as Proof of Neutrality (PoN). PoN is unencumbered by complex consensus mechanisms and long round-trip data packages.
Blockchain technology is often criticized for being energy intensive. Voxel X blockchain solution is both high-speed and lightweight, writing up to 100,000 new transaction blocks per second, and consuming far less energy than even the most energy efficient alternatives. While Ethereum clocks in at 15-25 tps and Bitcoin 5-7 tps, at 100,000 tps Voxel could potentially be the fastest, lowest cost, and most energy-efficient solution on the market, beating even Solana.
In Voxel X DEX, partnership projects will have access to entry by providing liquidity pairings, fueling the growth of a VXL metaverse. VXL metaverse is under construction and is currently proposed to be built on an L2 blockchain and Node layer with an open-source library dashboard for projects to build Web 3.0 projects. We are also considering grants for future approved projects and developers.
The proposed Voxel X metaverse, backed by Node technology, will operate at high speed and take advantage of special features in utility NFTs. Voxel X will permit game integration and project partnerships within the metaverse, including interaction with Voxel X's very own metaverse game. The metaverse will integrate GameFi and P2E projects that will eventually own a verified space in the metaverse.
Voxel X recently confirmed MetaBET ($MBET) and DeltaFlare ($HONR) as new partnerships. MetaBET aims to become the leading casino in digital gaming, driven by decentralized peer-to-peer (P2P) GameFi platforms. DeltaFlare brings a talented group of artists and NFT creators, as well as P2E gaming, and NFT utility for premier access to events and in-game earnings. DeltaFlare will showcase their NFTs collection exclusively on SuperKluster. Both tokens are avaialbe on ShibaSwap. The Voxel X Gaming Partnerships Team is in conversation with dozens of other projects and has have the ambitious target of onboarding and launching 100+ GameFi & Metaverse Projects in 2022 into the ecosystem.
Voxel X Network founders are a group of entrepreneurs and friends that joined forces to build a DeFi project with a strong market position and growth potential. The future of Voxel X is to offer an aggregate of services built by thousands of creators, introducing incentives and solutions to optimize user experience, and facilitate quality based on the best blockchain technology to enrich their products.