9 Simple Video Editing Tips for Beginners To Try In 2022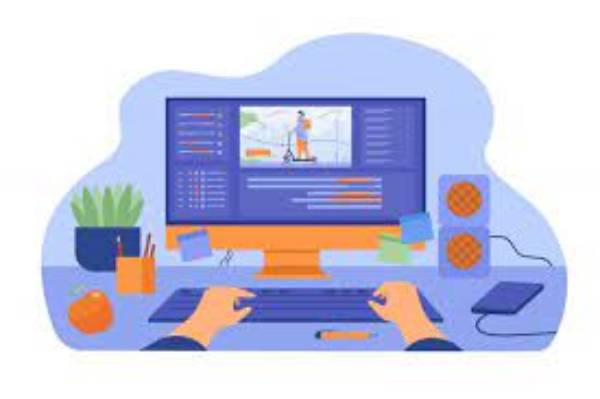 What is the most difficult aspect of your job as an editor? Do you have trouble deciding where to cut? Do you find yourself wasting a lot of time on a project? Can't seem to get a decent sense of timing and rhythm in your edits? If you have answered with a YES to the above questions, this blog is for you. Video editing is a difficult skill to master, but these pointers should help you improve your abilities.
1. Before you start editing, watch all the clips
You should watch all of your footage before you begin editing. Watch every moment – even the stuff you don't think you'll use – because you never know what you'll find. An online video editor may make your editing work easy but you have to determine what to include and what not.
Make a note of the time code for the parts of the clip that you enjoy. You can write it on a notepad or enter it into a file, and then make a note of what you want to do with it, whether it's for A- or a B-roll, or to get it in a collage. When you eventually settle down to make your film, this will make finding and selecting the clips you want to utilize much easier.
2. Don't just cut them, try to create
There is no one-size-fits-all approach to editing a video, but if you're unsatisfied with your current method, you might want to explore "building" rather than "trimming" your edit. Because you're not taking away full images from your long timeline, this strategy saves you time and energy. Instead, you're putting that time and effort into creating a timeline with your finest photos, which you can fine-tune afterward.
3. Choose the Best Software
The first thing you should do is figure out the software you'll be using.
Effective, high-quality tools are more likely to be used to make a polished online video. It highlights the importance of carefully selecting your resources.
With a thousand video editing tools available, it might be difficult to choose the best ones for your video production.
However, once you've determined what you'll be using the software for, determining the correct application, or any program for that matter, becomes so much easier.
Also, make an effort to select software that is within your budget. Every piece of software, whether it's free or not, has its own set of key features that appeal to certain aspects of your video marketing goals.
As a result, be sure you understand all of the software's features and how vital each one is to you.
4. See whether your hardware is up to the job
You'll want to double-check that the software you've chosen includes everything you'll need for editing. However, you often ignore your hardware performance. In truth, your hardware has a big impact on how well video editing software runs.
That's why it's critical to keep your video editing equipment in good order to get the most out of it.
5. Decide the music you'd want to use in the video
Think about how you want to use music in your video before you start editing it. Music can be a minor and major component of the video.
Choose the music track before you begin editing the video if it drives the cut, such as in a promotional video, and make sure it syncs with the video's speed. You should evaluate the song's structure here; for example, if your movie starts slowly with a lovely time-lapse picture but then picks up in the middle, you should locate a music track that does the same.
If the music has no purpose other than to enhance the video's atmosphere, include it as the final stage in the editing process. When browsing for music, the most essential thing to keep in mind is that the track should suit the mood of the content.
6. Change the visuals consistently
Changing the graphics in your video creates flow and keeps the video going. If you use the same graphic for an extended period, your video may get tedious and you may lose the audience's attention.
A decent rule of thumb is to vary your graphics every four-six seconds to avoid visual boredom and to keep your audience engaged.
The most common method is to create transitions in which you move to a little finer detail shot for a few seconds before returning to the original picture.
7. Get Your Video's Assets Ready
To make your video editing process even more efficient, make sure you have all of the materials you'll need ahead of time. However, there is one rule of thumb to remember while creating and editing your marketing video: film more than you need.
Even if they simply want to produce a 10-minute video, many videographers shoot hundreds of hours of material. They do it because they know they won't like the majority of the footage they capture. Furthermore, having access to additional material may allow them to be more creative in how they edit their movies.
8. Make Use Of Text Generusly
Text in videos is an efficient technique to highlight your film's main points, especially if it's a lesson or tutorial video. So, when you're creating the script, mark up some of the terms and phrases that you believe may be used as a text in the video to reinforce your message.
9. Edit confidently
Video editing's main goal is to tell a tale that evokes emotion and motivates people to take action. As a result, each scene, sound effect, cut, and transition must add to the movie's development.
Final Thoughts
To conclude, you will save a lot of time and effort when editing your film if you follow these super strategic suggestions. If you loved this post and want to learn more about how to create a video from scratch, you will find more videos on our website. Explore more.