2024 Toyota Century SUV the most luxurious and glamorous Model, rear doors, reclining rear seats, rear wheels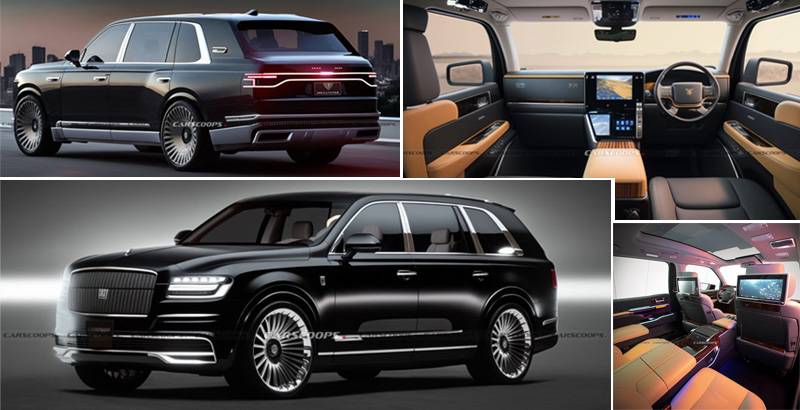 The $170,000 Toyota Century SUV debuts with fully reclining rear seats and follows the Crown's SUV treatment. Now, Toyota is elevating an even more prestigious model. The brand-new luxobarge, which is simply referred to as the Century and is Japan's Rolls-Royce Cullinan, is projected to sell only 30 units per month, making it even more exclusive. It's the most expensive Toyota/Lexus SUV, but it's also the most luxurious. It costs 25,000,000 JPY, which is about 170,000 dollars.
With a length of 197.8 inches (5205 millimeters), a width of 78.3 inches (1990 millimeters), and a height of 1805 millimeters (71 millimeters), the Genesis-inspired boxy SUV is an impressively large vehicle. It has four seats instead of five like the Century sedan, but it is shorter and wider. It weighs a hefty 5,665 pounds (2,570 kilograms) and has a generous wheelbase of 116.1 inches (2950 mm).
2024 Toyota Century SUV With grab handles on the C-pillars, electrically deployable side steps, and rear doors that open at a 75-degree angle, getting into and out of those posh rear seats should be a breeze. Alternately, there are electric sliding rear doors that look like minivans, as demonstrated during the presentation on a variant with the rather intriguing GR badge.
The more opulent phoenix emblem can be found on the elegant multi-spoke wheels and at the front and rear, just like it does on the stately sedan.
The ubiquitous TNGA platform serves as the foundation for the Century SUV, but improvements have been made to the body's torsional rigidity and other areas to improve ride comfort. On the cabin side of the cargo space separator, Toyota installs clear laminated glass so that passengers who are relaxing on the fully reclining seats cannot hear any noises coming from the cargo area. Additionally, there is a Rear Comfort mode that, when activated, distributes the driving and braking force in such a way as to minimize disturbance to the occupants seated in the rear.
The new Century is powered by a plug-in hybrid system that uses a 3.5-liter V6 engine with a CVT and all-wheel drive thanks to an electric motor mounted in the rear. It matches the Lexus TX 550h+'s combined output of 406 horsepower (303 kilowatts), but we're pretty sure that some would have preferred the sedan's 5.0-liter V8. Moreover, Toyota produced only the second generation sedan with a V12 engine.
Toyota intends to extend the model's customizability to truly one-of-a-kind builds and sell it at select dealers in Japan. The Century sedan will continue to be available for purchase.