Why Quality Wood Heaters Are Worth the Investment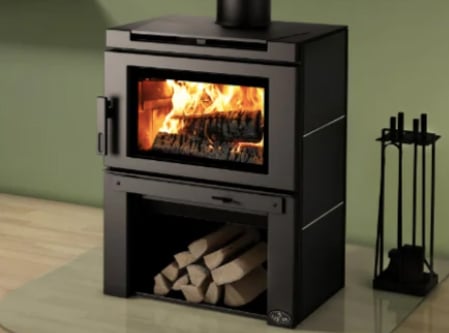 Fireplaces have been heating the interiors of a home for many centuries now. When we have modernised homes suitable for the current times, it makes sense to have an updated version of the fireplace as well. Wood heaters might seem a bit quaint for some home or office owners, but they are tried and tested heating systems.
They keep the space warm, ensure proper ventilation and always stay in fashion. Sure, gas heating units can be convenient to operate, but the authentic ambience and aroma created from the crackling of logs and embers are hard to beat. Given below are facts that prove why upgrading to a wood-based heating system is worth it.
1) They Complement the Décor and Ambience
Modern wood heaters add a great look to the room no matter where one places them as they provide light and warmth. They look great in the living room, in the bedroom, the study, office or RV. They come in different sizes, styles, colours, and finishes, which add a great accent to the space's décor and ambience.
2) They Provide Excellent Heating
Wood heaters operate on the principle of radiant heat, which allows the air to get warm faster than the house's vent system. The burning logs from the heater radiate heat in all directions of the unit and warms the space more efficiently. This proves to be a great advantage for home-owners when they need the place to be warm.
3) They Provide Flexibility in Placement
If there is a facility for a vent pipe outside, one can install a wood heater in any part of the house. One can use the heaters to heat a general area or a specific zone based on need. A few of them placed in safe and strategic locations could almost act as the central heating system.
4) They Are Relatively Better For The Environment
Wood is an eco-friendly option compared to alternate fossil fuels used for heating like coal, propane and natural gas. One can replace them quickly and efficiently, and they are carbon neutral. One can supply heaters with logs found freely around the house or in the garden. The emission from these heaters is relatively less. Even the smoke emitted during combustion balances the environment's carbon dioxide level and does not add to it.
5) They Work Even During Power Outages
One of the best things about old-school inspired wood heaters is that they are self-contained and do not depend on electricity or gas. It is an excellent investment for people living in areas where there are occasional power outages. They keep the house warm during the winter round the clock regardless of electricity or gas supply.
6) They Provide Economical Heating
After the initial investment of purchase, there would not be further expenditure over fuel, especially if you can find pieces of wood around your home. Even if that's not the case, wood is inexpensive compared to oil or gas. This helps save hundreds of dollars on the utility bill.
7) They Can Heat the Home and the Food
A commonly overlooked benefit of wood heatersis that some models are available in the form of a convertible stovetop. With a little bit of practice and heat adjustment, one can place a pot over the heater and heat their dinner right in the living room. This is bliss during cold winter days when you have to stay indoors and heat something quickly.
These heaters serve more than one purpose and add an oomph factor to the place, making them an excellent investment.