Veger introduced Panel – A dual port PD/QC 3.0 gan charger with dedicated Apple Watch magnetic charging pad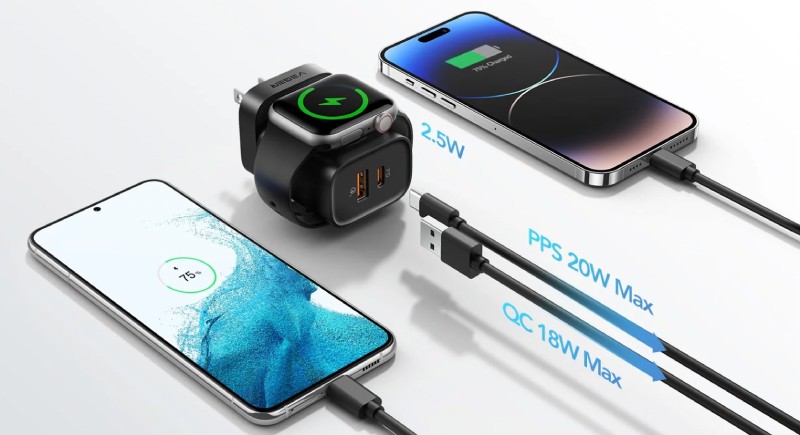 Veger is proud to announce the release of a new Panel PD 20W 3 in 1 Multifunctional Wall Charger designed to help revolutionize charging, while adding in exciting and powerful functions. The device was created from the ground up to include some of the best technologies in the industry, while pushing the boundaries in a very efficient manner.
Comprehensive charging systems
The device offers support for 20W USB Type C and 18W USB Type A charging, but also QC 3.0 support. In addition, thanks to the GaN technology, you have a smaller size, but also less heat dissipation. All of this is great because you have better heat management and you never have to worry about your devices overcharging in any way.
Fast charging speeds
What makes the Panel PD 20W 3 in 1 Multifunctional Wall Charger stand out is that you can easily charge your Apple Watch, but also any device that works with USB type A or C. That means you can easily wall charge any device very quickly, and you never have to worry about compatibility problems. Like all Veger products, the Panel PD 20W 3 in 1 Multifunctional Wall Charger also has multiple charging protection. That means it will protect your devices from over charging, overheating, short circuits or over voltage.
Incredible, 3 in 1 design
In addition, the 3 in 1 design is iconic, exceptional and very easy to use. It can be fully adapted to your needs, while seamlessly bringing in state of the art solutions and a very good experience. That's what makes it one of the best option for anyone which has a large number of devices and wants to charge them all at once. You can do that, and since your devices are fully protected from any damage, you can easily leave them to charge until everything is ready to go and completely charged.
With the Panel PD 20W 3 in 1 Multifunctional Wall Charger you can finally wall charge a multitude of devices quickly and with great results. It's always a very good idea to start using a wall charging solution like this, since you will find it much easier to charge your devices in a very dependable manner. Using this new, state of the art design, Veger manages to enhance how everyone is able to charge their devices, while removing the limitations of charging a single item at a time. It's a great idea to test out this multifunctional wall charger if you're looking to charge multiple devices at once.