Understanding the Rental Market: Furnished Monthly Apartments in Mexico City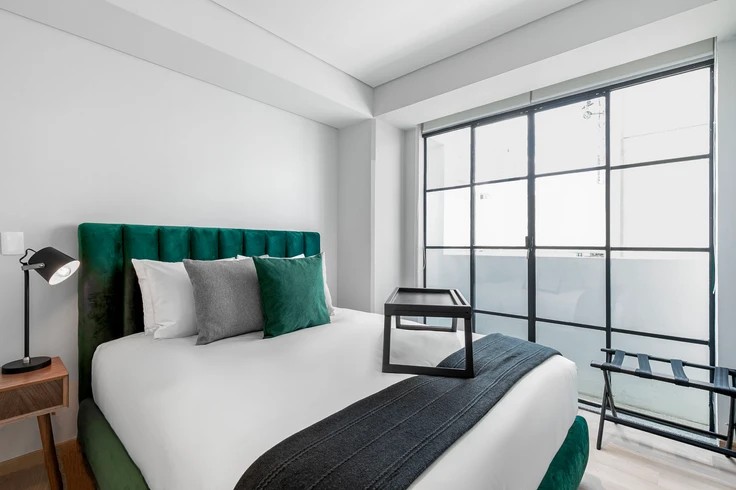 Mexico City, the country's capital and enormous city has a thriving rental market with a range of housing alternatives to meet different demands. Furnished monthly rentals are a good option for those individuals or families looking for short-term housing or the ease of a pre-settled place. Evaluating the market for furnished monthly apartments for rent in Mexico City is essential whether you're moving, on a short-term job, or don't want to invest in furnishings.
This article provides a high-level overview of important factors, such as accessibility, location, price, apartment amenities, lease terms, rental websites, safety, and the leasing procedure. By looking into these considerations, you may more successfully explore the market and choose the ideal furnished apartment that matches your needs and improves your stay in colorful Mexico City.
Picture Source: Blueground
What are Furnished Monthly Apartments?
Rentals that are entirely furnished and offered for monthly leasing are known as furnished monthly apartments. Because they are equipped with necessary appliances and furnishings and frequently come with basic facilities, these rental units are intended to provide residents with a pleasant and straightforward living situation.
Typical furnishings for furnished monthly flats include beds, couches, dining chairs, tables, dressers, and kitchen equipment such as a stove, microwave, and freezer. They could also have basic home things like linens, towels, cookware, plates, and cutlery.
These lodging options are perfect for persons or families needing short-term housing, such as those on brief assignments, foreigners, or moving. They benefit from eliminating the need to purchase furniture or transport it from one location to another since they come equipped with everything you need.
Some Key Points to Consider When Understanding the Rental Market
Availability
Several fully equipped apartments in Mexico City are offered for monthly leases. Options that suit diverse budgets and tastes may be found across the city's residential areas and other regions. It's advised to begin your search early since the availability may change according to the time of year and demand.
Geographical location
Mexico City is a sizable city with various neighborhoods, each offering a unique setting and facilities. When selecting an area for your furnished apartment, consider elements like closeness to your place of employment or preferred attractions, safety, ease of access to public transit, and the presence of necessary services.
Rental costs
Depending on location, unit size, services, and neighborhood appeal, furnished monthly rentals in Mexico City may range widely in price. In general, flats in premium neighborhoods or famous districts are more costly. To have a reasonable idea of expenses, examining the typical cost of renting in the area you prefer is advised.
Unit features and amenities
Essential furniture pieces, including mattresses, couches, seats, tables, and kitchen equipment, are often included in fully furnished flats in Mexico City. However, the particular features and facilities might differ from one unit to the next. Some could come with extra features like cooling and heating, internet connection, parking spots, or use of community amenities like a gym or pool. Examine the ads or speak with the landlords to learn more about the facilities provided.
Lease conditions
Carefully read the lease conditions before signing a lease for a furnished flat. Although the length of the lease might vary, monthly leases are sometimes offered for shorter durations. Ensure you thoroughly read and comprehend the lease agreement's terms and conditions, including any duties, limitations, or extra expenses like utility or maintenance fees.
Rental platforms
Several internet rental marketplaces and real estate firms focus on putting tenants in touch with furnished flats in Mexico City. A few well-known websites include Blueground, Lamudi, VivaAnuncios, Inmuebles24, and Airbnb. These sites provide thorough lists, images, and reviews to aid decision-making. Before making a rental decision, it is a good idea to research several options and read reviews.
Safety and security
Although Mexico City has a wide variety of areas, it's crucial to prioritize safety when selecting a furnished property. Look at the area's safety record, consider building security (such as a security guard or CCTV) and street lights, and ask the local populace or expat groups for advice.
Rental process
The rental procedure often entails submitting a request, presenting relevant documents (such as identification or proof of employment), and paying security savings, typically equal to one month's rent, after finding a suitable furnished apartment. Certain landlords may also require a letter of recommendation or guarantor. Before executing, be sure you carefully read the rental agreement and have all of your questions answered.
Conclusion
Individuals and families seeking short-term accommodation in Mexico City have the convenience and freedom to rent a furnished monthly flat. Considering aspects like location, rental fees, apartment characteristics, lease terms, safety, and the renting procedure is crucial since many possibilities are accessible in different areas. You may make an educated choice and choose a cozy furnished apartment that meets your requirements by researching extensively, using web resources, and comprehending the local market. The rental market in Mexico City is constantly changing; therefore, it is crucial to be informed on the most recent trends and laws. You can take advantage of all Mexico City offers and have a great time with the appropriate information and planning.