Ujwal Sharma the most demanding Digital Marketer
Currently due to Corona-Virus Pandemic the market has seen many ups and downs, some industries suffered huge loss and others received huge profits and made millions. An estimated twelve crore people have lost their jobs due to the Corona-Virus pandemic.
Digital Marketing has emerged as the most demanding industry. Small, medium or big business owners each and every one needs Digital Marketing to grow their sales in this pandemic.
In India there are many Digital Marketing experts but it's difficult to find an extraordinary and skilled digital marketer. Even a small or a local shop today hires a digital marketing expert or get their digital marketing done by agencies.
Ujwal Sharma is an Indian Entrepreneur and Digital Marketer, who has served the top-notch International companies and made their business and online brand presence grow during this COVID-19 pandemic. His luxurious portfolio includes World's top million dollar companies.
After the government announced the lockdown many Business owners lost their hopes to earn, but Ujwal Sharma helped them with growing their business through Digital PR, Facebook Ads, Google Ads, Digital Advertisement and many more, which helped the Business owners to generate leads & stay stable in the game.
Ujwal Sharma says – "Today a vendor who makes handmade items can sell them from their Website to consumers on the other side of the planet, and do it all from the comfort of their home, this is only because of Internet and Digital Marketing".
Many Canadian, Australian and The United States based start-up owners says – "Ujwal Sharma has been the top choice for our Online Branding and Digital Marketing".
Ujwal Sharma is a big name in the Digital Marketing Industry in India, he is among the Top Youngest Digital Entrepreneur and Digital Marketer in India. His marketing skills and extraordinary techniques are praised by many international million dollar Business owners.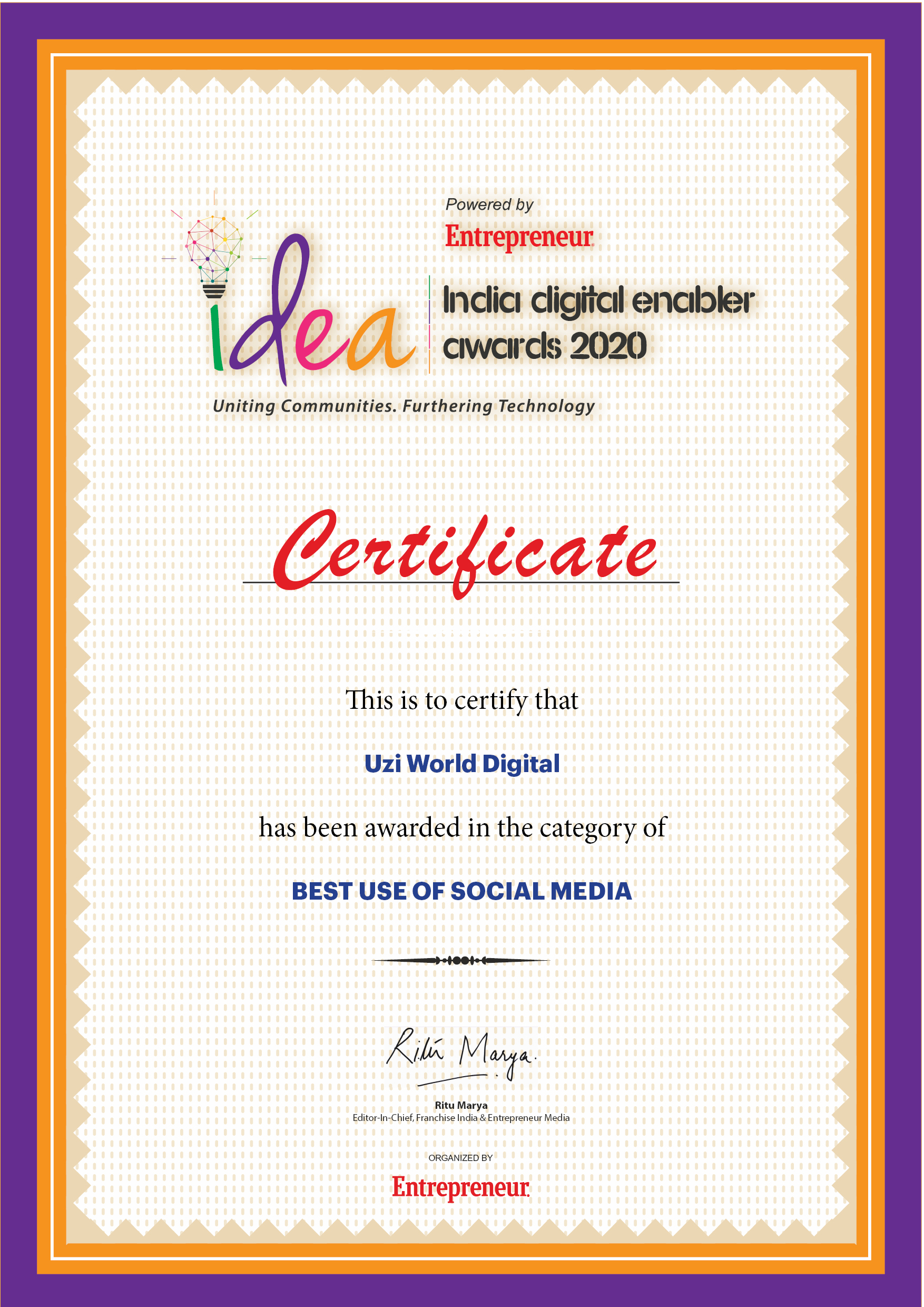 Ujwal Sharma is the founder and chief executive officer of Uzi World Digital, which is an International Internet based Digital Marketing Company. Recently Uzi World Digital won the India Digital Enabler Awards 2020 for Best use of social media, which was organised by Entrepreneur Magazine India. Ujwal Sharma is also Co-founder of Classicpreneur News and Media, which was founded by Ujwal Sharma and Aditya Singh in August 2020. Classicpreneur.com is soon going live in January 2021.
Recently Ujwal Sharma did one of the biggest Digital Marketing Webinar in the world with over 2000+ active viewers. He is all set to launch his E-book for his students and followers. He says "I have started my YouTube channel to share free Business resources, how to make money online, and Digital Marketing".
Ujwal Sharma is a Digital Marketing coach and has mentored over 800+ youngsters around the globe, he himself is just 18 years old, now you might think how-much-talented Ujwal Sharma is!
Ujwal Sharma says – "Age doesn't matter, if anyone has a desire to achieve something he or she can grab it at any age".