Trust Science® on the Importance of Financial Inclusivity in 2022 and Automated Decision Management Systems (ADMS)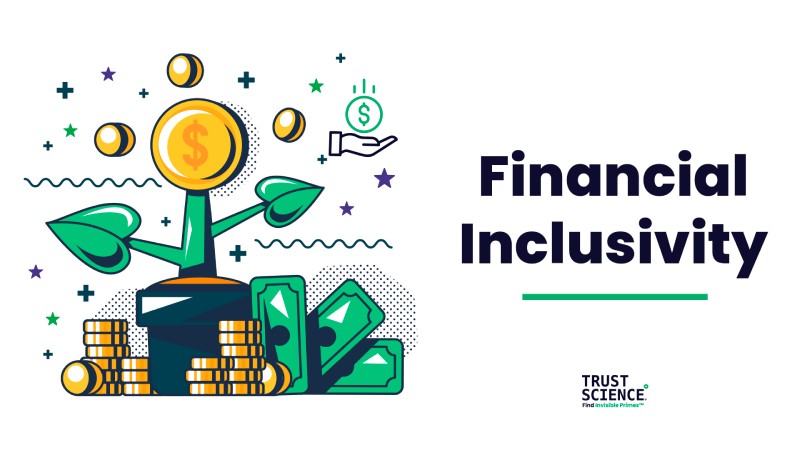 2022 has marked the exit out of the COVID-19 pandemic, and with it, a major shift to the credit industry. While conventional credit has been blinded due to government policies and stimulus checks, lenders are demanding more predictive sights for everyone. Trust Science® is a fintech company that offers its Credit Bureau+™ SaaS to lenders. This service helps individuals get the credit they deserve making lending more ethical and fair. When lenders can 'buy deeper' into the credit market at a lower risk, the outcome for millions of consumers (who are being wrongly scored by conventional methods) is that they enjoy financial inclusivity for the first time in their lives. Trust Science leverages thousands of data points and machine learning technology and then provides lenders with an easy, highly predictive, fully explainable and fully compliant Six°Score™.
Founder and CEO, Evan Chrapko, is a serial entrepreneur and investor who has returned 9-figures (hundreds of millions of dollars) to his investors via innovative technology start-ups that have either been disruptors or which (re)defined their categories. 
Trust Science's mission is to dramatically improve consumer lending decisions; to get deserving people access to the credit they deserve. The world is waking up to the systematic exclusion of people who are un-/under-banked for a variety of faulty reasons/logic. Just one part of the problem is that the old, legacy systems of credit adjudication are heavily reliant on one's past behavior with credit obligations in a given country. No wonder that young people and immigrants are "victimized" by this infrastructure: they simply don't have a credit history! The Credit Bureau+ service that is now being used by many innovative and forward-thinking lenders uses proprietary AI-powered models that harness thousands of data points to provide up-to-date, insightful and legally compliant risk scores capable of accurately assessing creditworthiness for everyone.
What are Automated Decision Management Systems
Having strong predictive indexes (scores) and accurate qualifiers & reason codes is the core of the Earth for scaling up/automating decision-making. However, these metrics are just a starting point in the workflow that goes into an actual lending outcome. In many small lenders, lending decisions (approval, amount, terms) are entirely left to human loans officers. Bigger and/or more modern lenders are now harnessing today's generation of decision management suites that not only analyze data, but which can take the next step of applying a lender's own business rules and strategy considerations (which can change from time to time). These Decision Management Systems/Suites offer actual loan recommendations consistent with **all** inputs and limitations, and can even generate loan offers in real-time. Errors are reduced and consistency is enhanced, all while avoiding human-introduced bias. To state the obvious, a well-designed and properly functioning DMS will not ingest prohibited factors (e.g. race or gender) and it will also have debiasing techniques in play so as not to be discriminatory in its outcomes. Ultimately, both consumer choice and consumer protection are enhanced.
According to Evan Chrapko, the goal of most data analysis in a business is to create actionable insights, and lenders are no exception. With a traditional credit bureau, lenders get a number between 300 and 850 and data about the borrower-applicant. However, the traditional credit bureau does not also integrate with the backoffice Loan Management System (system of record re: applicants and borrowers, in the lender's back office) and cannot host logic on behalf of the lender. It is also not designed to consider other data sources besides itself, like consented data from the consumer (available through the Trust Science Smart Consent™ app) or other very valuable information about the purpose and/or underlying collateral giving rise to the loan in the first place.
In the modern era, the above limitations in the industry status quo are partly to blame for the financial exclusion suffered by many otherwise reliable borrowers. Trust Science calls these wrongly-adjudicated borrowers the Invisible Primes™ or the Hidden Primes™: people who are denied an on-ramp into the modern economy simply by virtue of the slow pace of innovation/adoption of new technology in the very large, very complicated credit adjudication sector.
Platforms that purport to be making lending decisions should be legislated to be required to host logic and interact with a lender's legacy systems in a bi-directional, intelligent manner. They should be required to allow consumers the ability to become involved in real-time, at their option and with their fully-informed consent, in the supply of information about themselves. Finally, lenders must also demand that all decisions in the lifecycle of a borrower–from the point of first contact in a marketing campaign through application adjudication and beyond–should be seamlessly integrated with the Risk Assessment that is being done about that borrower. This will result in legally compliant, instant credit-granting decisions that are consistent with a lender's strategy and business rules.
"At a broad level, successful automated decision management systems and intelligent applications take insights from data a step further and apply them to a business context." Chrapko added. "A three-digit credit score in and of itself is fairly arbitrary: intelligent applications like ours start providing transformative value when they are integrated with business strategy. Our platform can take an applicant, provide a score, and make recommendations on approvals, loan amounts, risk-based pricing, and a plethora of other lending answers to help loan officers become as efficient and as accurate as possible."
Trust Science® goes beyond providing a more inclusive and accurate score: in a matter of seconds, the platform can help lenders render lending decisions with confidence, leading to a seamless customer experience where applicants can quickly get approved with a specific amount and terms. The company also extends its credit insights into the marketing space, helping lenders cut down on costly direct marketing efforts by targeting these efforts at pre-qualified, in-market prospects.
For more information, go to TrustScience.com or email the company at marketing@TrustScience.com.
More About Trust Science®
Trust Science is an innovative FinTech company that has developed Credit Bureau+™, a multi-patented credit analytics platform that acts as an antidote for lenders, offsetting the problems posed by conventional credit scores. Instead of seeing a lack of credit history, a few negative issues from years ago, or a poor credit mix and ending a consumer's credit application, Credit Bureau+ considers a wealth of additional data to generate a much more accurate credit score.
Credit Bureau+ expands the data used to calculate credit scores, getting the borrower's consented, permissioned data and/or acquiring Alternative Data. For example, those applying for credit can use Trust Science's Smart Consent™ app to divulge their information safely and confidently to Trust Science, which is working on behalf of the lender that is trying to reach a decision about the borrower. By doing so, young people or other people without a credit history in-country can let prudent financial decisions in other areas of their lives demonstrate that they're trustworthy for greater credit.
The service is available to a wide variety of lenders, including auto lenders, installment lenders, and single-repayment lenders. It's in their best interest to find more reliable, deserving borrowers to give loans to, so Credit Bureau+ drives benefits for both sides of the transaction: the consumer borrower as well as Trust Science's lender customers.