The Vip Style Pierdavid Palumbo, Age, Private Life, Bio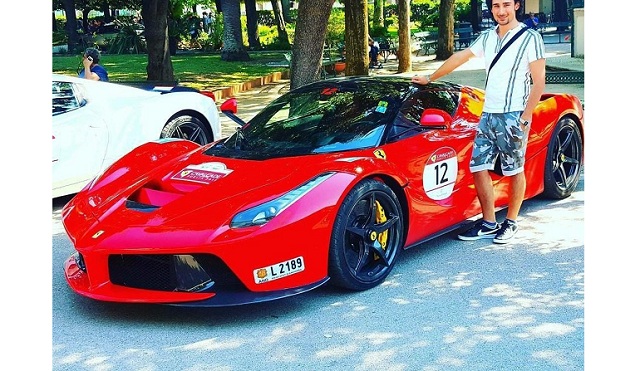 Italian electro crooner singer Pierdavid Palumbo was born in a small town called Trani on (november 15 1991), he have 29 years old and he grew up in France with his grandparents and returned to Italy at the age of 5, from there he start listening to his father's records and he start singing together.
A child prodigy with a golden voice inherited from his father, Pierdavid produces his first album entitled "lucky event" the duet was a great success,with the jazz standards that led him to sing in las vegas as well.
Pierdavid attends schools in another city called Corato, not far from his hometown, and will remain there until his graduation in the tourism sector, later he began to be an entertainer in various luxurious resorts and to get noticed by an international audience, in the morning entertains people by making them have fun on the beach, and in the evening with various shows, not only musical but also comic and with various cabarets, these experiences make it multifaceted and versatile, he made himself known in the world through his performances, and later with social media, such as instagram, facebook, and many others, his warm and unique voice has enchanted from a very young audience to a more mature one, Pierdavid is a sincere singer that truly expresses emotions in his songs, each word is not sung randomly but has its own expression, and he is a master of it, he studied music in France at a famous university enriching his artistic experiences with musicians from all over the world, is the winner of an award for best artistic creation of Jazz arrangement, boasts important collaborations with Eric Daniel well-known musician of Steve Wonder, Tony Bennett and many others who have produced the song street life with the arranger Digilio, later with That's Life on tour in Cuba and Historia De Un Amor in duet with his father, with numerous television passages in talk shows and reportage, his my way electro swing made him viral in all social media and in a short time he was danced all over the world to the rhythm of shuffle dance, he was defined the voice of electro swing as a representative of this music genre, Palumbo comes from the crooner school, but is considered a swing innovator with his new project that makes him an electro crooner using special effects in his songs, Pierdavid is a creative with so much inventiveness we can imagine him a new Frank Sinatra who like him in his day brought a new style of singing and swing from the classic Bing Crosby, His diction is perfect and everything is in tune, when he sings it seems that he does it for each of us, it seems that that song is aimed at us, this is the secret of his success.
Private Life
Pierdavid is currently single, but has had several flirtations with various girls also models in his travels around the world, The womens describe him as a true gentleman who is there just for them, and when he sings the first notes of a song they are fascinated by him like a spell, his last serious relationship dates back to 2018 with a Russian girl, from that moment on he is no longer engaged, some sources say that currently he is in love with a girl.
Pierdavid as well as a singer is a car enthusiast, in his spare time he modifies cars, and in the photo he is at a Ferrari rally for the 60th birthday of the brand, but his favorite cars are the american muscle
His greatest love is the grandmother Rosa, with her he spent the best moments of his childhood life so far, the loss of his grandmother has greatly affected the artist's life, considering himself to be very sensitive
He is also a sportsman who practices bodybuilding, swimming and cycling, he also did thay boxing and kick boxing
Is very fond of animals and had a yorkshire and a cat donated by a family, he loves cooking exquisite Italian dishes, which his grandmother taught him.