Swami Sachchidanand Aacharya – An Introduction.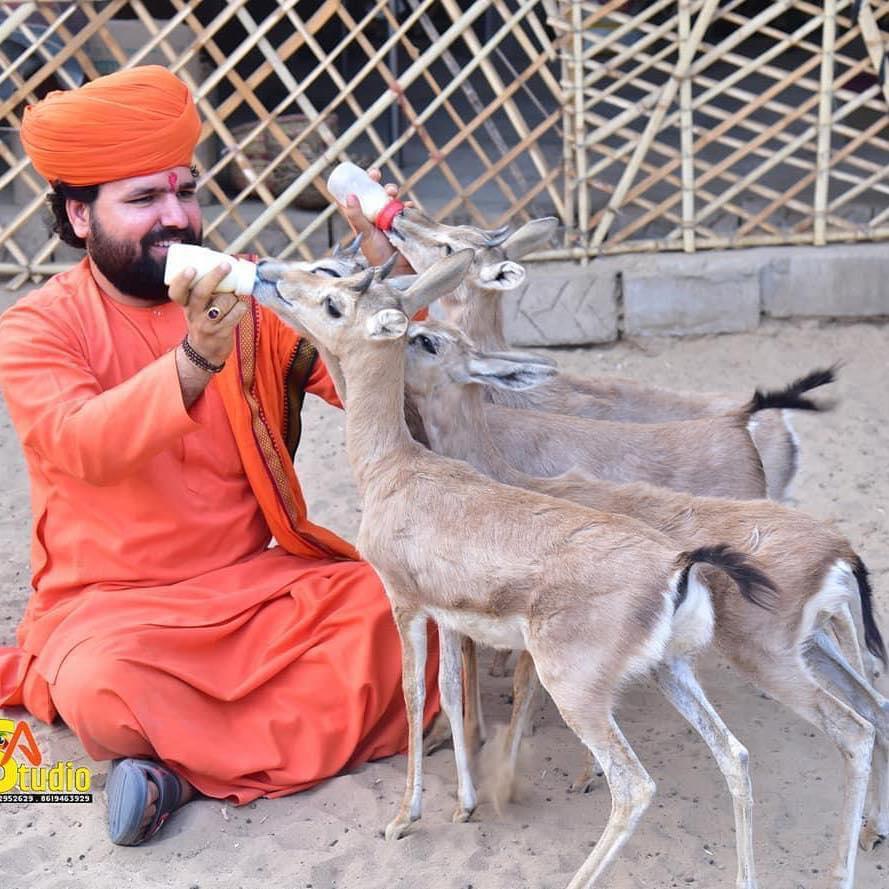 Swami Sachchidanand Aacharya was born in a small village named Rasisar, in the district of Bikaner. In the happy marriage of Father Mohanlal Ji Siyag and Mother Shanti Devi, the birth of a child named Shrichand took place. Since childhood, the kid had immense liking towards religious and spiritual endeavours. According to the Bishnoi Traditions, he had natural inclination for being compassionate towards living beings and environment. Other children did not take interest in bhajans, kirtans and other rituals, yet, Shrichand didn't just attend them, but also participated readily. The adults of the village often said that the child will grow up to live life of a hermit.
In days of his primary education, he customarily visited temples, performed Havans and adapted charitable pursuits like feeding the birds.
He participated in all the cultural programmes of his school and won hearts of people through his sweet voice and excellent oratory. After completing his schooling, he dived deeper in the journey of spirituality and meditated at Samrathal dhora in the Saint Contingent. On 4th of July, 2008, at mere age of 16 years, Shrichand embraced Asceticism with the help of Swami Rajendranand and became Swami Sachchidanand.
Subsequently, he shifted to Haridwar for gaining deeper insights. There, he gained the knowledge of a hierophant from Shankar Advait Vedant. In the year 2015, in Uttarakhand Sanskrit University, Swami Sachchidanand was honoured by the position of "Teacher".
Swami Sachchidanand Aacharya is rich with Versatile Talents. Because of having deep knowledge and experience on Spiritual Subjects, he filled his listeners with sentiments by his story telling. By the medium of stories, he created awareness of issues like Hypocrisy, Superstition, Malpractices, Intoxication etc among youth and society.
In the Jagrans, along with singing bhajans, he also ran campaigns regarding saving environment and planting trees.
He organized camps and online sessions to embibe virutes and accelerate spiritual growth among children from time to time.
Swami Sachchidananda Acharya is a young Hierophant of the Bishnoi society. Millions of Youth of the society have upgraded and improvised their lives after being inspired by him.
He currently resides at place Shri Guru Jambheshwar's salvation, Lalasar Sathri, village Nokha, District Bikaner and is researching on "Vedant ke Aalok me Jambhvani ka Anusheelan"