Sarah Hyland Says She Has One Regret Regarding Her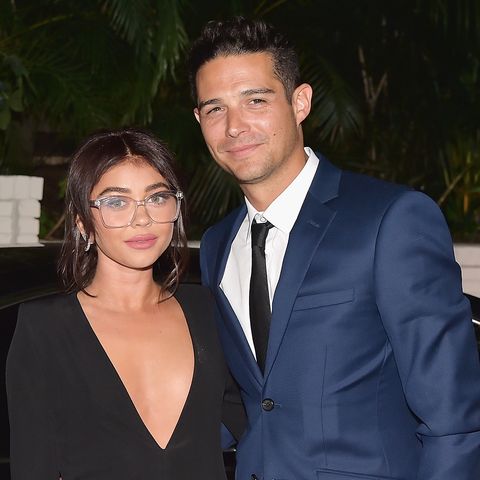 Sara Hylan and Wells Adam is an adorable couple. You can hardly resist noticing them on the social media. They are all over the Instagram and other social media website. You are definitely not alone if you cannot get enough of the two. Yes, the couple is ideal. They share a special bond which everybody adores. They both defend each other aggressively from online haters.
The couple her their first date at the Emmy's Award function. Just recently the actress was reminded of that. She remembers her first date with her fiancé to be one of the best times of her life. The only regret she has is that she does not have a picture of the date. The actress wants to change that. It was a precious and memorable moment because they are soon going to tie the knot. She regrets not having captured one of the best moments of her life.
Wells and Sarah have a romantic love story which is beyond perfection. They are both head over heals about each other. The couple was in touch on the social media before meeting at the Emmy's party for the first time. Sarah Hyland was nominated for her role in Modern Family. She invited Wells to come and meet her there. Adams says that he knew on their first date that they were meant to be with each other. Isn't that sweet and romantic? The couple attended the 3rd Emmy's together in a row on September 21. Sara posted some pictures from the event on her Instagram page.
Not many people know that the couple had their first date before the second successful kidney transplant of Sarah Hyland. The actress suffers from kidney dysplasia. Despite her battle from the illness, Wells loves her with no regrets. He proposed this beautiful lady in July 2019 at a beach.
Sarah Hayland expressed her regret on her Instagram page by posting her picture with her fiancé in a beautiful black dress. She says " A little over two years ago we had our first date at this emmy's party. Now at our third time attending, we're engaged. It's amazing how fast time flies when you meet your forever person. My only regret is that we have ZERO pictures from the night that changed my life."
However, Britt Robertson had a surprise for her. He stated that he had a picture of the two with him. He commented on her post that he'd find some and get back to her. Sarah Hyland was delighted to know that.
Sarah Hyland and Wells Adam are excited for their wedding. It does not matter whether they have the memories of their first date captured in a camera, what matters Is their love for one another. The celebrities are madly deeply and crazily in love with each other. They are happy together. That's the only thing that matters. Pictures or no pictures? Who cares. We wish the couple all the best in life. They make a cute pair.