Samantha Prabhu and Akshay Kumar episode of "Koffee With Karan 7" episode 3 Releasing Today @7pm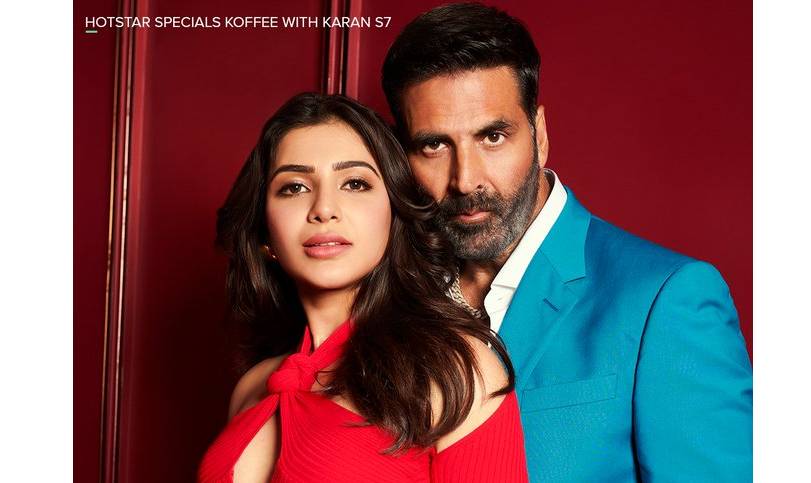 Samantha Ruth Prabhu and Akshay Kumar will be brewing some koffee on Karan Johar's show. Know all about Koffee With Karan's new episode here.
Koffee With Karan 7: Alongside Bollywood superstar Akshay Kumar, Samantha Ruth Prabhu is making her Koffee debut. The dynamic combo has already stated that in the upcoming Koffee With Karan episode, they will be advocating on behalf of Karan Johar. Additionally, viral videos demonstrate how these dancers from the Bollywood and South Indian film crossover are scorching the dance floor with their hot routines to "Oo Antava." The anticipation is building, but when will the Akshay-Samantha episode air on Disney+Hotstar? Find out here how to watch Koffee With Karan, season seven.
The cast of "Koffee With Karan" season 7 episode 3:
Southern diva Samantha Ruth Prabhu will be featured in the latest edition of Karan Johar's show. Additionally, Akshay Kumar will be seen with her on the Koffee couch.
Koffee With Karan S7 Ep 3 Date and Time
Koffee With Karan Season 7's third episode will drop on July 21 at 7 PM on Disney+ Hotstar
Koffee With Karan 7 how to watch?
Coming on July 7, Koffee With Karan will be available on Disney+ Hotstar. The Disney+Hotstar premium subscription is required if you want to stream premium content, as the free service won't allow you to do so.
Highlights from the Samantha Akshay episode of Koffee with Karan 7
The preview for the show suggests a vivacious potboiler of glitz, secrets, and sharp one-liners delivered by the two famous guests.
In the third Hotstar Specials episode, Akshay Kumar enters the scene while holding Samantha Ruth Prabhu, who is making her television debut.
As Karan Johar recalls the contentious Will Smith-Chris Rock Oscars slap, he frankly asks Akki, "What would you do if Chris Rock made a joke about Tina?" The veteran of the program pragmatically responds, "I would pay for his funeral," adding that nobody should mess with Mrs. Khiladi.
The host deftly eliminated Samantha Ruth Prabhu's pick for the greatest dancer.
New Koffee With Karan Games in Season 7
Hotstar Specials Koffee with Karan Season 7 has new games including Koffee Bingo, Mashed Up, along with the all-time favourite rapid fire.