Saddle Up with Cowpuncher Babe: Unveiling the Heart of Texan Fashion for Little Babes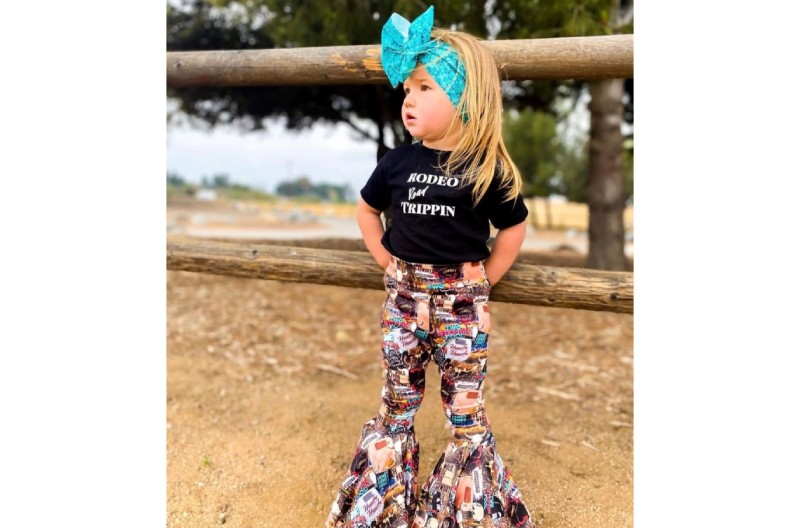 Howdy, y'all! Suppose you've got a hankerin' for the most fabulous Western fashion. In that case, you've moseyed on over to the right spot – Cowpuncher Babe! This article is your ticket to the hottest wardrobe in town for your cute little babes, so get ready to two-step through some Texan style as we take you on a boot-scootin' tour of what this Western gem offers.
A Western Showcase: Cowpuncher Babe's Top-Notch Collection
When it comes to Texan fashion, Cowpuncher Babe is the real deal. This one-stop shop for all things Western offers a collection that's hotter than a Texas summer. So, what's in their corral? Let's rustle up some style, shall we?
Denim Delight: FLARE JEANS That Fit Just Right
Cowpuncher Babe ain'tfoolin' around when it comes to FLARE JEANS. Their denim collection is a true cowbabe's dream. These jeans hug your curves and make you look like a bronc-bustin' little babe. Whether you're babe's ridin' the range or hittin' up the honky-tonk, these FLARE JEANS will make her feel like a genuine Texan superstar for just $26.00.
Cowgirl MY BOOTS and HOWDY YELLOW: Tees and Sets for Every Occasion
Complete your babe's Texan everyday outfit with a MY BOOTS tee for just $14.00. Cowpuncher Babe offers a range of western-inspired tees and sets like their HOWDY YELLOW for $16.00 to prepare your babes for a day of fun on the ranch or in town.
WILD CHILD and TURQUOISE PATCHYY ONESIE: Dresses, Tops, and More
Looking for something to liven up your little babe's wardrobe? Cowpuncher Babe has a treasure trove of dresses, tops, and accessories that'll have you lookin' like a true Texan belle. Try the WILD CHILD outfit and the TURQUOISE PATCHYY ONESIE for a very affordable price of $15,00; it comes in a Western-inspired design and pattern, so you can look the part wherever your babe goes.
Rodeo Ready: Western-styled PACIFIER CLIPS and COWBOY HAT to Complete the Look
Cowpuncher Babe offers a range of Western accessories and baby girl clothes for newborns to complete the Texan transformation that'll leave you lookin' like you just stepped off the ranch. From PACIFIER CLIPS for $8.99 and cute COWBOY HATS for $29.00 to adorable baby girl clothes for newborns and everything in between, they've got it all
Saddle Up for Savings: The Benefits of Shopping with Cowpuncher Babe
Now that you've tasted the Texan fashion offerings, let's talk about why Cowpuncher Babe is the go-to spot for all your little babes' Western needs.
Authenticity is key When looking for Western wear for little babes. Cowpuncher Babe knows what it means to be Texan, and they've curated their collection with real Western charm. You won't find any imitation cowgirl gear here; it's the real McCoy.
In the Lone Star State, quality is a must, and Cowpuncher Babe delivers. Their products are made to last, whether your babes are playing in the ranch, attending a party, or going to town on a special day. You'll get your money's worth with every purchase.
Cowpuncher Babe believes every Texan babe should have the chance to look and feel great. That's why they offer a wide range of styles in their collection. You can strut your stuff in some fine Texan duds, no matter your shape or style.
Southern Hospitality Shipped to Your Door
Whether you're a Texan at heart or just admirin' the style from afar, Cowpuncher Babe ships their products worldwide. So, you can get a taste of Texan fashion no matter where you hang your hat.
Wranglin' It All Together
So there you have it, y'all! Cowpuncher Babe is the place to be for all your little babes' Texan fashion needs. With a collection hotter than a branding iron and a commitment to quality and authenticity, your babes will be struttin' their stuff with the best of 'em.
Whether you're dressin' your little babes up for a night out on the town or need new gear for a Western adventure, Cowpuncher Babe has got you covered. So what are you waitin' for? Head on to cowpuncherbabe.com. It's time to embrace your inner Texan and get your hands on some top-notch Western-style fashion for your cute little babes. Happy shoppin', partner!