Revolutionizing Fire Safety: Buzaao's Commitment to Innovation and Excellence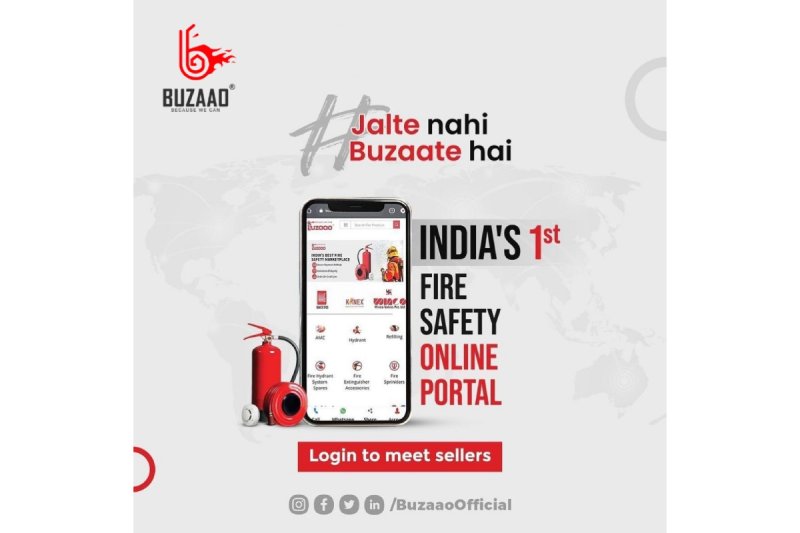 In the realm of fire and safety, Buzaao has emerged as a true game-changer, reshaping the industry with its cutting-edge technology and unwavering commitment to excellence. As a digital platform, Buzaao has successfully digitised fire safety operations, introducing innovative tech-enabled services that have garnered widespread acclaim. In a remarkably short time since its inception, Buzaao has managed to build a remarkable reputation, establishing itself as the go-to solution for all fire safety needs.
Combining professional expertise with the power of automation
What sets Buzaao apart is its holistic approach, combining the expertise of industry professionals with the power of automation. With a workforce of over 2000 vendors, Buzaao brings together a diverse pool of talent, ensuring that every task is executed with the utmost professionalism and precision. Whether it's fire safety awareness campaigns or on-the-field operations, Buzaao has earned accolades for its innovative strategies and unwavering commitment to customer satisfaction.
A wide spectrum of products and services
Buzaao's extensive range of products and services further solidifies its position as a leader in the industry. From fire hydrant systems and extinguishers to alarm systems and sprinklers, Buzaao offers a comprehensive suite of top-notch products. Understanding the critical role personal protective equipment plays in ensuring safety, Buzaao also provides a wide array of protective gear for both professionals and individuals. Additionally, their fire signage solutions ensure clear communication and enhanced safety in any environment.
A structured and streamlined approach to fire safety
What truly sets Buzaao apart is its structured and streamlined approach to fire safety. The brand's well-defined procedures ensure that every task is carried out seamlessly and on time. With a keen focus on timely maintenance and rigorous security checks, Buzaao leaves no room for error. Real-time updates and cloud-based data storage systems allow for efficient monitoring and easy access to critical information, giving customers peace of mind.
Convenient and hassle-free services
Availing Buzaao's services is a breeze, thanks to its user-friendly digital tools and hassle-free procedures. Booking an appointment is simple, and the professional team promptly responds, ensuring swift and efficient service delivery. The installation process is made even more convenient through the use of QR systems, which provide fire safety awareness and enable smart reminders and reporting.
Social responsibility and commitment to spreading awareness
Beyond its remarkable products and services, Buzaao demonstrates a strong commitment to social responsibility and safety awareness. Recognizing the increasing number of fire accidents, the company has taken it upon itself to educate the public about preventive measures and solutions. Through their campaigns and QR-based system approach, Buzaao aims to empower individuals and communities to prioritize fire safety. Their dedication extends to government premises utilized for education and medical services, where Buzaao offers its digital fire safety tools at no cost, reflecting their unwavering commitment to the well-being of society.
Major components of their services
Buzaao's impact extends to three major components: business-to-business procurement, service provider solutions, and consumers. Through their procurement platform, Buzaao empowers businesses in the fire safety industry by rectifying operational inefficiencies and providing comprehensive support. Service providers benefit from innovative solutions that streamline their daily operations, optimize efficiency, and modernize procedures. As for consumers, Buzaao ensures they are well informed about the latest updates on fire safety equipment and maintenance, safeguarding their premises and enhancing their peace of mind.
In conclusion, Buzaao's rise to prominence within the fire and safety industry is no accident. Driven by innovation, excellence, and a deep commitment to customer safety, Buzaao has revolutionized the way fire safety is approached. With its state-of-the-art technology, extensive range of products and services, and unwavering dedication to social responsibility, Buzaao is a force to be reckoned with, setting new standards and inspiring the industry to embrace a safer future.