Regional Users Binge Watch to Escape from Reality: Arvin Subramanian, Author – Get Vocal for Local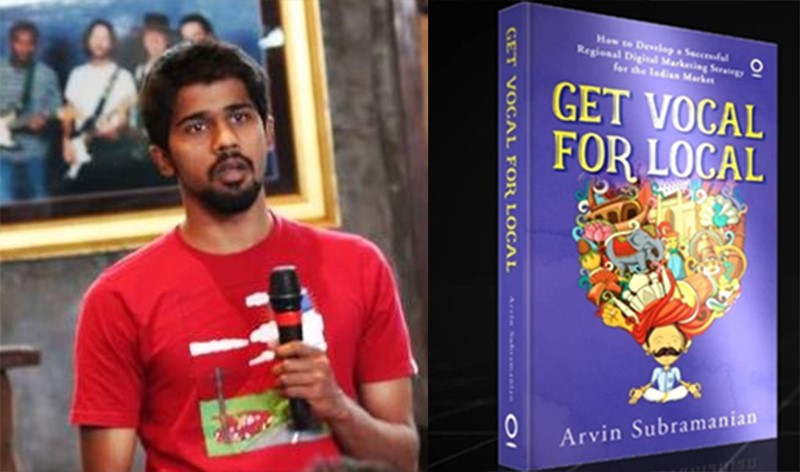 Arvin Subramanian, a 29-year-old Digital Marketer from Chennai released his hand book "Get Vocal for Local" last week. The Book has been the Best Seller in its category ever since release!


Through his book, Arvin has put forth many key insights on understanding the online behaviour of regional, rural internet users and presented ideas for brands to serve them better digital content.



Arvin Subramanian is the author of "Get Vocal for Local", the book which is currently the best seller in its category – Urban and Regional. About the theme of his book – Arvin considers getting local is very vital in today's scenario. With new users from regional, rural markets joining internet on a daily basis, it is important that a brand communicates to them in a relevant manner. Through his book, Get VOCAL for LOCAL, he offers various plans, strategies to effectively localize content with the help of real-life case studies.
Arvin has done an in-depth investigation on the online behaviour of the regional, rural internet users. Arvin says, "Various platforms are reporting that video watch time from regional users is increasing at a rapid pace. The important reason for this is, Regional users are more prone to binge watching behaviour. Once they play a video on YouTube, they do not stop without playing 10 more. Features like auto play and related video recommendations help them to binge watch videos more often. This is also synonymous with more and more regional content creators coming into the scene."
Arvin has cited many research papers and case studies to back his claims in the book. "One major reason is that they look at binge watching as an activity to escape from reality. Users from the metropolitan cities have various avenues apart from the internet, to break out from their stress and relax. But Internet acts as the major stressbuster for the regional, rural internet user. One important metric that proves this fact, is the popularity of Catch up television on OTT platforms. Even though, City users go gaga about the English TV Series, and originals. TV serials, the Saas-bahu sagas deliver great numbers in the OTT space. Understandably, it's the regional users who contribute the lion's share of this viewership."

For more such interesting insights on regional digital marketing. You can buy Amazon's best-selling book on the Urban & Regional category here – https://www.amazon.in/dp/1649516703