Queennak takes the stage by storm, performing for Goodwill Ambassador of Sierra Leone's daughter at her post-graduation and birthday party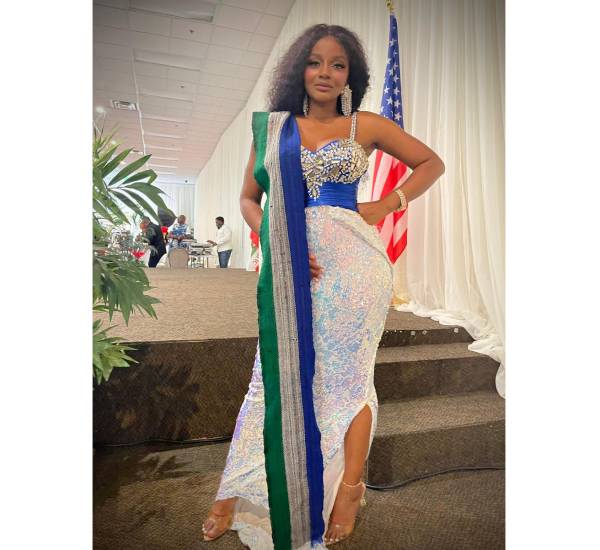 The well-known contemporary artist has yet again enthralled people with her mesmerizing performance.
The way a few people in this world have been paving their own path to success is truly a sight to behold, especially women, who have been taking over almost all industries today and making sure to pass on the zealousness and motivation among other women, vying to make their mark in their chosen industries. These women have proved what they are made of and have totally astounded the world with the kind of successes they have achieved thus far in their careers. We came across one such incredible personality, a woman of power and influence and deep-rooted art; she is Queennak, a queen of her own world, who has enthralled all with her recent performance at the post-graduation and birthday party of the daughter of the Goodwill Ambassador of Sierra Leone, Dr. Josephine Nwokedi. She performed alongside Sierra Leone's biggest comedian Sara D Great and one of Sierra Leone's best Afrobeats R&B artists, SHADY BABY (SHAD-RAK).
Queennak has always made sure to spellbound people with her work and the kind of endless hard work she has done so far in creating a successful journey for herself in the artistic world, which has what propelled her forward as a one-of-a-kind contemporary artist, musical artist, visual artist, fashion icon, TV personality and also activist from West Africa, Sierra Leone. She is the one who has been promoting black culture in China in the show 'Rolling with the NAKS.' People were enthralled yet again by seeing her electrifying performance as a true-blue artist at H.E Isatu Timbo – daughter's birthday and post-graduation party, who serves as the Honorary Consul and Goodwill Ambassador of Sierra Leone to Los Angeles County. Before her performance, she gave a speech encouraging Sierra Leoneans and Nigerians to learn from the Timbo and Nwokedi families, telling people to work towards bettering the relations between these two Nations.
She even praised her sister ( Dr Josephine Nwokedi) for working so hard, staying focused, and becoming the youngest doctor from Harvard University. She encouraged her to follow her mother's footsteps to continue the good work started by her mother. Queennak met her excellency Isatu Timbo when she visited California in 2018. Isatu Timbo, the first Honorary Consul and Goodwill Ambassador of Sierra Leone in Los Angeles County welcomed Queennak with open arms and said that she considers Queennak as her third child.
People were in awe of her performance as she took the stage by storm and proved her artistic mettle yet again. After living in China for a decade, Queennak moved to the US with her son Prince Yang to pursue their education and careers and, more importantly, promote cultural exchange between Asia, America, and Africa. She has indeed come a long way with her recent performance, which has increased her stocks in the industry.
Queennak became part of the diplomat family in California, which opened many diplomatic doors for her. She wants to pay back her excellency, so she put together an excellent performance to celebrate one of the royal sisters, who is the first daughter of her excellency.