Pujya Morari Bapuji offers prayers at Vrindavan Temple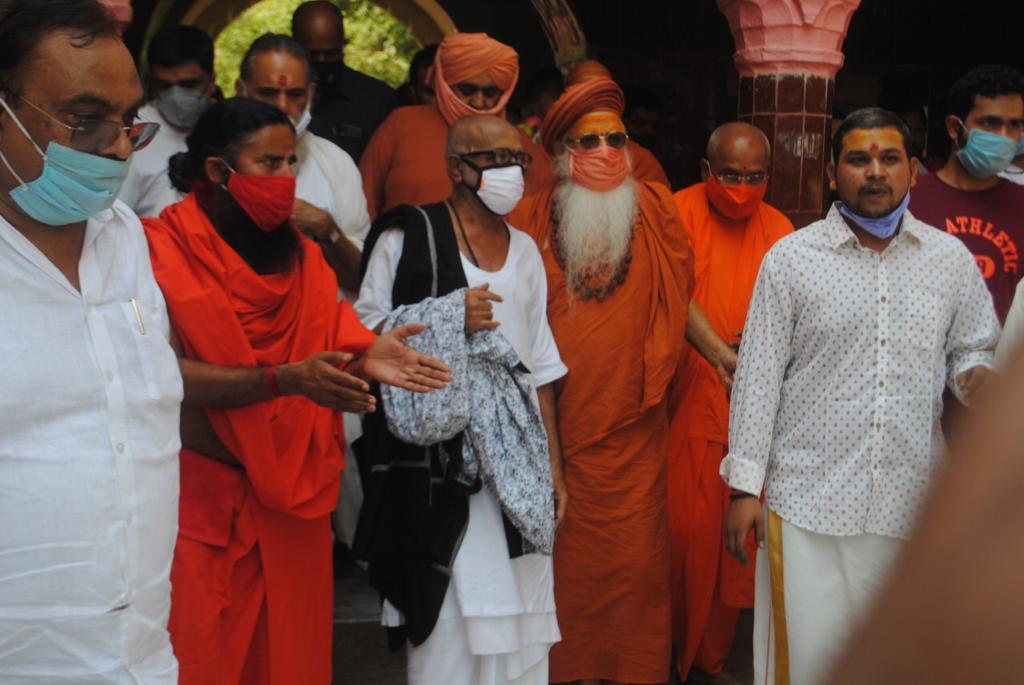 15 October, 2020: On the holy Monday of Purushottam month, world famous preacher Param Pujya Morari Bapuji offered prayers at Vrindavan Temple. Along with Bapuji, Yoga Guru Swami Ramdev Baba, Shri Paramatmanand Saraswati Karshini Guru Shri Sharananandji Maharaj and Geetamani Sri Swami Gyananandji also visited Vrindavan on this occasion. 
On this occasion Pujya Bapuji said that seeing Brajraj in Purushottam month has given me a lot of peace.  A large number of devotees gathered on the arrival of saints in the holy temple and welcomed the saints with flowers.

Earlier Morari Bapuji had visions of Baldev and Revathi Maiya at the Dauji temple at Baldev Dham in Mathura. National President of the All India Tirtha Purohit Mahasabha, Mahesh Pathak; Sant Gurusharanananda Maharaj, Yogacharya Ramdev and Sant Gyananand were also present on the occasion. 

Now Morari Bapu has organised Ramkatha in the Kamandal Kund on the peak of Girnar. This is the 849th Ramakatha of Bapu. It is the first historical Ram Katha on Mount Girnar, similar to Avadhoot Jogandar of Sorath. Katha will begin on October 17 at 9:30 am on the auspicious occasion of Navratri. Bapu's devotees are eagerly waiting for Ram Katha. However, Ramakatha will be virtual, given the social distance between the Corona epidemic and the safety of devotees. Bapuji's Ram Katha will bring peace of mind to the devotees in the current challenging environment.

The summit of Gorakhnath leads to Dattatreya Tuk on Mount Girnar, 'Kamandal Kund' comes on the way. Earlier also Ramkatha was organized in Junagadh city and Panth. Millions of devotees are eagerly waiting for October 17 to reap the auspicious benefits of Katha Shravan during the days of Navratri. The live telecast of the story can be seen on Aastha channel as well as YouTube.