PTtheGospelSpitter is a Multi-Country Chart Topping Artist!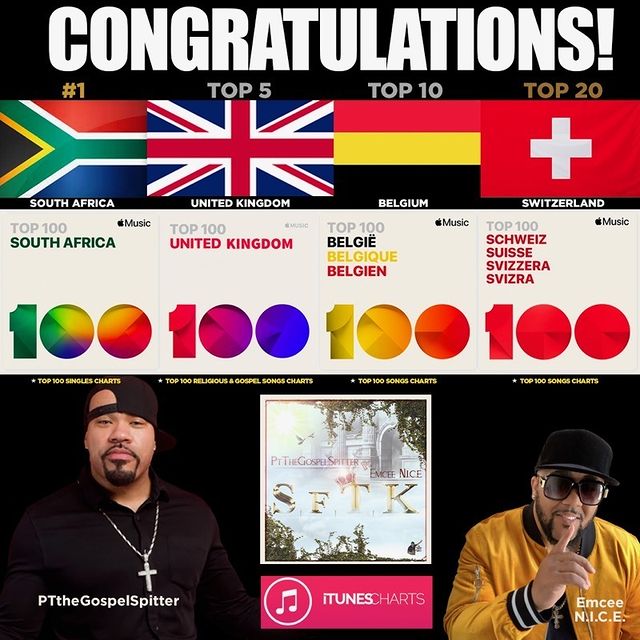 PTtheGospelSpitter celebrated the first six months of 2021 atop the radio charts with "SfTK featuring Emcee N.I.C.E." Thanks to his listening fans, he opens the second half of the year vaulting to the top of iTunes charts internationally.
"SfTK" spent 16 weeks to date at the top on BDS radio internet Gospel and Christian Hip Hop respectively. BDS radio launched the CHH panel March 7, 2021 making "SfTK" a dual charting hit and the historic first number one for the CHH chart! PT followed this with charting Number one with "SfTK" on iTunes for South Africa's and Number three for iTunes United Kingdom's Christian & Gospel charts. The song charted Number ten for Belgium's and Number twelve for Switzerland's Top 100 songs iTunes Charts!
But, the BIG NEWS doesn't stop there. PT has recently completed filming of his first SAG signatory film project and you guessed it, it is a musical film titled SfTK (Service For The King) The Movie (https://www.imdb.com/title/tt14558050/). The film will premiere "SfTK " the remix version as the featured soundtrack single.
We caught up with PT to get the inside scoop! Let's get into the details!
How are you feeling after all the success of your single SfTK feat. Emcee N.I.C.E.
PT: I'm just extremely grateful, thankful, blessed and still in shock about it all to be honest.
When you were creating "SfTK," did you think it would do this well?
PT: I knew we had something special when Emcee N.I.C.E. sent us his verse. But, I would be lying to you if I said I knew the record was going to do this well. This is all definitely SUPER DOPE!
We know you have the film coming for SfTK. What do you have in store for everyone with your SAG Signatory project?
PT: We currently have the project on the film festival circuit. We want to do our very best to take the good news message about The Kingdom to the movie lovers.
What else do you have in store for your listeners, fans and followers?
PT: Definitely a lot more praise, Kingdom Biz, good news music and films to hopefully bring people closer to The Creator Yahweh!
You can stay plugged into what PTtheGospelSpitter is doing by following him on Facebook, Instagram, Twitter and TikTok. You can keep up with all of his music at https://songwhip.com/ptthegospelspitter . You can also check out his films and other live performances at https://ptthegospelspitter.gumroad.com/