Peter Jean Marie Auditions for Shark Tank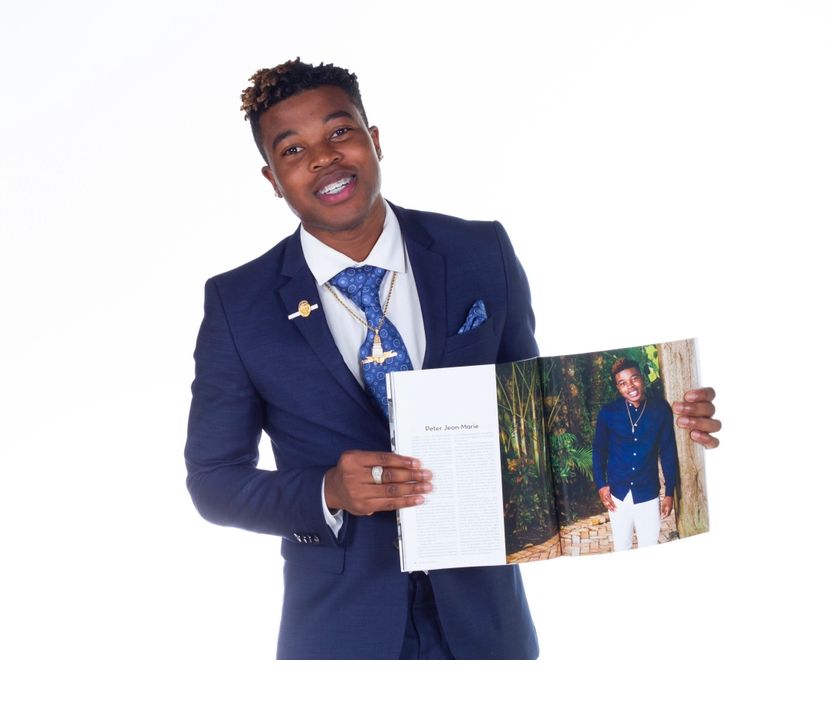 Peter Jean Marie keeps demonstrating the wisdom of the time-honoredsaying, "Nothing ventured, nothing gained."
The 22-year-old Collier County resident is a fairly new entrepreneur, launching his line of self-designed men's and women's fashions just seven months ago. At present, the collection which bears his name is limited to men's ties and bowties. But he plans to add men's blazers and women's clothing by year's end.

The fearless St. John Neumann grad also took what might be considered a bold step recently by auditioning for ABC's "Shark Tank" reality show, in which budding entrepreneurs compete for investments from a panel of self-made business titans.

Marie wasn't successful in landing a spot on the show, but he did make it to the second round of tryouts, along with receiving the sort of response from Shark Tank officials that further validated his career choice.
"It showed me that I should just keep on going and not be afraid to jump off the bridge because at the end of the day, there'll be a parachute," he said.
Shark Tank holds auditions at several locations around the country and Marie said about 30,000 business owners, nationwide, were vying for a spot this year. He was one of roughly 600 contestants who participated in the final 2019 auditions, held May 2 in New York City.
The seven judges seen on the broadcasts weren't part of audition process. Instead, hopefuls were given 10 minutes to convince a "pre-judge" that they should be selected.
"You were given 60 seconds to shoot your pitch and tell them what your business is," said Marie. "They took notes and you were either impressive or you weren't."When done he was informed that 18 contestants from that audition would notified over the next three weeks that they'd been chosen for the second of three rounds. Marie received a call two weeks later.

"They said they loved my business and they loved my audition and that I'd made it to the second round, he said. "Out of 30,000, 100 businesses were chosen and I among those 100 businesses."
Rather than a live presentation, the second round involved submitting a 10-minute long video describing the business and what makes it unique, how the prospective investment would be used, why consumers would be drawn to the product and projected sales for 2019.Unfortunately, he wasn't selected for the third round.

"They were looking for companies that had already generated lots of money or an extraordinary invention, something that hadn't been shown on Shark Tank," said Marie. "My business, I've even seen a few different companies that came and did a pitch for ties."But Marie was anything but disappointed by not moving on, coming away, instead, feeling inspired by the experience. During his one-week long stay in New York, he also made some new business contacts and logged a significant number of sales.

"I was just very cool I met lots of extraordinary people, people with inventions and people who have generated millions of dollars," he said. "And then there was me, a small town Naples boy who started his business seven months ago and it felt pretty good to be among the 100, out of 30,000."Had he made the broadcast, Marie would have sought an investment of $40,000 in exchange for 30 percent ownership in his company so that he could add to the product line.
Marie began modeling at age 16, along the way developing an affinity for styling his own outfits, which he'd then post to Instagram. After high school, he attended Miami International University of Art and Design. When modeling gigs became scarce, he decided to develop his own clothing brand. He started out with blazers, which he posted on social media where they attracted attention and sales.

In 2016, he won a national competition held at the Miami International Mall by making a dress out of chocolate. And he gained insight into the fashion world's business side by interning for Miami-based shoe designer, Fabrice Tardieu.
His creations can be purchased through his website, peterjeanmarie.store and at pop-up shops at various locations around Florida, such as one he held last November at the Coastland Center Mall.