PARAISO Miami Beach swim week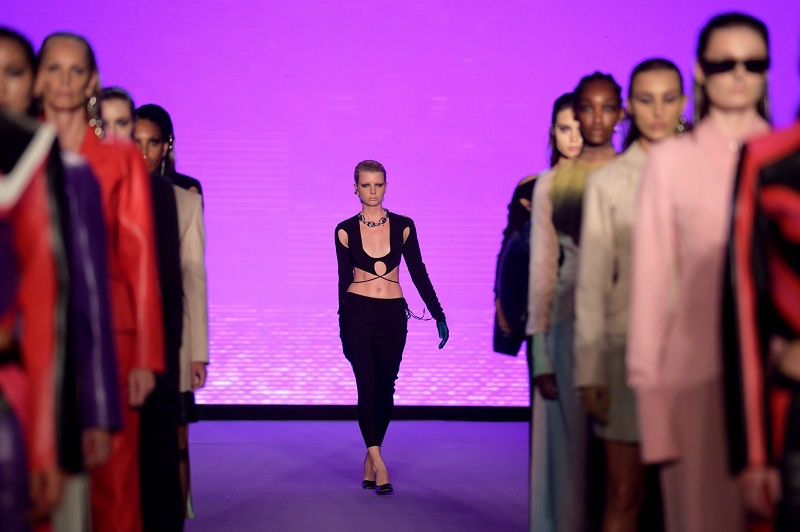 Designers & Industry Leaders kicked off the day at a Direct-to-consumer (D2C) Panel Talk "How to conquer E-commerce" Lunch at MILA Lunch presented by Courvoisier. Moderated by PARAISO Miami Beach co-founder Natalija Stojanovic, panelist designers Gorgias, Luli Fama, Omnisend, Simonett and Okendo discussed their real-world consumer shifts accelerated by the pandemic. Apparent was the trend of designers going direct-to-consumer, which had already been in motion for years. The shift is unlocking the freedom to their decisions about what they create, how much is produced, how it's shipped, when it's delivered, what it should cost, and are investing more time and money in their own e-commerce platforms.
Notably attending was top mixologist ambassador for Courvoisier, Zahra Bates.
Following this ground-breaking panel lunch, designers Bfyne x Models of Color Matter, Simonett, Planet Fashion, and Oh Polly debuted their Resort 2022 collections at PARAISO Miami Beach swim week throughout Miami Beach at the Plymouth Miami Beach and the PARAISO Tent.
Most recognizable during Friday's festivities were the truly unique presentations of each designer, offering diverse interpretations of both swim, resort, and event ready-to-wear. Event-goers at each show were exploding with energy, often cheering, clapping, and wowing one look after another, each designer presentation after another.
Friday night Melanin ruled the runway at the BFyne Miami Swim Week show powered by Models of Color Matter (MOCM), a non-profit organization advocating for equity of black and brown models in the fashion industry on and off the runway, at the Paraiso Tent in South Beach.
The collaboration between Bfyne and MOCM focused on promoting the beauty of Blackness, casting all Black models to walk the runway and working with hair and makeup teams to create a safe space celebrating their unique beauty. Model Renee Bhagwandeen said "I've done 100s of fashion shows across the globe in over 10 years of my modeling career and I have never had the amount of pride that I had being a part of the Bfyne by Models of Color Matter show. This was my 1st ever fashion show that was produced by an all-black team that celebrated me! We were treated with dignity and class and the environment and energy of these beautiful powerful women is something I'll always cherish…" after walking in the Bfyne runway show.
Bfyne x Models of Color Matter through back a color palette and vintage silhouettes to both their resort and swimwear pieces, marrying both bright 1970s color, bell, flounce, ruffle and bell sleeves, bohemian-meets-African jungle patterns, and dyes, and dynamically cut one and two-piece suits hinting at their vintage period throwback theme. The collection truly creates the perfect pairing to mix resort and swimwear in any warm-weather setting. More images below.
Noteworthy guests that attended the Bfyne x Models of Color Matter show (Friday 7/9/21) were Olivia Ponton, Miki Cheung, Chris Lavish, and Olga Ferrara.
Simonett presented a wildly bold interpretation of both swim and resort wear, many pieces even ready-to-wear perfection. Most iconic was the use of leather in so many of her pieces. From the lines, forms, scale, and color blocking, Simonett delivered a truly artful Spring 2022 collection to each of the attendees' amazement. Also memorable were the models themselves, showcasing Simonett's highly memorable designs in all shapes, sizes, ages, and colors. The show's electricity could be felt even beyond the PARAISO tent as look after look the crowd's cheers continues to grow. More images below.
Noteworthy model: Endlessly Love Club – Jen Ceballos
Taking over the Paraiso Tent at this year's Swim Week, Oh Polly introduced us to their new sister company Neena Swim to a packed house.
Staying true to their roots of stand-out pieces that are sure to get you noticed, they filled the runway with gorgeous hues and subtle nudes, in daring, yet sexy cuts. The carefully designed swimwear pieces featured a range of styles showcasing cut-out detailing, thin halter straps, and plunging necklines.
Oh Polly's NEENA SWIM collection (Oasis, Viva El Verano, & Oceana) also had some 90s allusion. The hint of 90s style is apparent in the matching swim and bucket hat sets, often with an early 90s thin string and slimly cut top and bottom sets. More images below.
Noteworthy attendees included: Katharina Mazepa, Erika Costell, Jacky Romero, Nicole Williams English, Olivia Ponton, Sara Snyder, and Valeri Orsini.
Planet Fashion featured some truly uplifting, playful, and eclectic patterns, prints, florals, silhouettes, and embellishments by designer Ema Savahl, amongst other designers.

*** ***
PARAISO Miami Beach swim week | Day 1 Recap
Can't make all the shows? PARAISO runway shows will all be live-streamed thanks to PARAISO's digital collaborator DISGO, and links added to the program on www.paraisomiamibeach.com closer to event time.


Images from Bfyne x Models of Color Matter
Images from Simonett
Images from Oh Polly's NEENA SWIM debut:
***
Ema Savahl showing at Planet Fashion