OlgaFerrara: Invaluable Guide to the Word of Elie Tahari ,New York Fashion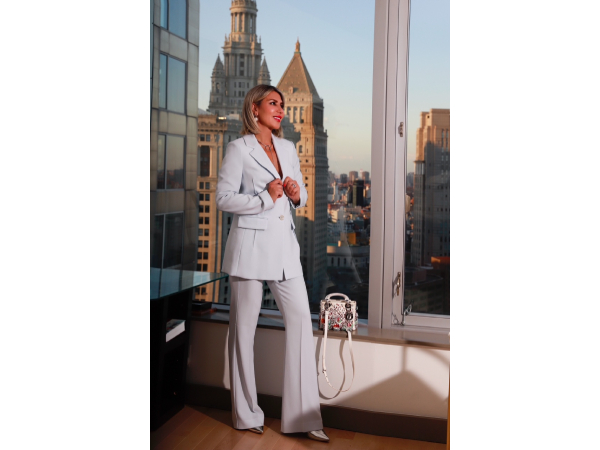 Impeccably stylish, incredibly bright and highly sophisticated Olga Ferrara, a fashion influencer based in New York City, delivers fashion right to your house. With her inimitable sense of style, she inspires people to express themselves via fabrics, patterns and colors. Olga views art as freedom, so she motivates readers to shrug off doubts and fear and let their personality shine through.
It seems that Olga has always had her heart set on fashion. The scope of her professional interests is admirable. Olga took part in numerous runway fashion shows as a model and attended world major fashion events as a fashion editor. Now she successfully combines editing with blogging career and career of a stylist. Check her podcasts, webinars and live IG. They are far beyond entertaining and contain a wealth of information on fashion and beauty.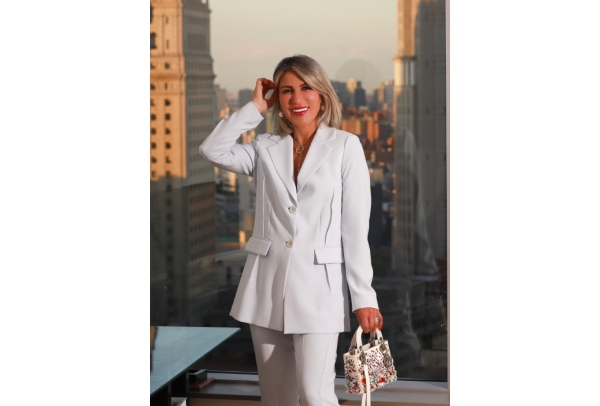 Olga's media presence is substantial and powerful. People are inevitably drawn to her because of her positive energy and passion for everything she does. The content she creates is full of life and colors. But what makes Olga's feed stand out is flamboyant photography. She takes followers on a spectacular journey to the most scenic places in NYC. From Art Deco classical buildings to the best examples of Modern architecture.
Olga gives tons of outfit ideas. Whether it high-end brands or novice in the industry Olga puts items to the best use. She collaborates with renowned designers from all over the world and masterly blends traditional culture of a brand with her unique approach. With a wise choice of accessories, she shows how to cause a stir by your arrival at any place.
Olga actively supports sustainable brands across the globe and specifically New York based .
And she so happy to share beautiful designs of of Ellie Tahari worldwide.
For more than 40 years, Elie Tahari 's keen understanding of fashion and design has ensured him a unique position in the luxury world. The internationally-renowned brand has a global presence on five continents and is sold in more than 600 stores in over 40 countries. The brand has expanded to include women's shoes, sunglasses and accessories, and menswear and has come to define modern sophistication with the designers inspired collections of understated grace and elegance.
At the start of the decade, Elie Tahari emigrated from Israel to the United States and began working in New York City's garment center while moonlighting at a boutique in Greenwich Village. After he succeeded in popularizing the tube top, Tahari began designing his eponymous label Tahari in 1973.
Elie Tahari began the decade with his first cover of Women's Wear Daily featuring a Tahari wool suit highlighted as the trend of the season and is admitted to the Council of Fashion Designers of America. The brand moves into new headquarters in the Grace building on West 42nd street and is now carried by all major department stores. Tahari initiated a major expansion campaign including licensing and international sales and produced the brand's first image book photographed by Sante D'Orazzio that was sent to over 200,000 customers.
Television Networks also started to take notice of the brand with pieces from the collection being showcased on Ally McBeal, The X files and Will & Grace. Tahari was the featured designer in the annual Macy's Passport fashion show in Los Angeles which helps to raise over 2 million dollars for AIDS research and was invited to the White House to meet with President Clinton. In 1997 Tahari became the founding partner and creative director of Theory in addition to designing his own label.
The company continued its global expansion in Europe, Asia and the Middle East and opened freestanding boutiques in Istanbul, Turkey, and Dubai, as well as US boutiques in Newport Beach, California, Washington, D.C., Dallas and a pop-up store at 510 5th Avenue, named The Vault as well as the E-commerce site elietahari.com. To mark the brand's 40th anniversary, Tahari created a capsule collection "Elie Tahari 1974" which featured updated silhouettes from the brands four decades in fashion.
Elie Tahari beautiful and timeless designs perfectly fits Olga 's personality and style .
In her blog Olga increases mindfulness among her followers and reminds people to consume products with great care. "The Earth is what we all have in common", Olga's favorite saying and an idea that she wholeheartedly supports.
For more information about Olga Ferrara, please visit:
For more information about Elie Tahari ,
Please visit: https://www.elietahari.com/pages/about-elie-tahari
https://instagram.com/elietahari?utm_medium=copy_link
Find Olga Ferrara on Social Media:
http://instagram.com/olgaferrara_ny?igshid=119q97zqv7jwv
http://facebook.com/olga.ferrara.5264