Non-Surgical Nose Jobs by Celebrity Doctor Simon Ourian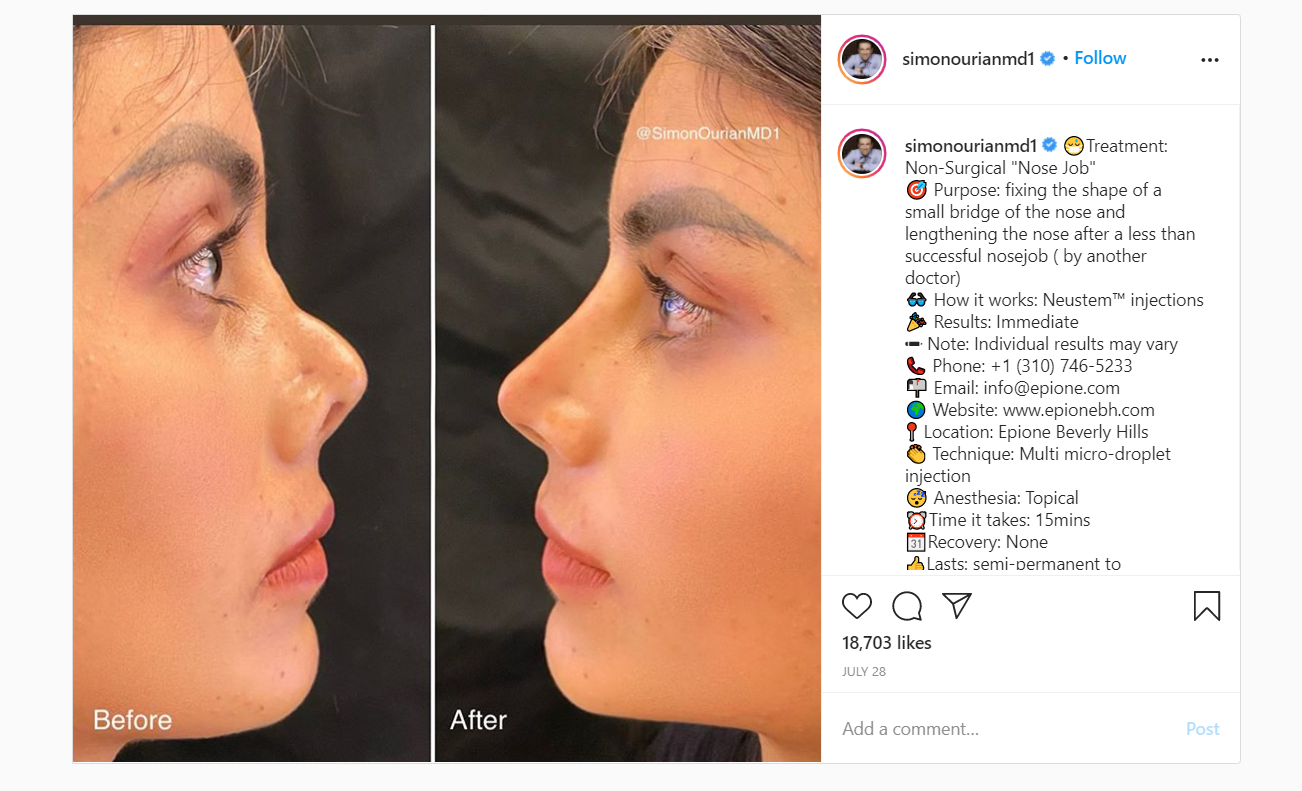 Dr. Simon Ourian is the man behind many famous cosmetic procedures, including the world-famous Kardashian family. Located at his practice "Epione" in Beverly Hills, California, he is one of the most sought-after specialists in the world. If you find yourself far away from the practice or are interested in checking out the work that Dr. Simon Ourian does you can check out his Instagram profile that's home to a whopping 3.5 million follower count.
Dr. Simon Ourian uses a treatment he has coined as the micro-droplet technique. This alone has set him apart from countless plastic surgeons that typically use the threading technique. With precision accuracy, Dr. Simon Ourian uses a tiny needle to place the product right where he wants it to be and delivers outstanding results each time.
His state of the art procedure has been performed multiple times on the hit reality television show "Keeping Up With the Kardashians." Kim, Kourtney, Khloe, and Kris have all received the treatment and speak highly of it. For years Dr. Simon Ourian has been performing his treatments and leaves everyone who walks through the doors speechless. Truly a unique experience, "Epione" offers the best option for non-surgical nose jobs.
Non-Surgical Nose Job: Reduction of Nostrils by @SimonOurianMD1
Over the years, nose jobs and spa-like establishments have continued to become more popular, and part of that can be credited to Dr. Simon Ourian. Once Ourian began to perform his procedures on television, people started to see the normalization of such treatments. With a highly accredited celebrity clientele base, Dr. Ourian's services are second to none. Providing content to his Instagram page mentioned above has helped him make connections with other medical professionals across the board and has boosted his career in various ways.
"A non-surgical nose job involves a series of dermal filler injections to improve the aesthetic appearance of the nose," says Ourian. He aims to perfect the proportions of an individual's face to provide an overall aesthetic look between the nose, chin, and neck. Anyone in search of a nose job without the risks and long recovery time should turn to Dr. Simon Ourian for his non-surgical alternative.
A rhinoplasty traditionally requires an individual to be put under anesthetic. Take that and pair it with risks and potential side effects, and the non-surgical option seems to be the only way to go. Visit www.epionebh.com to know more.