NASA astronauts spacewalk space stations to provide power upgrades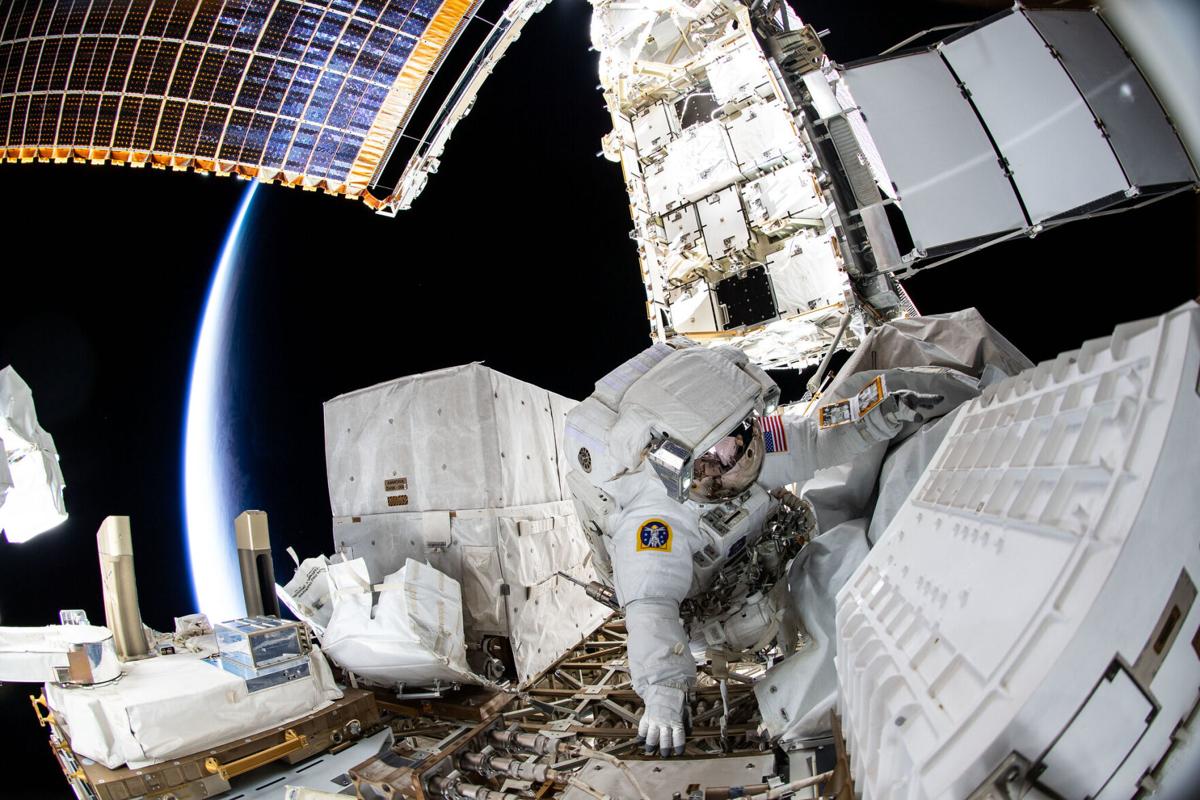 The International Space Station will probably be set to retire at the end of the decade, but there is still plenty of life left in the orbit laboratory.
The space station is preparing for more power upgrades as two NASA astronauts made their first spacewalk of the year on Tuesday.
Astronauts Kayla Baron and King Chari left the space station at around 8:12 a.m. to begin their installation, and their spacewalk ended at 3:06 p.m. ET. Live coverage began at 6:30 a.m. on NASA's TV channel and website, and the spacewalk lasted six hours and 54 minutes.
It was the 247th spacewalk to assemble, maintain and upgrade the space station.
The spacewalking duo assembled and installed a modification kit that would allow for future solar array upgrades outside the space station. Baron and Chari have installed struts and brackets that will be used to support the arrival of more ISS roll-out solar arrays or iROSA.
During the spacewalk, Baron was an extravagant crew member 1 wearing a red striped suit, and Chari was identified as an extravascular crew member 2 in a non-striped suit. This was Baron's second spacewalk after completing his first spacewalk in December and the first of his four careers.
The two iROSAs were placed between the previous spacewalks and once all the arrays are installed, they are expected to increase six of the eight power channels on the space station, increasing the available supply from 160 kW to 215 kW.
Six solar arrays arrived on the space station on June 5 after being launched on the 22nd SpaceX Dragon Cargo Response Mission. The arrays are rolled up like carpets and weigh 750 pounds (340 kilograms) and 10 feet (3 meters) wide. Four more arrays will be distributed during future campaigns.
While the current solar array on the space station is still in operation, it has been supplying power to the space station for over 20 years and is showing some signs of wear and tear after prolonged exposure to the space atmosphere. Arrays were originally designed to last 15 years.
New solar arrays will be placed in front of the existing ones. This is also a good test for the new solar array, as the same design will power parts of the gateway lunar orbit, which will help humans return to the moon through NASA's Artemis program.
The agency is preparing for the second spacewalk on March 23, around 8:50 a.m. ET.
Although the two crew members are yet to be announced, they will be responsible for conducting a number of installation upgrades, including replacing the external camera and placing hoses on the radiator beam valve modules that run ammonia through the station's heat-rejecting radiators. The right temperature.