Mrs. India Universe 2020-21 Deepti Singh supports Women's Empowerment while sharing her views on the Beauty Pageants.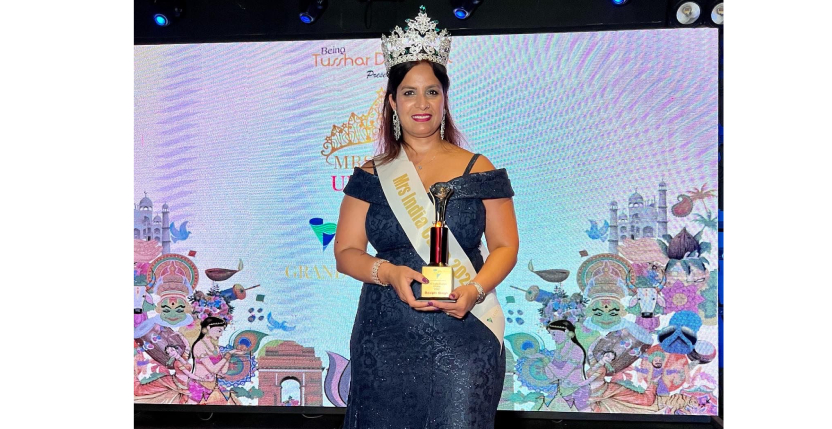 Women from various walks of life irrespective of where they are settled or what their educational backgrounds, have been participating in Beauty Pageants over the years. What makes these women stand out is their life experiences. Winning Miss India is a dream of every girl, but not everyone gets the chance to participate or be on that platform. Today we have various platforms that are providing a second chance to women who dreamt of becoming or being a participant in Miss India growing up. It's a chance to represent their state, and country while showcasing the culture they come from authentically.
Deepti Singh has gone above and beyond by participating in Prestigious Beauty Pageants. She won Mrs. India Universe – Earth – 2020-21 Title with the subtitle of Mrs. Intelligent. Later in 2022, she was crowned as Mrs. India Curve 2022. She took the title to represent the country on the international platform of Mrs. Globe – 2022. She was nominated for and won the Globe award for Women of Power.
Currently, Deepti resides in Charlotte, North Carolina, USA. She was born and brought up in India. She completed her schooling in Chandigarh, Completed her bachelor's and master's from Jaipur, Rajasthan. She moved to the USA in 2008 with her husband and kids. She is a Software engineer by profession. And now a renowned name and face across the globe.
When asked – "What is the importance of Pageants?" She stated that "Pageants these days are not just beauty Oriented. Nowadays the contestants are judged as a complete package – Beauty with brains, Leadership qualities, how one reacts in stressful situations." She stated that we don't have enough representation of Indian women on international platforms. Indian women should step up and represent India on international platforms – it would not only help women to step out of their comfort zone, but it would further help them to be groomed at so many different levels. You come out of these pageants as a new person – who has a lot more confidence to face any situation thrown at her. Once you have the confidence to face any situation you can empower yourself.
She states – Empowerment comes from within – it is not something that can be given to women or an individual by someone. Education, Financial independence, emotional independence, and courage to stand up and speak for your rights are all different facets that contribute to empowerment. We must appreciate all women and no matter how small the achievement is – it is still a step towards empowerment, and we should celebrate every small achievement. It's our responsibility to set an example for our daughters so that they are empowered within themselves. The biggest setback is when we tag our daughters or fellow women that shatter them forever. We carry the image that is set for us as kids throughout our lives.
We must change our perspective by looking at pageants. It should not matter how people or society look at you, what matters is how you look at yourself. You are what you think of yourself. We are not Barbie dolls who need to be dolled up all the time. Women carry the strength to nurture, love and care. This quality of nurturing, loving and caring should not be treated as a weakness, but it is the strength of every woman.
She is looking forward to serving the community, especially helping children with their education, as education is the ultimate gift anyone can give to someone.
Follow her on Instagram:https://instagram.com/singh.deepti.official?r=nametag